BrainStorm
Allergy Research Group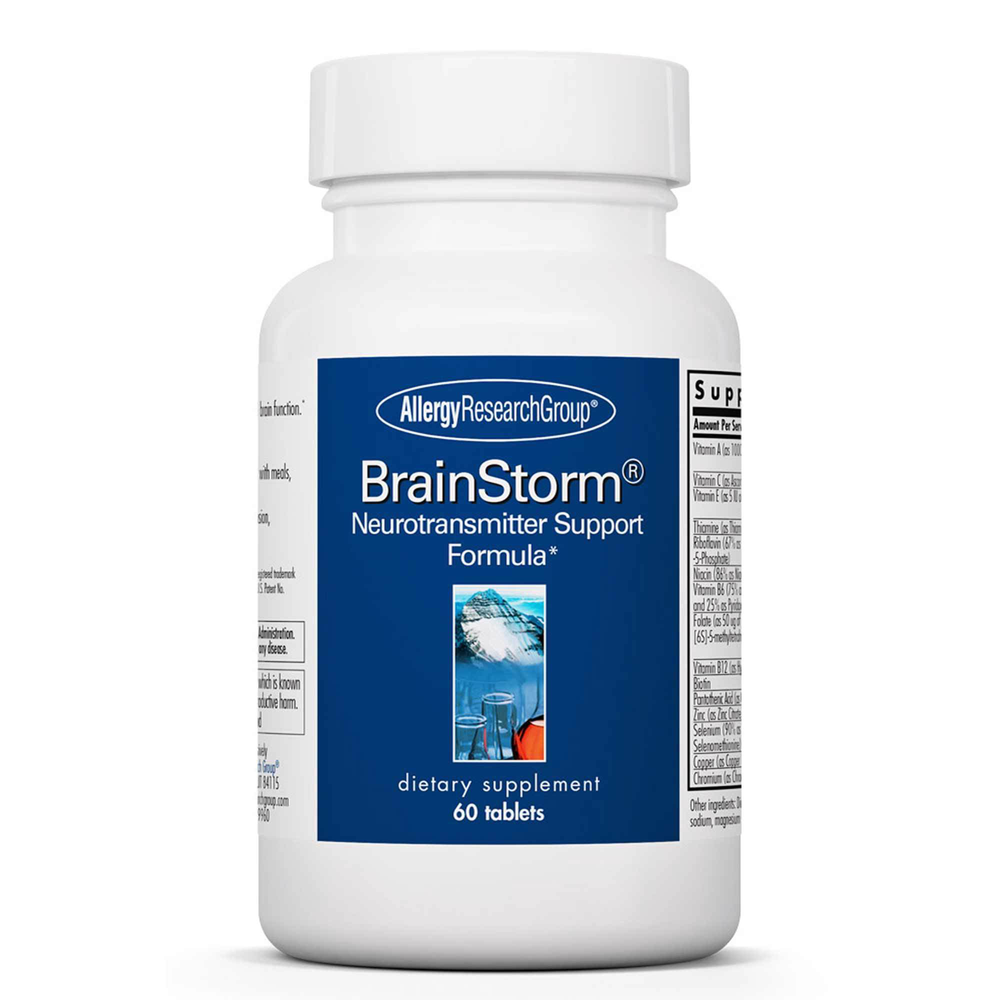 SKU: ARG-72070
Extensive blend of vitamins, minerals, amino acids, herbs, and phospholipids for neurotransmitter support.*
Provides precursors for the formation of key neurotransmitters, and antioxidants that support cellular membrane integrity of central neurons*
Enhanced with nutrients that variously support blood circulation*
May enhance brain function and support memory*
As a dietary supplement, 1 tablet one or two times daily with meals, or as directed by a healthcare practitioner.
Serving Size: 1 Tablet
Amount Per Serving:
Vitamin A ... 1000IU
(as Beta-Carotene)
Vitamin C ... 5mg
(as Ascorbic Acid)
Vitamin E ... 5IU
(as DL-alpha-Tocopheryl Acid Succinate)
Thiamine ... 7.5mg
(as Thiamine Hydrochloride)
Riboflavin ... 7.5mg
(67% as Riboflavin and 33% as Riboflavin 5-Phosphate)
Niacin ... 17.5mg
(86% as Niacinamide)
Vitamin B6 ... 10mg
(75% as Pyridoxine Hydrochloride and 25% as Pyridoxal-5-Phosphate)
Folic Acid ... 50mcg
Vitamin B12 ... 25mcg
(as Hydroxycobalamin))
Biotin ... 50mcg
Pantothenic Acid ... 20mg
(as Calcium Pantothenate)
Zinc ... 5mg
(as Zinc Citrate)
Selenium ... 25mcg
(90% as Sodium Selenite and 10% as Selenomethionine)
Copper ... 0.5mg
(as Copper Bisglycinate)
Chromium ... 25mcg
(as Chromium Picolinate)
Molybdenum ... 25mcg
(as Sodium Molybdate)
Boron ... 250mcg
(as Boric Acid)
Ginkgo Extract ... 15mg
(Leaves)
Bacopa Extract ... 50mg
(Aerial Part) (Bacopa monniera)
Eleuthero Extract ... 20mg
(Root)
Asian Ginseng Extract ... 20mg
(Root)
Gotu Kola Powder ... 50mg
(Leaves)
L-Glutamine ... 125mg
L-Tyrosine ... 100mg
N-Acetyl-L-Carnitine ... 25mg
Choline Bitartrate ... 40mg
Inositol ... 25mg
Phosphatidylcholine ... 50mg
(soy)
Quercetin ... 25mg
Cayenne pepper ... 50mg
Liposerine PhosSerine Powder ... 50mg
(20% Phosphatidylserine (Soy))
Other ingredients: Dicalcium phosphate, microcrystalline cellulose, magnesium stearate, silicon dioxide, stearic acid
WARNING: Discontinue use if you experience muscle tension, cramps or headache.
These nutrients are of the highest quality and purity obtainable, and do not contain preservatives, diluents, or artificial additives.
This statement has not been evaluated by the U.S. Food and Drug administration. The product is not intended to diagnose, treat, cure, or prevent any disease.