Break It Down: Digestive Enzymes Powder, Pineapple
Ora Organic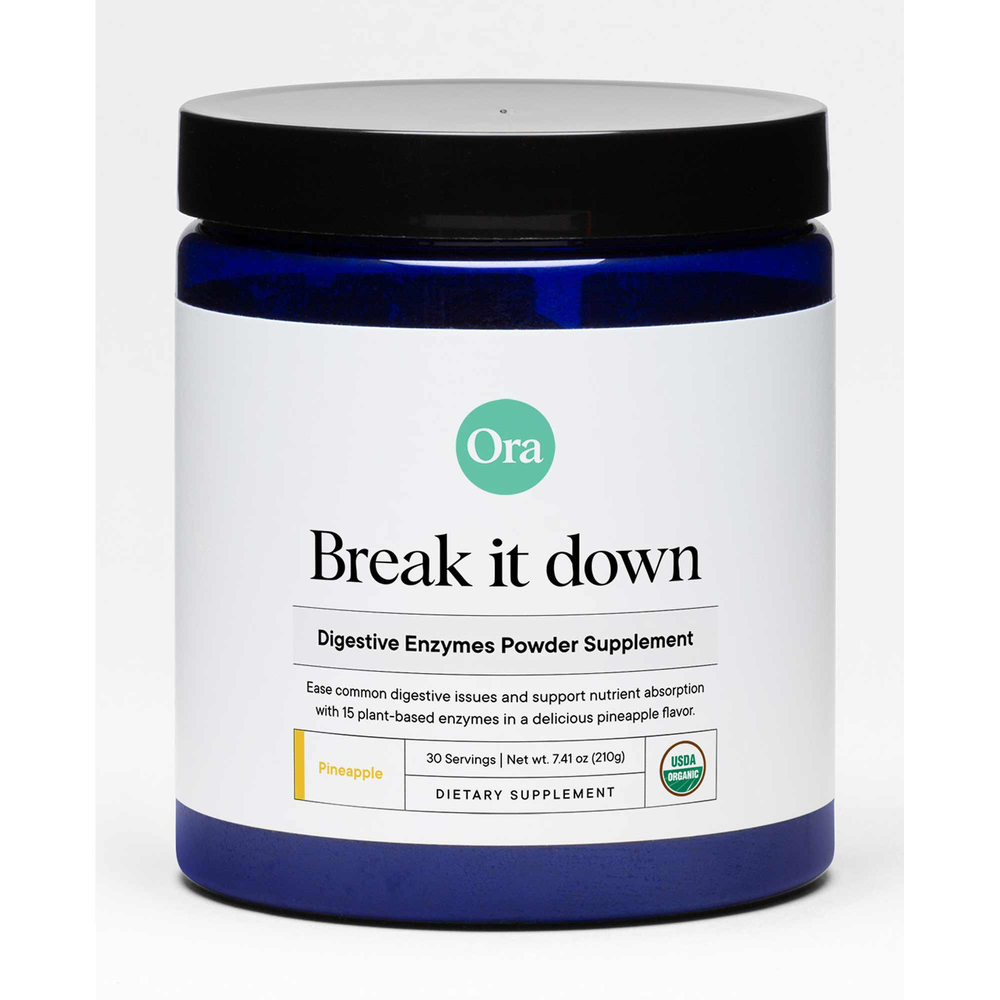 SKU: ORA858-1700P
Many digestive issues can arise from inflammation, caused when your food is not fully digested. Digestive enzymes speed up the chemical reactions necessary for proper digestion so your small intestine doesn't get stuck with that entire veggie burger.
Ora Organics digestive enzyme powder works in your stomach to help properly digest your food before it travels through the rest of your digestive tract.
This powder helps alleviate and protect against common digestive issues like bloating, cramping, and constipation, by helping your gut digest your food quicker and more efficiently.
15 Digestive enzymes
Ora Organics delicious digestive enzymes supplement contains 15 digestive enzymes to help ease common digestive issues, working in your stomach to help digest food before it reaches your small intestine.
1 Billion probiotics
In addition to superstar enzymes like lactase from fungi, bromelain from pineapple, and papain from papaya, Ora Organics also included 1 billion probiotics in each serving. Probiotics help promote a healthy gut and cultivate an environment within which your digestive enzymes can be their most effective.


Suggested Use:
Mix one scoop or sachet with at least 1/4 cup (2 oz) of water or add to a smoothie.
Tips: For a lighter flavor, add more water - but we prefer 2oz for that strong pineapple flavor in a quick and easy shot glass!
Serving size:
1 scoop (7g)
Amount per serving
Calories
… 25
Total Carbohydrate
… 7g
Dietary Fiber
… 1g
Total Sugars
… 3g
Added sugars
... 3g
Protein
… 2g
Ora Enzyme Blend
… 7g
Organic Pineapple Juice Powder, Organic Maple Sugar
Vegetarian Pancreatin Alternative
(Bacterial Protease 48,100 HUT, Lipase 2,960 FIP), Aspergillopepsin (50 SAPU), Glucoamylase (5 AGU), Phytase (10 FTU), Fungal Amylase (500 DU), Cellulase (200 CU), Lactase (275 ALU), Papain (150,000 PU), Pectinase (10 endo-PGU), Peptidase (225 HUT), Hemicellulase (350 HCU), Xylanase (50 XU), Bromelain (2000 PU), Beta Glucanase ( 3 GBU), Bacillus Subtilis (1 Bill CFU)
Other ingredients:
Organic Tapioca Oligosaccharide.
Contains NO:
Dairy, gluten, soy, GMOs, tree nuts, artificial colors, flavors, artificial sweeteners or preservatives.
Storage: Store in a cool, dry place and keep away from moisture. Refrigeration is not required.