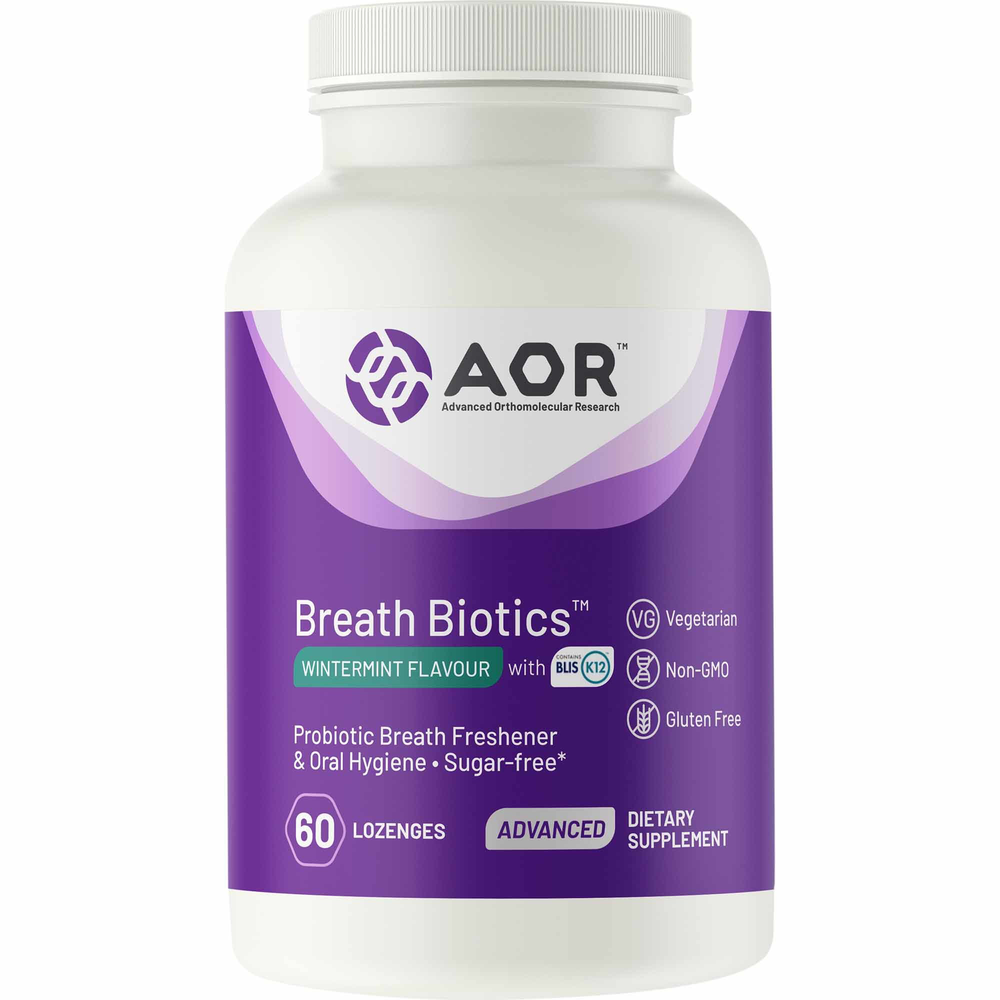 SKU: AOR845-AOR08380
Breath proBiotic is Streptococcus salivarius K12, an oral probiotic which helps promote fresh breath and oral health.*
For oral health take 1-2 lozenges daily for a minimum of 10 days. Suck lozenge for 5 minutes, then swallow. Before taking the first lozenge of the day, rinse mouth with an antimicrobial mouthwash. Take at least 2-3 hours before or after antibiotics. For halitosis (bad breath) take 4 lozenges daily for a minimum of 3 days.



Serving Size: 1 Lozenge

Amount Per Serving
BLIS™ K12 ‡ ... 1 billion CFU*
(Streptococcus salivarius K12)

Other Ingredients: Isomalt, sodium stearyl fumarate, maltodextrin, monk fruit extract, starch, gum Arabic, hyprolose, trehalose, lacitol, natural flavor (wintergreen, peppermint).

Does not contain: Wheat, gluten, sesame seeds, sulfites, mustard, eggs or shellfish.

*Colony-forming units

BLIS™ K12 is a registered trademark of Blis Technologies New Zealand.
Cautions: Consult a health care practitioner prior to use if you have fever, vomiting, bloody diarrhea, or severe abdominal pain. Do not use if you have an immune compromised condition (e.g. AIDS, lymphoma, undergoing long-term corticosteroid treatment), are taking aminoglycoside antibiotics (e.g. kanamycin, streptomycin), or have a dairy allergy. If symptoms of ear, nose or throat infections (e.g. fever, sore throat) occur, or if symptoms of digestive upset (e.g. diarrhea) occur, worsen or persist beyond 3 days, discontinue use and consult a health care practitioner.