Bronchipret Syrup For Kids
BioNorica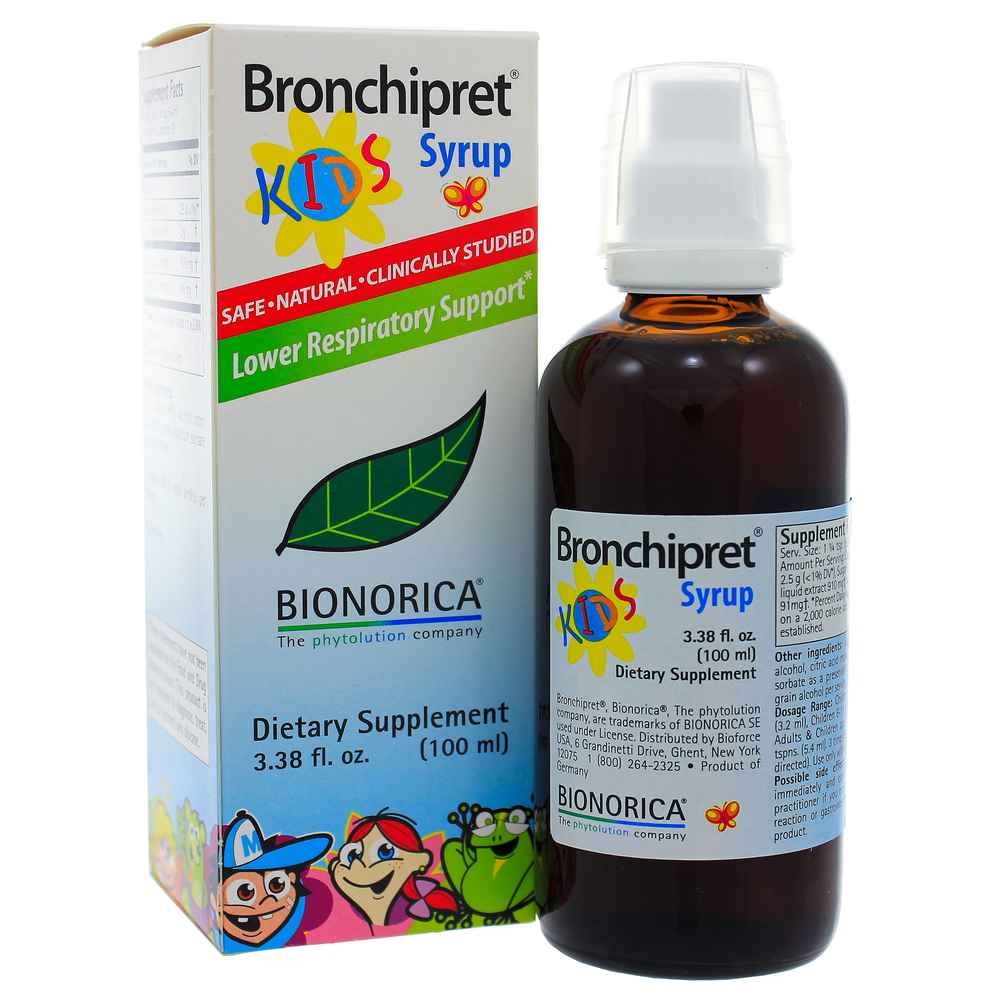 SKU: BI9-16040
Bronchipret Syrup For Kids 3.38oz/100ml is available by Boinorica.
Natural, Safe & Clinically Tested!
Lower Respiratory Support
BIONORICA
The phytosolution
Herbal Supplement
3.38 fl. oz. (100 ml)
Bronchipret is a unique herbal compound of thyme and primrose (tablet) and thyme and ivy (syrup) developed to support the lower respiratory system.
Contains 7% alcohol by volume.
Children ...3/4 teapsoon (3.2 ml)
2-5 years
Children ...1 teaspoon (4.3 ml)
6-11 years
Adults and Children ...1 1/4 teaspoons (5.4 ml)
12 and over
3 times/day (Unless otherwise directed)
Measuring cup included
Bronchipret®, Bionorica®
The phytolution company, phytoland kids™ are trademarks of BIONORICA AG used under License. Distributed by Bionorica, LLC San Clemente, CA 92673.
Product of Germany
Serving Size: 5.4 ml

Calories ...5
Total Carbohydrate ...2.5g
Sugar Alcohol ...2g
Thyme Liquid Extract ...910mg
(Thymus vulgaris)
Ivy Leaf Tincture ...91mg
(Hedera helix)
Contains - Water, Maltitol, Ethanol, Citric Acid Monohydrate, Potassium Sorbate as a preservative
Please carefully read all information in the enclosed packaging insert.
Store in a dry cool place.
Use only with adult supervision.
It looks like there are no similar
products available