Brown Rice Protein Chocolate
Jarrow Formulas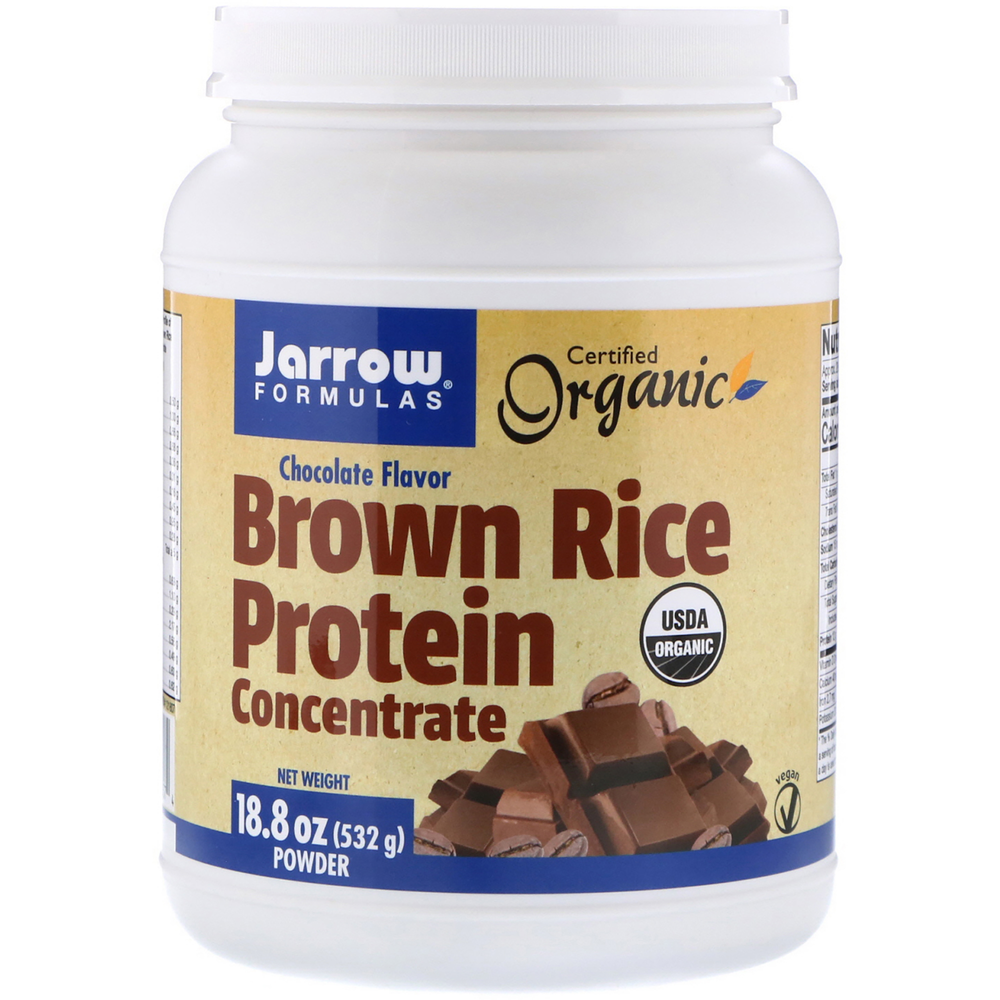 SKU: JAR-RICECHOC
Brown Rice Protein Conc. Choc. 18.8 oz
Nutritional Supplement
Jarrow Formulas? Brown Rice Protein Concentrate, made from whole grain organic brown rice, is easily digested, glutenfree, hypoallergenic, and a vegetarian/vegan source of protein.
Ideal:
? As a high-protein alternative to soy and animal products.
? For those with gastrointestinal sensitivity to milk, wheat, soy, and other proteins.
Jarrow Formulas? Brown Rice Protein Concentrate is made using an all natural process that does not use chemical solvents. A special milling step produces a smooth texture that mixes easier and is less gritty than traditional rice protein preparations.
Jarrow Formulas? Brown Rice Protein Concentrate is specially processed to provide a complete amino acid profile, providing a vegetarian/vegan protein alternative. The protein quality scores exceed 100% for almost all the amino acids in the product. No added sugar, artificial flavors or sweeteners. Non-GMO (Genetically Modified Organisms).
No wheat, no gluten, no soybeans, no dairy, no egg, no fish/shellfish, no peanuts/tree nuts. ALL NATURAL Suitable for vegetarians/vegans.
USAGE: Take 1 serving per day as a vegetarian protein supplement or snack or use as directed by your qualified healthcare professional.
Mixing Directions: Mix or blend one serving of powder with 8 oz of fruit juice, rice milk or other beverages. Serve promptly.
Supplement Facts
Serving Size 2 Rounded Tbsp (Approx. 19g)
Servings Per Container Approx. 28
Amount Per Serving
Calories 60
Calories from Fat 0
Total Fat 0 g
Saturated Fat 0 g
Trans Fat 0 g
Cholesterol 0 mg
Sodium 10 mg
Total Carbohydrate 3 g
Dietary Fiber 1 g
Sugars 0 g
Protein 12 g
Ingredients: Non-GMO organic brown rice protein, organic cocoa powder, natural flavor, organic gum acacia, organic guar gum and xanthan gum.
Note: Keep out of the reach of children. Packaged by weight, not by volume.
* These statements have not been evaluated by the Food and Drug Administration. This product is not intended to diagnose, treat, cure or prevent any disease.
It looks like there are no similar
products available