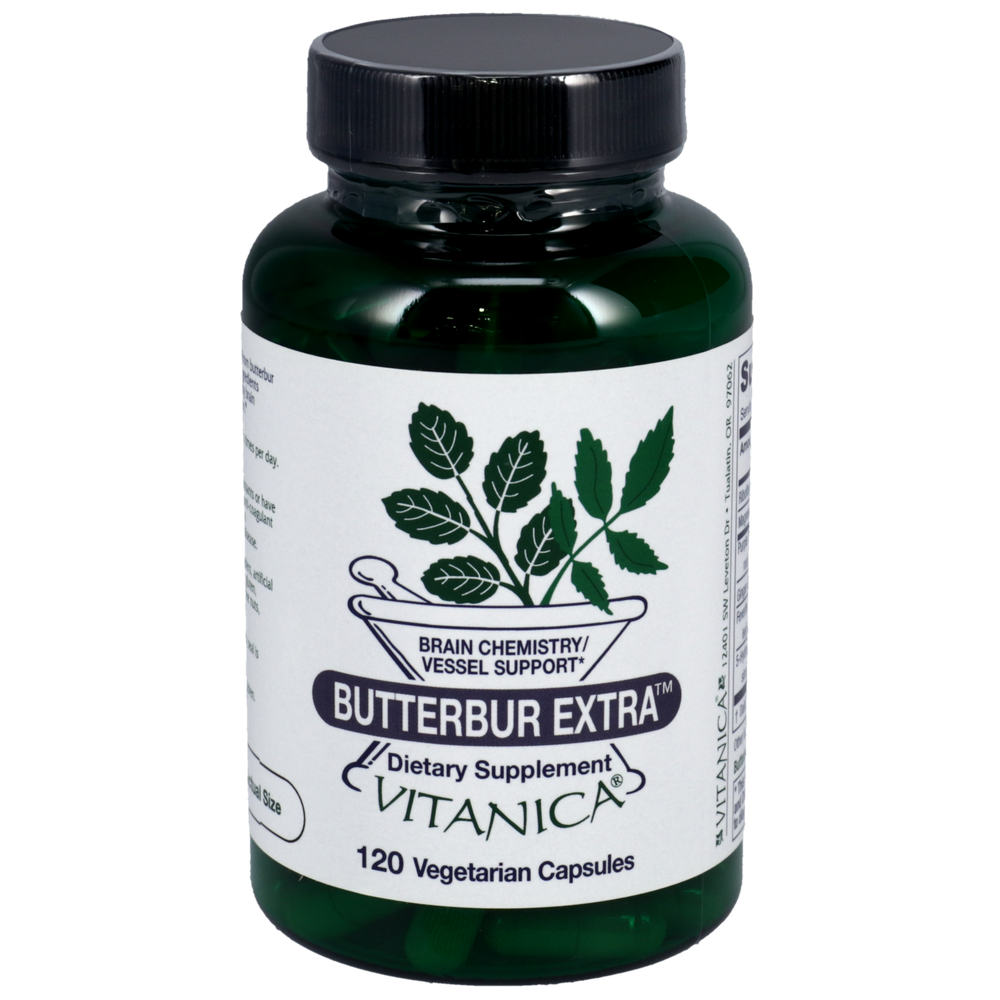 SKU: VTC-01290
Butterbur Extra is available by Vitanica.
BRAIN CHEMISTRY / VESSEL SUPPORT
BUTTERBUR EXTRA™
Dietary Supplement
VITANICA®
More Info:
Butterbur Extra™ contains petasins derived from butterbur root as well as other scientifically studied ingredients that support healthy blood vessel tone in the brain, as well as normal blood flow in the brain.
Suggested Use:
Two (2) caps twice per day for two months, then two caps per day for 4 months, then discontinue. If headaches return, begin the regimen again.
Serving Size: 2 Capsules
Amount per Serving
Riboflavin ...200mg / 11764% DV
(as Vitamin B2)
Magnesium ...250mg / 62% DV
(as malate)
Purple Butterbur root extract ...50mg*
(15% petasins, no pyrrolizdine alkaloids (PAs))
Ginger root extract ...300mg*
(5% gingerol & shogaol)
Feverfew extract ...50mg*
(.5% parthenolide)
5-Hydroxy tryptophan ...50mg*
* Daily Value not established
Other ingredients: vegetable cellulose and water.
Does Not Contain:
preservatives, binders, artificial coloring or flavorings, sucrose, glucose, starch, lactose, salt, corn, wheat, gluten, soy, or milk derivatives.
Butterbur Extra™ is suitable for vegetarians.
Consult your physician if on SSRI anti-depressants or have reduced kidney function. Do not take if on anti-coagulant therapy, barbiturates or blood sugar lowering medications and avoid if pregnant, nursing or have liver disease.
Tamper resistant:
please do not use if safety seal is broken or missing.
Keep in a cool, dry place out of reach of children.