Liquid Calcium-Magnesium + Minerals
Dr's Advantage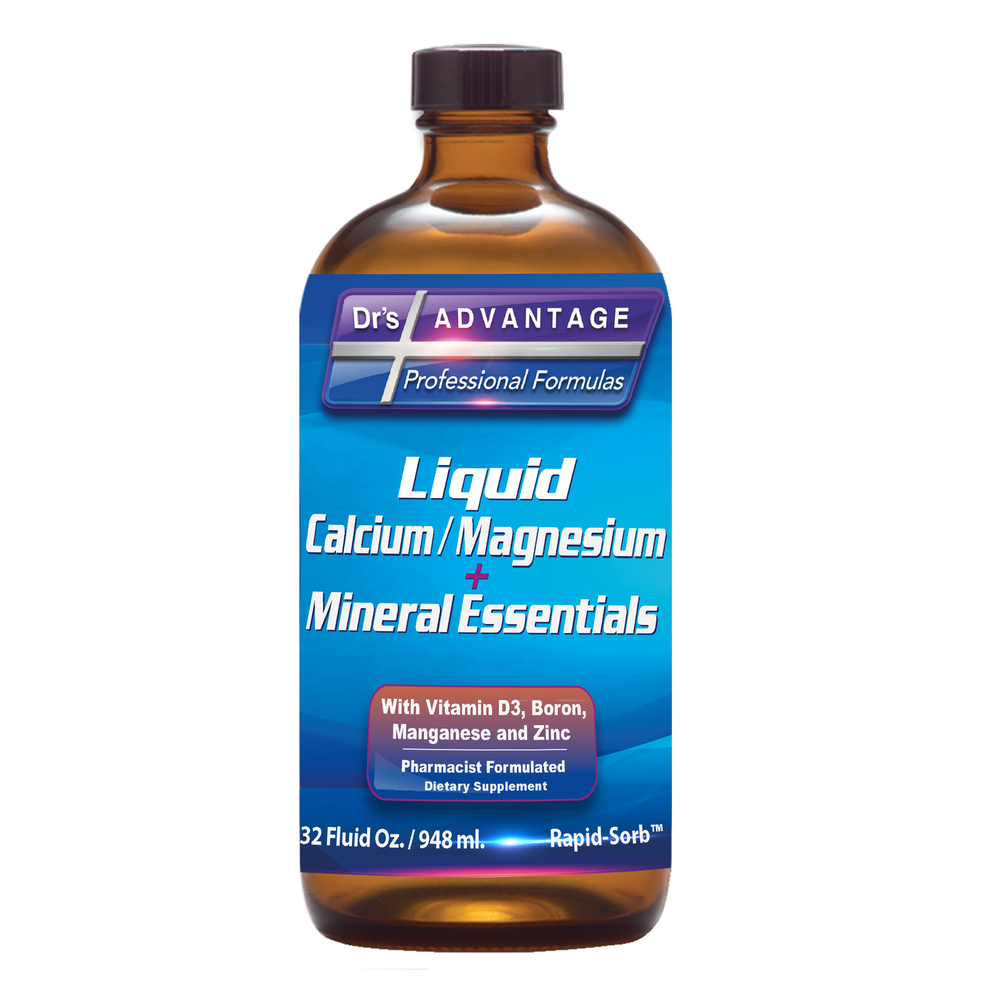 SKU: DRS-7794600926
Liquid Calcium-Magnesium Plus Minerals is a high potency' delicious tasting' highly absorbable calcium and magnesium supplement' useful for supporting healthy bones and maintaining healthy muscle and nerve function. Two tablespoons daily supplies 1200 mg of calcium (120% Daily Value) and 500 mg of magnesium (125% Daily Value). Vitamin D' chelated zinc' phosphorous and other important minerals and vitamins help support calcium and bone metabolism.
Consult a healthcare professional before use.
Shake well before using.
Adults and children 12 years of age and older-Take 1 tablespoon one to two times daily.

Do not exceed 2 tablespoons daily.
May be mixed with water' juice or food.
Serving Size: 1/2 oz ( 1 Tablespoon)
Amount Per Serving
Calories ... 12
Total Carbohydrate ... 3 g
Sugars ... 3 g
Vitamin C ... 145 mg
(as Ascorbic Acid)
Vitamin D ... 200 IU
(as Cholecalciferol)
Vitamin B-6 ... 1 mg
(as Pyridoxal 5'phosphate)
Folic Acid ... 100 mcg
Vitamin B-12 ... 18 mcg
(as Methylcobalamin)
Calcium ... 600 mg
(as Tricalcium Phosphate, Calcium Citrate)
Phosphorus ... 300 mg
(as Tricalcium Phosphate)
Magnesium ... 250 mg
(as Magnesium Malate)
Zinc ... 4 mg
(as Zinc Gluconate)
Mangansese ... 1 mg
(as Manganese Gluconate)
Silicon ... 5 mg
(from Silicic Acid)
Boron ... 2 mg
(Boron Amino Acid Chelate)
Other Ingredients: Purified Water, Crystalline Fructose, Orange Juice Concentrate, Citric Acid, D-ribose, Xylitol, Potassium Sorbate, Natural Kosher Glycerin, Xanthan Gum, Natural Flavors, Lo Han non-caloric Fruit Concentrate, Grapefruit Seed Extract
Does Not Contain - yeast, starch, wheat, soy, gluten, eggs, salt or dairy
If you are pregnant or nursing, please consult health care professional before using.
Do not use if the safety seal is broken or missing.
Keep out of reach of children.