CALM Gummies - Orange
Natural Vitality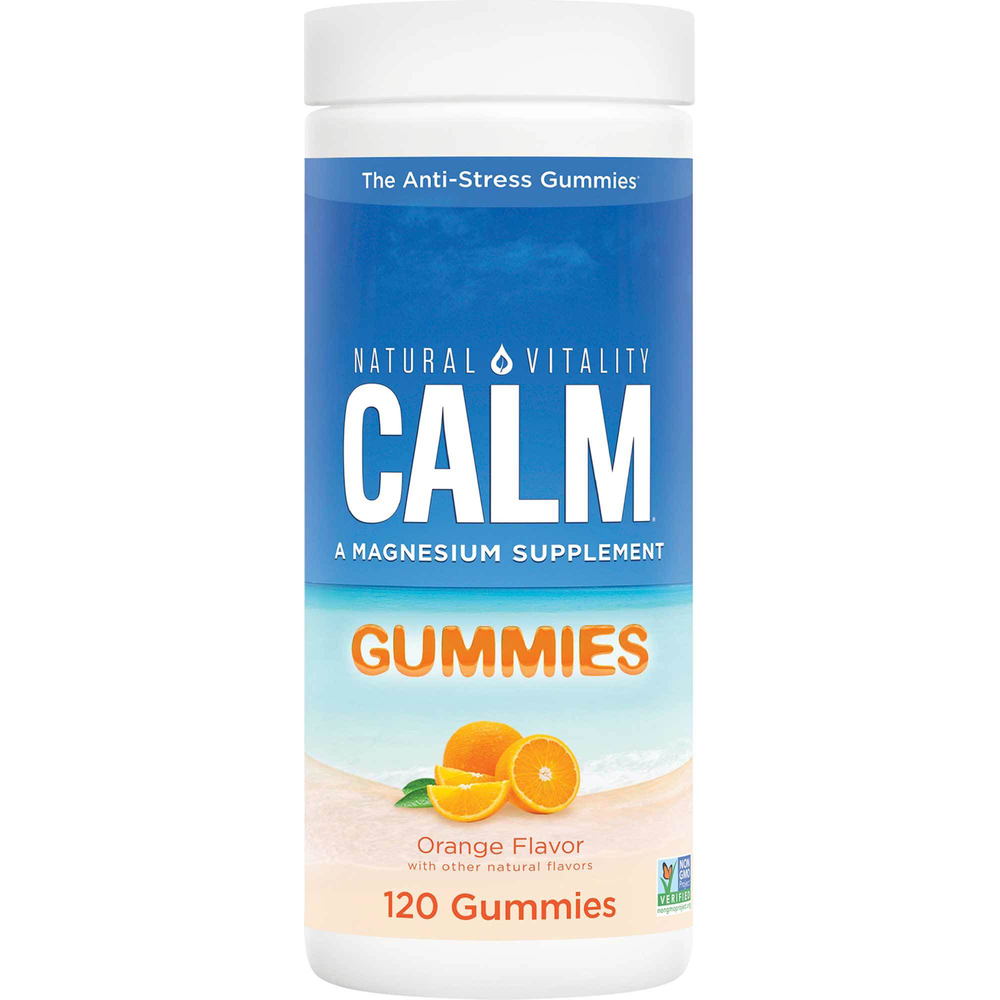 SKU: NVT-NV4308
Magnesium Citrate Gummies, Orange Flavor

Everyday stress have you feeling, well, stressed? Just reach for restorative CALM magnesium citrate gummies each day—a portable, vegan and delicious way to bring you a sense of inner peace anytime, anywhere.*

Balanced mood
The favorite benefit of magnesium, by far, of course, is how well it works to support a balanced mood and healthy response to stress. It also eases tension and helps you relax.*

Sleep
Because it's involved in melatonin regulation in the body, magnesium can help prepare your mind and body to relax into sleep.*

Muscle function
When Natural Vitality says magnesium is an essential mineral, they mean it. Your muscles need it in order to contract and relax. That means the more active you are, the more you may need it to help support healthy muscle function.*

Brain & nervous system function
Magnesium protects the lining of your nerves and helps your nerves talk to each other. Ultimately, this all supports overall healthy nerve and brain function.*

Cardiovascular health
Another reason to love magnesium? Your heart. Not only does it help maintain healthy blood pressure levels, but it's also required for normal heart contraction.*

Bone density
Keeping up your daily levels of magnesium helps you maintain healthy bones. When you don't get enough, your body's ability to absorb calcium and vitamin D might be impacted.*


Suggested Use:
Adults and teens, chew and swallow up to 4 gummies per day.

Serving Size:
1 Gummy (Children 4 through 12 Years of Age)
4 Gummies (13 or more Years of Age)
Amount Per Serving
Calories … 5
Total Carbohydrates … 1 g
Total Sugars … 1 g
Includes Added Sugars ... 1 g
Magnesium … 83 mg
(as magnesium citrate)
Other Ingredients: Organic tapioca syrup, organic cane sugar, water, citric acid, organic tapioca starch, natural flavors, organic annatto extract (color), locust bean gum.
Does not contain: artificial flavors or synthetic colors.
Vegan | Gluten-Free | No Artificial Flavors
Note
: Store in a cool, dark place,
It looks like there are no similar
products available