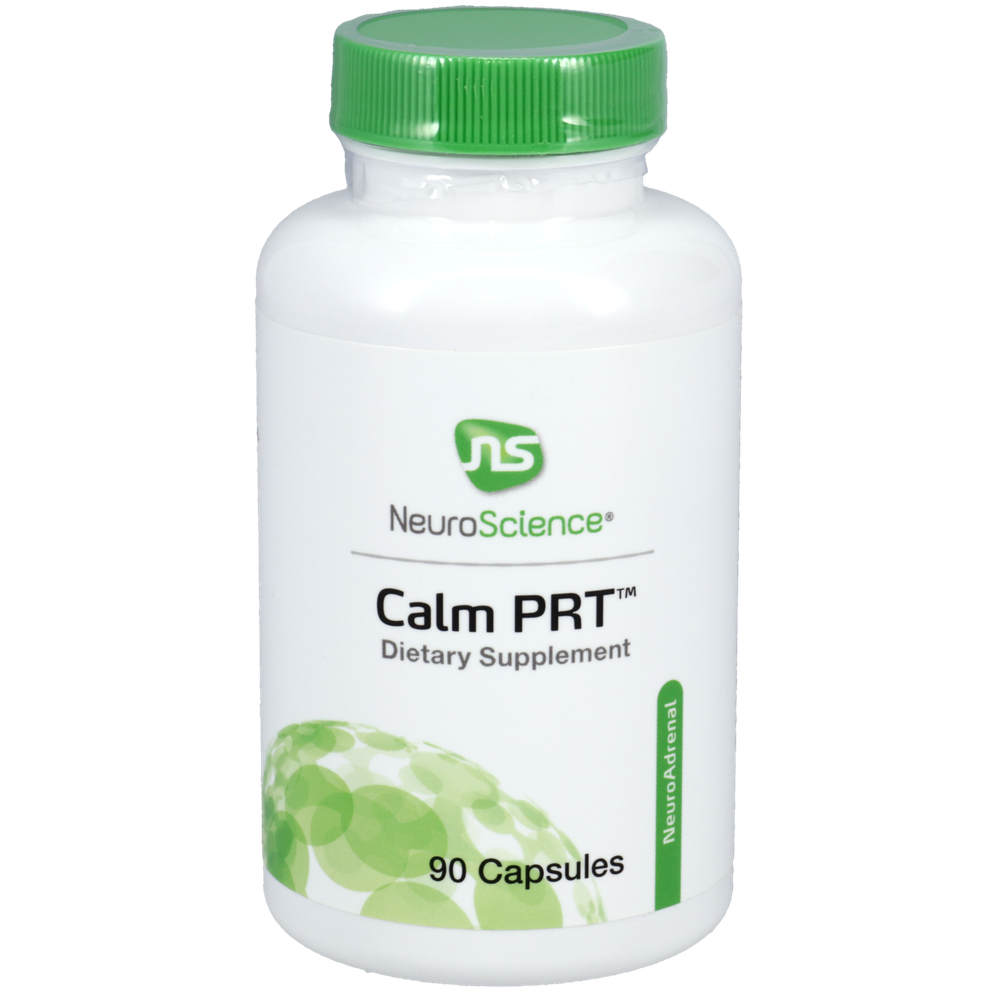 SKU: NEU-NS0058
Calm PRT decreases norepinephrine and contains ingredients important for regulating the stress response, sleep, and reducing anxiousness.* Many products claim to contain sizable amounts of Rhodiola but use lower standardizations of rosavins, resulting in low amounts of rosavins in the product. Calm PRT delivers 112.5mg of rosavins per serving, more than triple the closest competitor from a meta-analysis of public formulas, and provides significant results for patients with poorly managed stress and anxiousness.* Calm PRT has also demonstrated in two meta-analyses to significantly decrease norepinephrine (91 people; p<0.01) and significantly decrease evening cortisol (106 people; p<0.01).*
Key ingredients
Rhodiola rosea root extract (standardized to 9% rosavins, providing 112.5 mg of rosavins): Adaptogen shown to reduce anxiousness and stress-related effects (1,2).*
Phosphatidylserine: Component of cell membranes important for receptor-mediated interactions (3).* Phosphatidylserine is thought to interact with cell membranes in order to dampen hypothalamic signaling and regulate the stress response (4).*
Glycine: Major inhibitory neurotransmitter that crosses the blood-brain barrier (5).* Binds receptors that regulate temperature during sleep (6).*
Taurine: Neuroprotective amino acid that provides antioxidant protection and demonstrates GABA-A agonist activity (7-9).* GABA is the primary inhibitory neurotransmitter in the brain important for calm and sleep (10-12).
*These statements have not been evaluated by the Food and Drug Administration. This product is not intended to diagnose, treat, cure, or prevent any disease.
References
Bystritsky A, et al. J Altern Complement Med. 2008;14(2):175-80.
Olsson E, et al. Planta Med. 2009;75(2):105-12.
Monteleone P, et al. Eur J Clin Pharmacol. 1992;41:385-8.
Glade M and Smith K. Nutrition. 2015;31(6):781-6.
Kawai N, et al. Amino Acids. 2012;42(6):2129-37.
Kawai N, et al. Neuropsychopharmacology. 2015;40(6):1405-16.
Kumari N, et al. Adv Exp Med Biol. 2013;775:19-27.
Shimada K, et al. Adv Exp Med Biol. 2015;803:581-96.
Kletke O, et al. PLoS One. 2013;8(4):e61733.
Gou Z, et al. Dongwuxue Yanjiu. 2012;33(E5-6):E75-81.
Mohler H. Neuropharmacology. 2012;62(1):42-53.
Saper C, et al. Nature. 2005;437(7063):1257-63.
Take 3-4 capsules one to two times daily or as directed by your healthcare provider. Do not exceed suggested use.
Serving Size:
4 Capsules
Amount Per ServingProprietary Blend
... 2g
Rhodiola rosea root extract (standardized to 9% rosavins, providing 112.5 mg of rosavins), Phosphatidylserine enriched soy lecithin**), Glycine, and Taurine.
Other Ingredients:
Microcrystalline cellulose, Vegetable capsule (Hypromellose, water), Silicon dioxide, and Magnesium stearate (vegetable source).
Contains
lecithin from soy.
**This product uses SerinAid® 50P (Phosphatidylserine enriched soy lecithin). SerinAid® is a registered trademark of Chemi Nutra.
If you are pregnant or nursing, consult your healthcare provider before use.