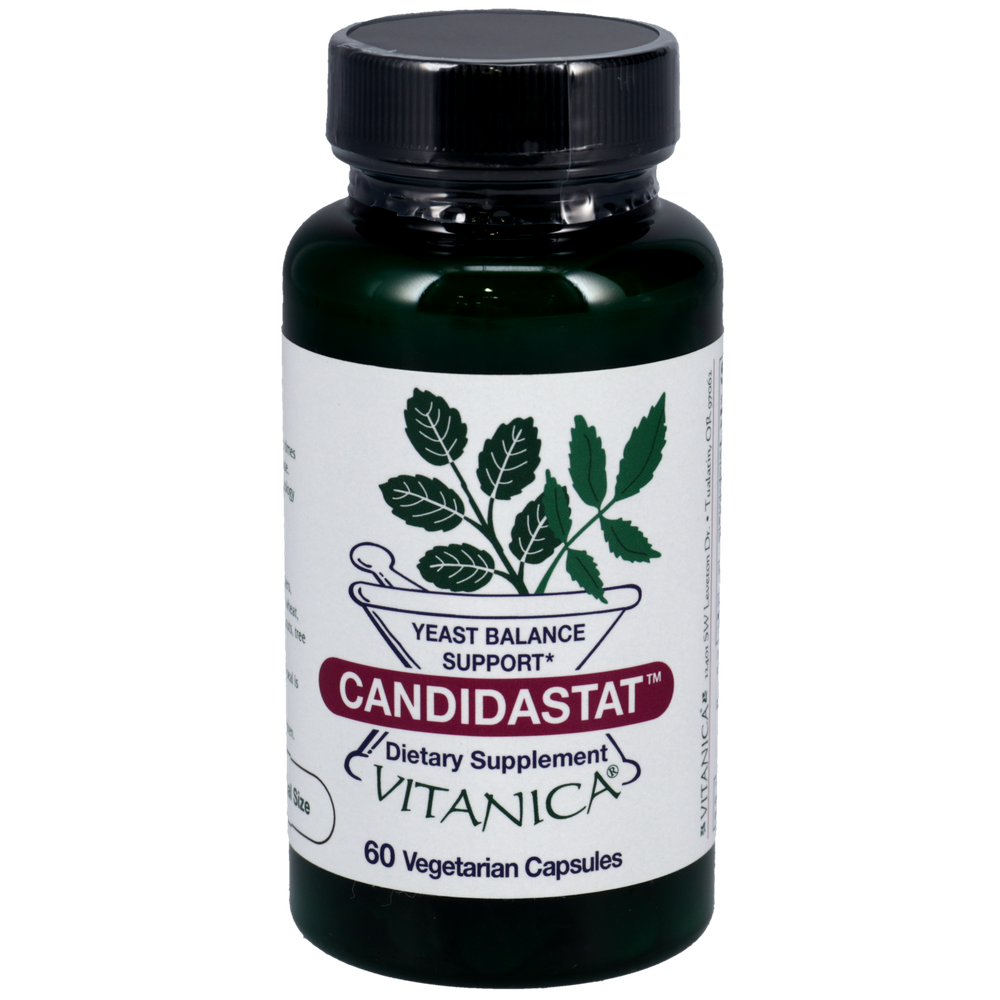 SKU: VTC-01006
Candidastat is available by Vitanica.

Whether yeast overgrowth and imbalance plagues the skin, vagina, nails or the body sytemically, this formulation includes the best of the natural anti-fungal agents as well as potent lactobacillus to restore proper bowel flora. Candidstat works with the body's natural system to help maintain the friendly flora necessary to maintain a healthy yeast balance. We believe we have developed a superior formulation based on up to date research in the study of candidal overgrowth.
Suitable for Vegetarians
Two (2) capsules twice daily.
Serving Size: 2 Capsules
Vitamin E (as d-alpha tocopheryl succinate) ...50 IU
Calcium (as calcium caprylate) ...36mg
Caprylic acid (as calcium caprylate) ...350mg
Garlic extract (2500 mcg allicin) ...250mg
(Allium sativum)
Oregon grape root extract (4:1) ...100mg
(Berberis aquilfolium)
Oregon grape root ...100mg
(Berberis aquilfolium)
Lactobacillus acidophilus ...400mg
Milk thistle extract (80% Silymarin) ...140mg
Grapefruit seed & pulp extract ...20mg
(50% Citracidal®) (Citrus paradisa)
Contains - Vegetable cellulose and water
Does Not Contain - Preservatives, binders, artificial colorings or flavorings, sucrose, glucose, starch, lactose, salt, corn, wheat, milk derivatives
Keep in a cool, dry place out of reach of children.
Avoid the use of this product if pregnant.