Cardio Chelation
Priority One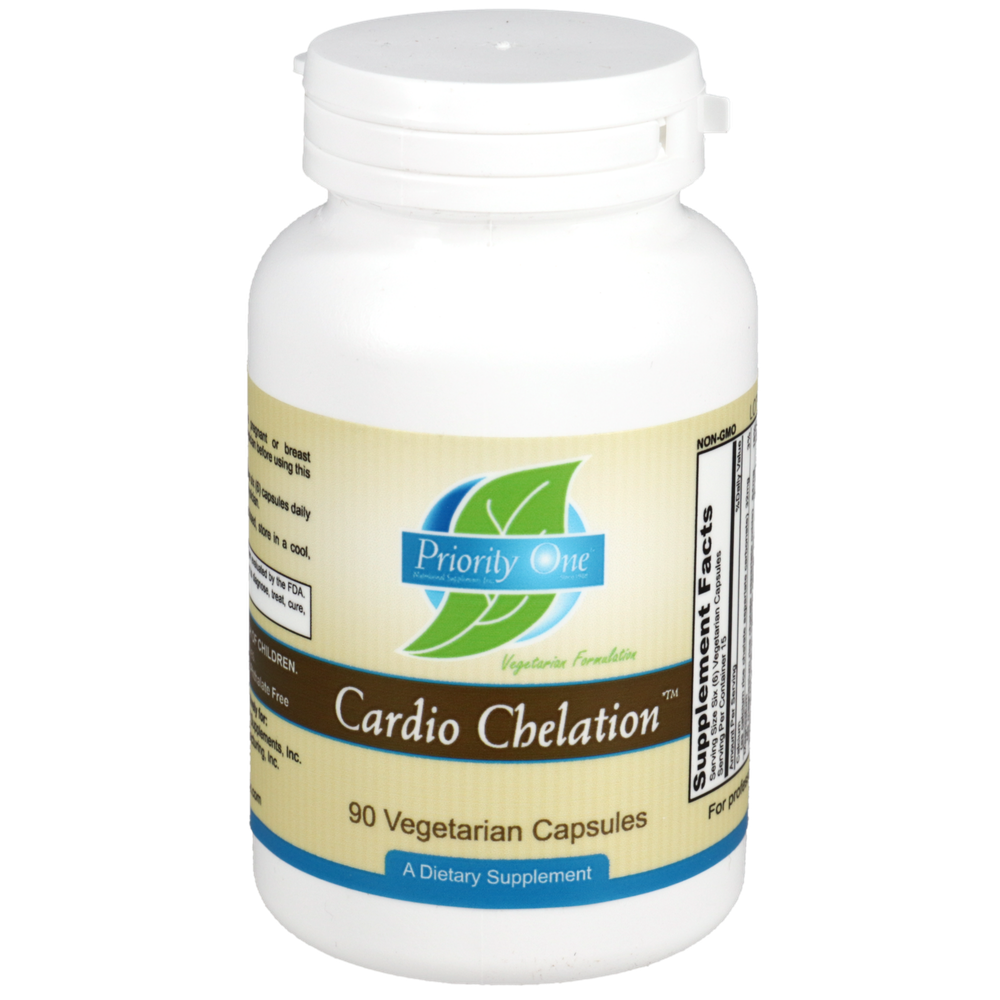 SKU: PR7-1662
Cardio Chelation is designed to provide nourishment to a healthy cardiovascular system. Enriched with co-enzyme q10, alpha lipoic acid, garlic powder, and EDTA to provide unique support.
Adults take two (2) capsules three (3) times daily as a dietary supplement, or as directed by your physician.
Serving Size: Six (6) Vegetarian Capsules
Amount Per Serving
Calcium (as calcium rice chelate aspartate carbonate) ... 32mg
Magnesium (as magnesium rice chelate aspartate oxide) ... 64mg
Selenium (as sodium selenite aspartate) ... 10mcg
Manganese (as manganese aspartate carbonate) ... 60mg
Chromium (as chromium polynicotinate)(ChromeMate®) ... 22mcg
Potassium (as potassium aspartate carbonate) ... 148mg
EDTA (calcium disodiumethylenediaminetetraacetic acid) ... 402mg
Coenzyme Q10 ... 102mg
Alpha-Lipoic Acid ... 102mg
L-Taurine ... 600mg
Hawthorn (berry)(Crataegus laevigata spp.) ... 252mg
Gentian (root)(Gentiana lutea) ... 48mg
L-Carnitine Fumerate ... 150mg
Bromelain (3,600MCU/g) ... 54mg
Choline (bitartrate) ... 252mg
Inositol ... 126mg
DL-Methionine ... 30mg
L-Tyrosine ... 498mg
Ginkgo biloba (leaf) ... 60mg
(24% ginkgo flavonol glycosides, 6% terpene lactones)
Garlic (bulb) (Allium sativum) ... 798mg
Butchers Broom (root) (extract 4:1)(Ruscus aculeatur L.) ... 150mg
Other Ingredients: Rice chelate, dicalcium phosphate, citric acid, gluten free maltodextrin, silicon dioxide, vegetarian capsule (hypromellose, purified water).

ChromeMate® is a registered trademark of InterHealth Nutraceuticals Inc.
KEEP CONTAINER TIGHTLY CLOSED. STORE IN A COOL, DRY TEMPERATURE.
KEEP OUT OF REACH OF CHILDREN.
If you are pregnant or breast feeding, consult your physician before using this product.