Cardio Tri-Plex
Protocol for Life Balance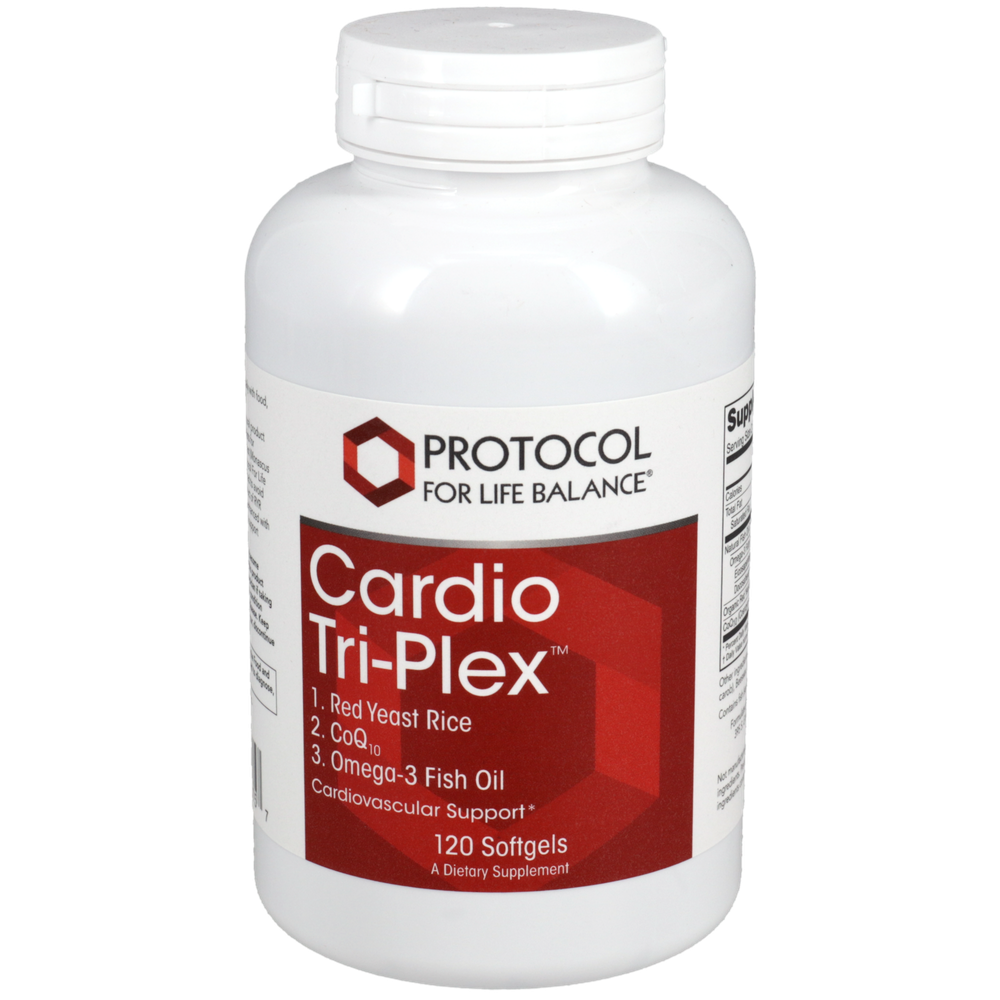 SKU: PROT-P1675
Clinical studies have consistently shown that the omega-3 fatty acids EPA and DHA, can help to maintain triglyceride levels within the healthy range. In addition, scientific evidence indicates that EPA supports a healthy inflammatory response. These effects are among the many beneficial properties of omega-3 fatty acids that contribute to a healthy cardiovascular system. Red Yeast Rice is produced to provide the optimal concentrations of active constituents. The Red yeast Rice in Protocol For Life Balance™ Cardio Tri-Plex™ is carefully selected to avoid the presence of citrinin, a sometimes toxic by-product of the fermentation process. The third cardiovascular support component of this formula is CoQ10.*
•Cardiovascular Support*
•Healthy Inflammatory Response*
•Cholesterol Free
As a dietary supplement, take 2 softgels twice daily or as directed by your health care practitioner.
Serving Size: 2 Softgels
Amount Per Serving:
Calories ... 20
Calories from Fat ... 20
Total Fat ... 2g
Saturated Fat ... 0.5g
Trans Fat ... 0g
Cholesterol ... 0mg
Vitamin E ... 20IU
(as natural d-alpha Tocopherol)
Natural Fish Oil Concentrate ... 2.0 g (2, 000 mg)
Omega-3 Fatty Acids ... 600mg
Eicosapentaenoic Acid (EPA) ... 360mg
Docosahexaenoic Acid (DHA) ... 240mg
Organic Red Yeast Rice ... 600mg
(Monascus purpureus)
CoQ10 ... 60mg
(Coenzyme Q10)

Other Ingredients: Softgel Capsule (gelatin, glycerin, water, carob) and Soy Lecithin. Contains fish (sardines, anchovies, mackerel) and soy derivatives.
Contains no sugar, salt, starch, wheat, gluten, corn, milk, egg, shellfish or preservatives.
Warning: Do not use if you are pregnant, may become pregnant, or are breast feeding, because using this product may harm the fetus. Individuals with liver disease or those currently taking any medications should consult with a health practitioner prior to use.
Store in a cool, dry place. Please Recycle.
Cautions and Interactions
Red yeast rice is well tolerated when taken as directed. Do not use in conjunctioin with cholesterol-lowering medications, during pregnancy or lactation, if consuming more than two alcoholic drinks per day, or if you are under twenty years of age. Individuals with liver disease or taking any prescription medication should consult a physician before taking this product.
Omega-3 fatty acids may interact with aspirin or warfarin. In addition, Omega-3 fatty acids may interact with cholesterol-lowering statin medications. Omega-3 fatty acids may affect the metabolism of certain medications, including cyclosporine, and may also affect the efficacy of topical corticosteroid treatment.*
* These statements have not been evaluated by the FDA. This product is not intended to diagnose, treat, cure or prevent any disease.