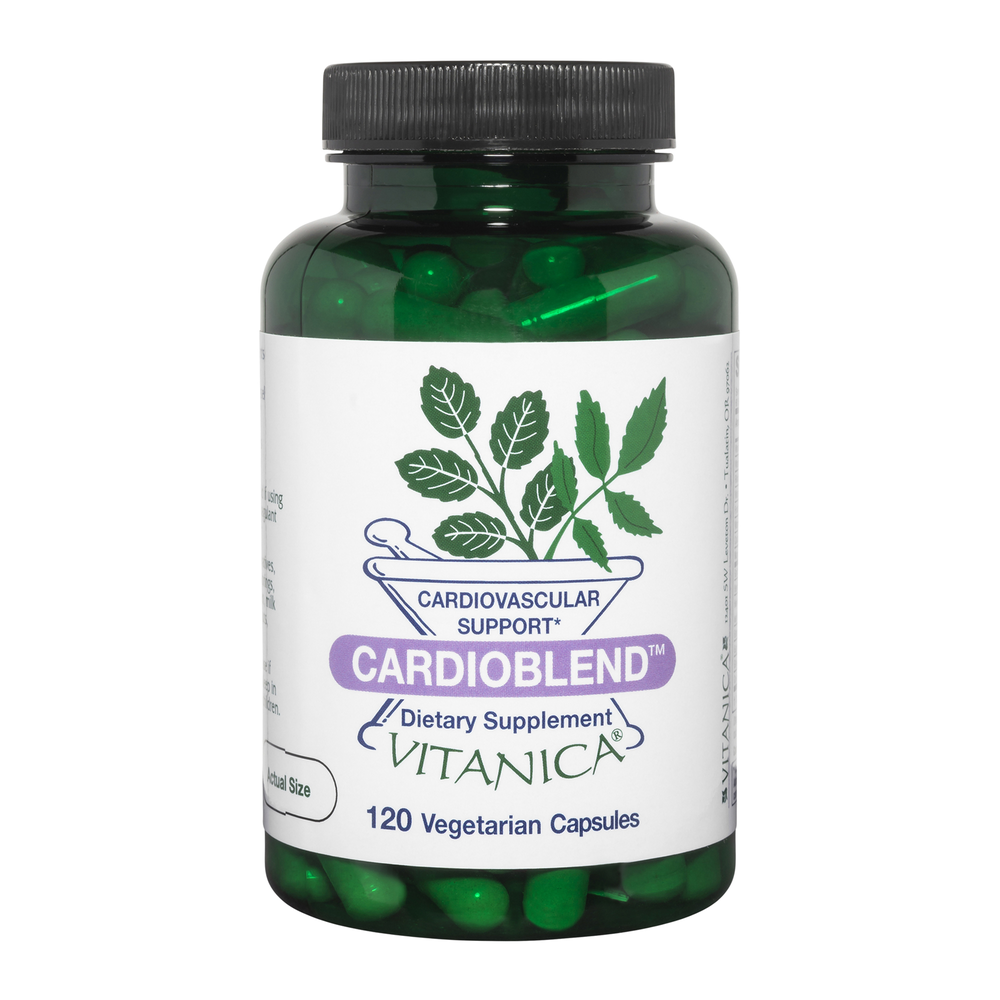 SKU: VTC-01085
CardioBlend provides antioxidants in support of maintaining healthly cholesterol levels and healthy vessel function to support heart health.*
Suitable for vegetarians and vegans.
Two (2) capsules twice daily.
Serving Size: 2 Capsules
Vitamin C ...250mg / 416% DV
(as calcium ascorbate, buffered)
Vitamin E (as d-alpha succinate) ...200 IU / 666% DV
Riboflavin ...10mg / 588% DV
(as Vitamin B2, as riboflavin-5-phosphate)
Vitamin B6 (as pyridoxine HCL) ...25mg / 1250% DV
Folate (as folic acid) ...400mcg / 100% DV
Vitamin B12 (as cyancobalamin) ...250mcg / 4166% DV
Magnesium (as Citrate - malate) ...100mg / 25% DV
Garlic Extract (10, 000 ppm allicin) ...250mg
(Allium sativum)
Hawthorne berry ~ Crataegus oxycantha ...250mg
Hawthorne extract (1.7% vitexin) ...80mg
~ Crataegus oxycantha
Grape seed extract ...30mg
(95% proanthocyanidins)
~ Vitis vinifera
Ginger root extract ...25mg
(4% essential oil complex)
~ Zingiber officinale
Gugulipid extract (2.5% Z&E guggulsterones) ...15mg
~ Commiphora mukul
Co-enzyme Q-10 ...10mg
Contains - vegetable cellulose, water, silicon dioxide and l-leucine.
Does Not Contain - Preservatives, binders, artificial colorings or flavorings, sucrose, glucose, starch, lactose, salt, corn, wheat, milk derivatives
Keep in a cool, dry place out of reach of children.
If you are pregnant or nursing a baby seek the advice of your health care practitioner before using this product.