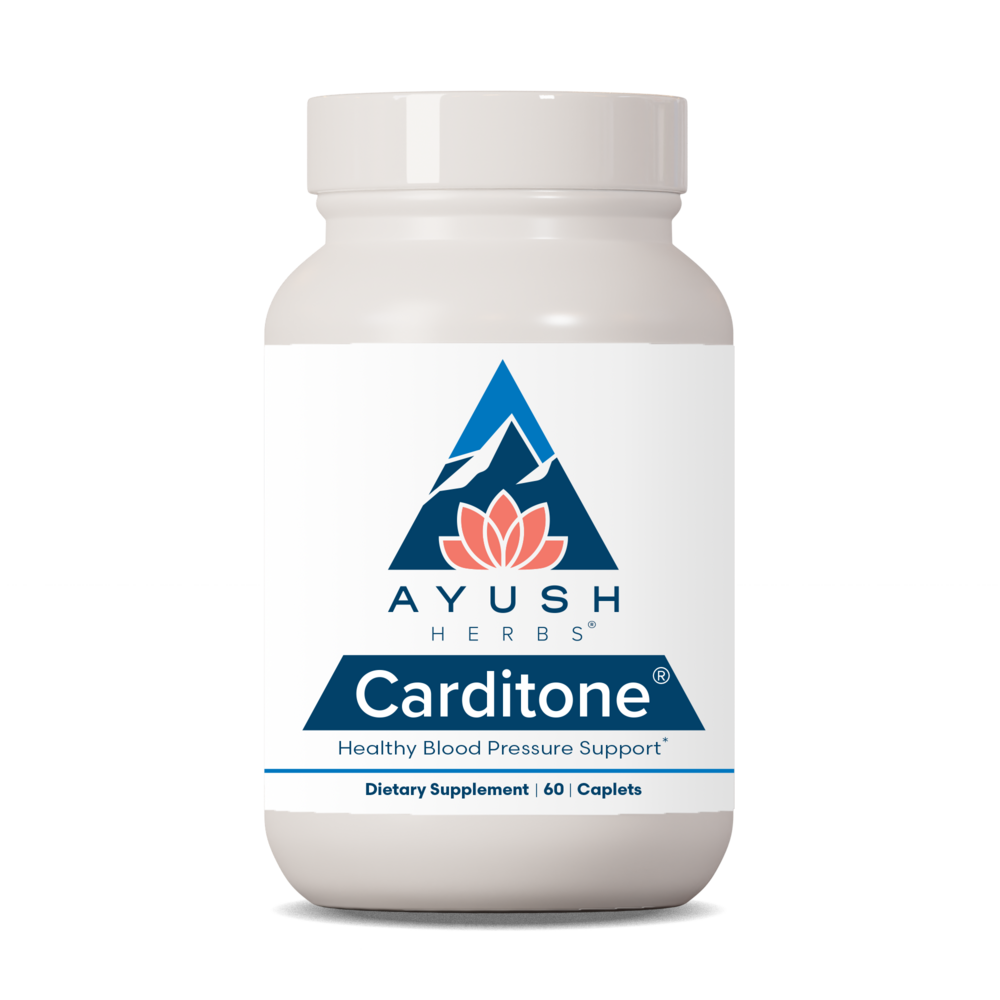 SKU: AY-0011
Unbeatable herbal cardiovascular support known around the world.

Carditone is the premier herbal formula that supports a healthy cardiovascular system, respiratory system, and renal system while also being stress relieving.* It supports the maintenance of blood pressures already within a normal range and delivers heart-healthy micronutrients and phytochemicals.* It includes rauwolfia: an herb known to support healthy blood pressure*, as well as arjuna, which studies support its utility for supporting lung and cardiac health due to its antioxidant properties.* Meanwhile, tribulus and boerhavia have been traditionally used for kidney support.* Rose powder is added to promote a sense of calm, without being too relaxing for daily use. In short, Carditone is an unbeatable supplement for lasting cardiovascular wellness.

• Supports blood pressure levels already within a normal range.*
• Rich in antioxidants and heart healthy magnesium.
• Promotes relaxation and stress relief.*


Suggested Use:
Take 1 capsule daily (preferably at night). Caplets can be broken in half safely if desired.
Serving Size: 1 caplet

Amount Per Serving
Magnesium aspartate ... 200mg
Proprietary Blend ... 350mg
(Coral powder (Dendrogyra cylindricus), Cabbage rose (Rosa centifolia) flower, Boerhavia (Boerhaavia diffusa) root
Shankhpushpi (Convolvulus Pluricaulis) herba ...100mg
Arjuna (Terminalia Arjuna) ...100mg
Tribulus (Tribulus terrestris) ...100mg
Rauwolfia (Rauwolfia serpentine) ... 50mg
Madagascar Periwinkle (Vina rosa) herba ... 25mg

Other Ingredients: Microcrystalline Cellulose, Stearic acid, Croscarmellose Sodium, Magnesium stearate, silicon dioxide and Natural Food Glaze.

May contain crustacean shellfish.

Free of Milk, Soy, Egg and Wheat


Do not use if seal is broken.

Warning: If pregnant, consult your physician before using this or any other product.

Keep away from reach of children.