CarnitAll 600
Jarrow Formulas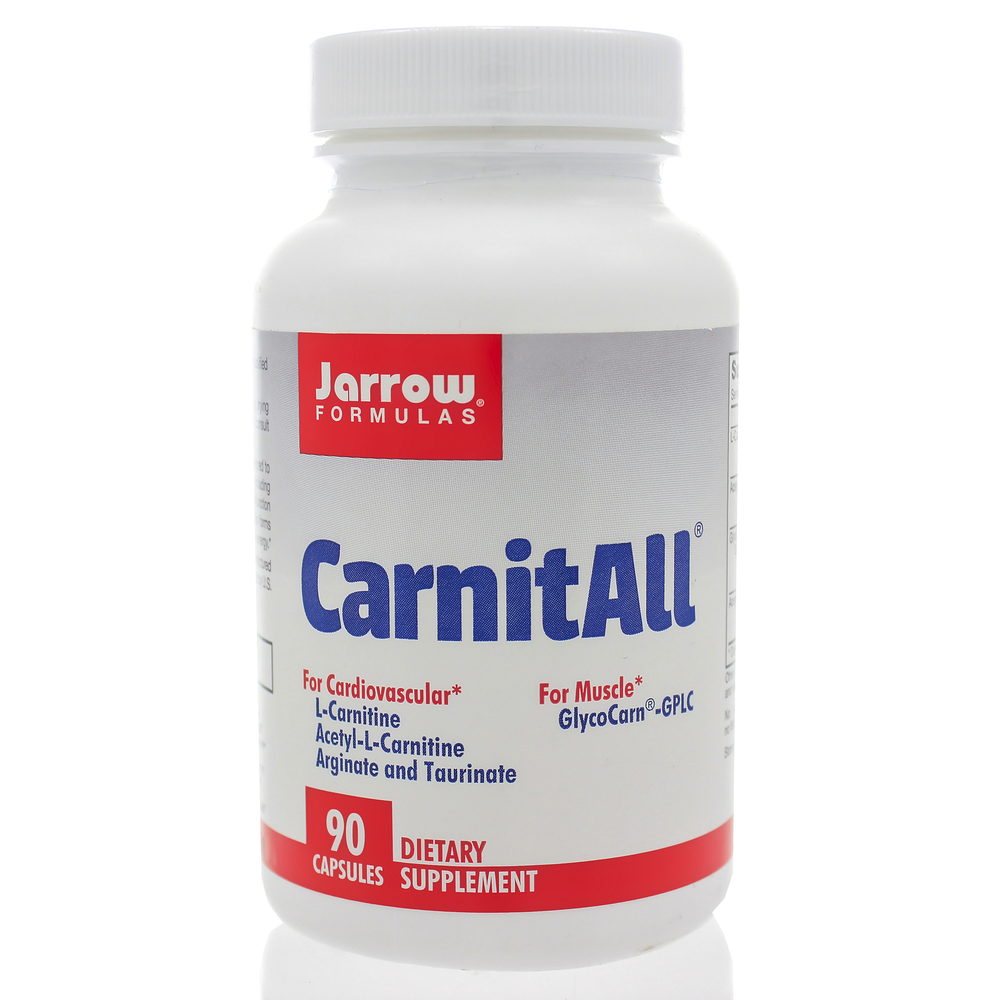 SKU: JAR-LCALL
Full Spectrum Carnitine Complex
CarnitALL® is a full spectrum carnitine combination designed to impact various body tissues with the benefits of carnitine including the cardiac and skeletal muscles as well as mitochondrial function in brain, nerve, heart, liver and sperm cells, where various forms of L-Carnitine participate in metabolizing fatty acids into energy.*
Take 3 capsules per day or as directed by your qualified healthcare professional.
Serving Size: 3 Capsules
Amount Per Serving
L-Carnitine Fumarate ... 600mg
L-Carnitine ... 350mg
Fumaric Acid ... 250mg
Acetyl-L-Carnitine Arginate Dihydrochloride ... 200mg
Acetyl-L-Carnitine HCI ... 90mg
Arginine HCI ... 80mg
GlycoCarn-GPLC Glycine Propionyl-L-Carnitine ... 200mg
Proprionyl-L-Carnitine HCI ... 140mg
Glycine ... 40mg
Acetyl-L-Carnitine Taurinate Hydrochloride ... 200mg
Acetyl-L-Carnitine ... 110mg
Taurine ... 68mg
Other Ingredients: Cellulose, silicon dioxide and magnesium stearate (vegetable source). Capsule consists of bovine gelatin.
This product contains: fully-reacted mineral citrates manufactured in the USA.
This product does not contain: wheat, gluten, soybeans, dairy, egg, fish/shellfish, peanut/tree nuts
GlycoCarn®, ArginoCarn®, and L-Tauro® ingredients are manufactured by Sigma-tau Industries, S.p.A. (Rome, Italy) and protected by U.S. Patents 6, 703, 042, 6, 124, 360 and EP1202956.
Note: If you have a medical condition, or are taking medications, consult your healthcare professional before using this product.
Store in a cool, dry place. Do not refrigerate.
Keep out of the reach of children.