Cartilage Comfort
Patient One MediNutritionals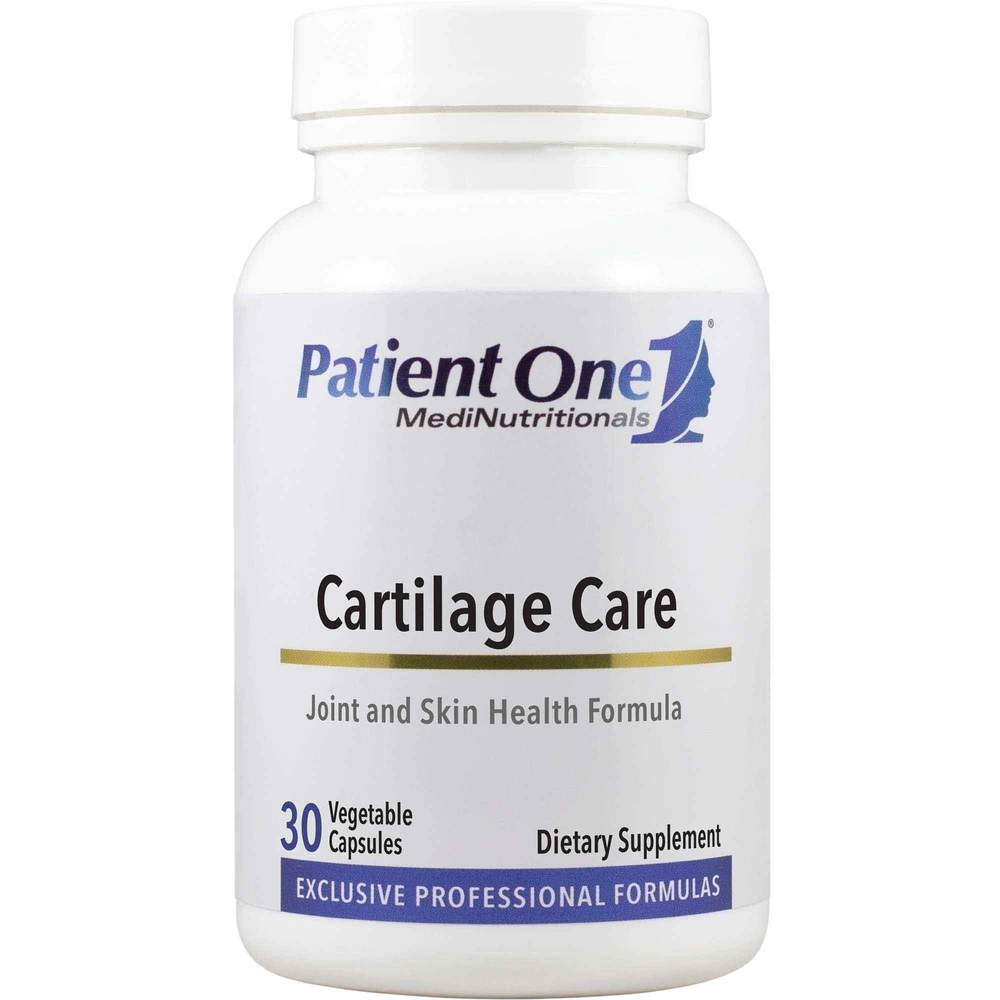 SKU: ONE631-P107530
Supplies proven, synergistic nutrients to promote cartilage repair and overall joint comfort
Nourishes cartilage matrix
Provides lubrication for joints
Supports flexibility, mobility and joint comfort
Convenient 1 capsule per day dose
UC-II shown to be more than 2X as effective in promoting joint health as 1, 500mg glucosamine & 1, 200mg chondroitin as rated by WOMAC, VAS and the Lequesne functional index
Unique Properties
Patient One Cartilage Comfort provides a synergistic combination of clinically proven ingredients to help strengthen and support the maintenance and natural repair processes of healthy connective tissue. This formula supplies UC-II® undenatured type-II collagen complex, MSM (as OptiMSM®) and Meriva® Turmeric to promote joint health and comfort in a convenient, one capsule per day dose.
Key Ingredients
UC-II® Undenatured Type-II Collagen Complex
UC-II® is a natural collagen concentrate derived from chicken sternum cartilage through a patented, non-enzymatic process which ensures that the type II collagen remains in its native triple helix form for optimal biological activity. UC-II is standardized to 25% undenatured type II collagen. Chicken collagen is a common food that has been consumed for centuries. With its unique mechanism of action, UC-II works in the small intestine through a process called oral tolerization to help slow down the degradation of type II collagen in the joints.
UC-II is clinically proven to increase joint comfort, flexibility and mobility twice as effectively as glucosamine and chondroitin.
In a randomized, double-blind trial involving 52 subjects, 40 mg of UC-II was more than twice as effective in promoting joint health as 1, 500 mg of glucosamine and 1, 200 mg of chondroitin as rated by WOMAC, VAS and the Lequesne functional index.
A human pilot study with five women supplemented with 40 mg of UC-II for 42 days showed statistically significant support for joint comfort and flexibility.
Meriva® Turmeric Phytosome™
Turmeric's active constituent curcumin acts as an orchestrator of whole body inflammatory responses, influencing pro-inflammatory COX enzymes, their transcription factors and gene expression. However, turmeric's absorption is poor. Meriva, a patented Phytosome delivery form of curcumin, binds turmeric's curcuminoids to phosphatidylcholine to enhance oral absorption and bioavailability by up to 29X. The improved oral bioavailability of curcumin as Meriva® has been translated into clinical efficacy for addressing the natural inflammatory response function at dosages significantly lower than those associated to uncomplexed curcumin.
OptiMSM® (methylsulfonylmethane)
A vital building block of joints, cartilage, skin, hair and nails, MSM is a sulfur-containing molecule that is found in various plants and in some body tissues. The major metabolite of DMSO (dimethyl sulfoxide), MSM is 34% elemental sulfur, a compound which is crucial in maintaining healthy tissues. While most known for its ability to support collagen production, the primary constituent of cartilage, skin and connective tissue, research indicates that MSM also modulates histamine release and inflammation. Numerous human and animal studies have demonstrated that MSM supplementation reduced pain and joint stiffness and improved physical function. Our formula supplies OptiMSM®, the result of a proprietary distillation process that guarantees an ultra-pure product.
Research
The efficacy of UC-II in supporting joint function in healthy subjects was studied in a randomized, double-blind, placebo-controlled study of 55 people. Subjects took 40



Suggested Use:
Take 1 capsule daily, with a meal, or as directed by a qualified health care professional.
Serving Size: 1 Capsule
Amount Per Serving
UC-II® Standardized Cartilage ... 40mg
Total Collagen ... 10mg
Meriva® Turmeric Phytosome™ ... 100mg
(Curcuma longa rhizome/Glycine max soybeans) [Standardized to contain 18-22% curcuminoids (18mg - 22mg)]
OptiMSM™ ... 500mg
(methylsulfonylmethane)
Other Ingredients: vegetable cellulose (capsule), l-leucine, rice flour
Contains:
non-GMO soybeans
UC-II® is a trademark of InterHealth N.I. UC-II® brand of undenatured type II collagen (U. S. Patents 5, 645, 851, 5, 637, 321, 5, 529, 786, 5, 750, 144, 7, 083, 820, EPO Patent EP1435906B1, Canadian Patent CA2459981L, Japanese Patent JP 4, 800, 574B2 and world-wide patents pending).
Meriva® and Phytosome™ are registered trademarks of Indena S.p.A.
OptiMSM® is a registered trademark of Bergstrom


Warnings
If you are pregnant, nursing, or taking any medications, consult your doctor before use. Discontinue use and consult doctor if any adverse reactions occur.