Cataplex® B-Core
Standard Process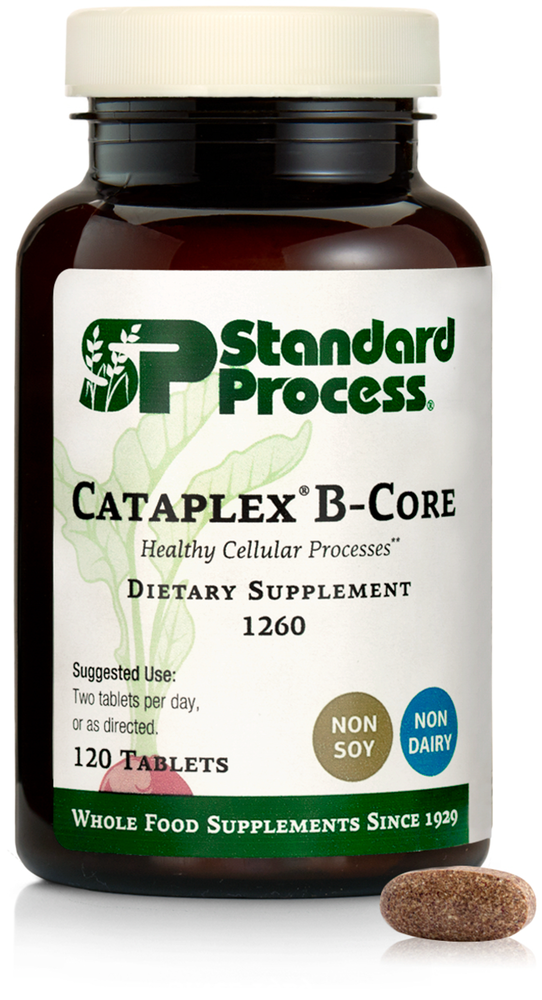 SKU: STP-1260
Cataplex B-Core contains naturally-occurring phytonutrients and B vitamins including thiamine and folate derived from the whole food matrix.
Contains ingredients that support healthy cellular processes*
Formulated with ingredients that have naturally occurring B vitamins
Long-term vitamin B support*
Take two tablets per day, or as directed.
Serving Size:
2 Tablets
Amount Per ServingCalories
... 10
Cholesterol
... 5mg
Total Carbohydrate
... <1g
Protein
... <1g
Thiamin
... 0.1mg
Folate
... 10mcg DFE
Sodium
... 10mg
Proprietary blend
... 1,515mg
Bovine liver, organic beet (root), nutritional yeast, defatted wheat germ, rice bran, organic carrot, organic sweet potato, and bovine adrenal.

Other Ingredients:
Honey, calcium stearate, and ascorbic acid
Caution:
This product is processed in a facility that manufactures other products containing soy, milk, egg, wheat, peanut, tree nuts, fish and shellfish.