Celadrin Joint Liposome Lotion
Protocol for Life Balance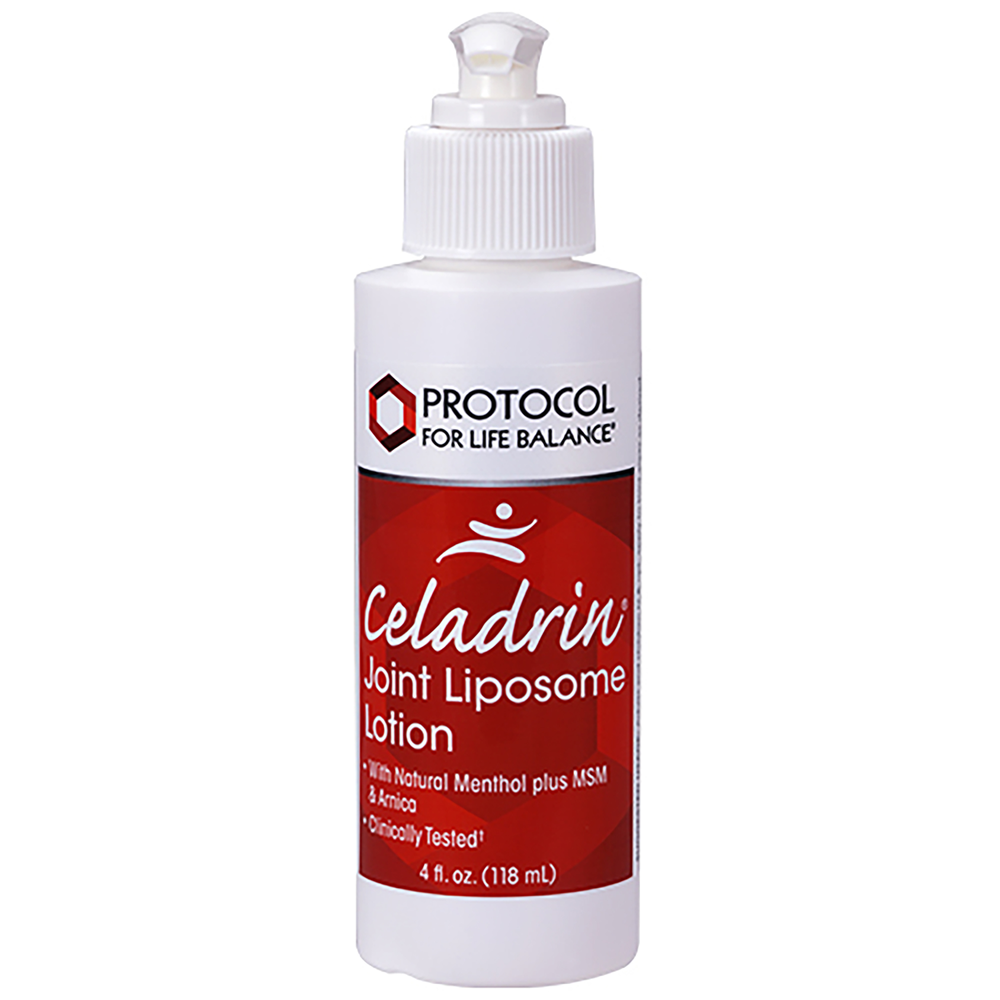 SKU: PROT-P3019
Celadrin® is a natural fatty acid complex that has been shown to provide support for healthy joints. As demonstrated in clinical studies, Celadrin® Joint Liposome Lotion supports healthy joint mobility, as well as overall joint function without dangerous side-effects. Scientific studies have shown that Celadrin® Joint Liposome Lotion is well-absorbed and easily utilized by the body.
Celadrin® Joint Liposome Lotion can help support joint and cartilage response to physical activity, exercise and postural stability. As evidenced by a 2005 University led, placebocontrolled study, topical Celadrin® (7.5%) was shown to significantly reduce joint discomfort while increasing joint function and balance (J Strength Cond Res. 2005 Feb;19(1):115-21).*
Adults and children (2 yrs. of age and older), apply to affected area up to 4 times a day as needed. Massage into affected area until absorbed into skin. Children under 2 yrs. of age: consult your healthcare practitioner.
Functional Ingredients: Celadrin® (7.5%) (a proprietary blend of esterified fatty acid carbons), MSM (Methylsulfonylmethane), Arnica spp. Flower Tincture and Natural Menthol (1.25%).
De-ionized Water, Aloe Vera (Aloe barbadensis) Leaf Gel*, Celadrin®, MSM, Glyceryl Stearate SE, Vegetable Glycerin, Stearic Acid (vegetable source), Sweet Almond Oil, Caprylic/Capric Triglyceride, Cetearyl Alcohol, Arnica spp. Flower Tincture, Safflower Oil, Cetearyl Alcohol/Cetearyl Glucoside, Natural Menthol, Glucose/Glucose Oxidase/Lactoperoxidase (natural preservative), Meadowfoam Seed Oil, Soy Lecithin, d-alpha Tocopheryl Acetate (Vitamin E), Phospholipids (soy), Grapefruit Seed Extract, Cedar Bark Extract, Potassium Sorbate and Xanthan Gum.
Caution: For external use only. Avoid contact with eyes. Keep out of reach of children. Arnica can cause allergic dermatitis with extended use or in sensitive persons. Not to be used on open wounds or broken skin.
Gluten-Free

Certified Organic.
Celadrin® is a registered trademark of Imagenetix, Inc.
*These statements have not been evaluated by the Food and Drug Administration. This product is not intended to diagnose, treat, cure or prevent any disease.