Cerenity
Ortho Molecular Products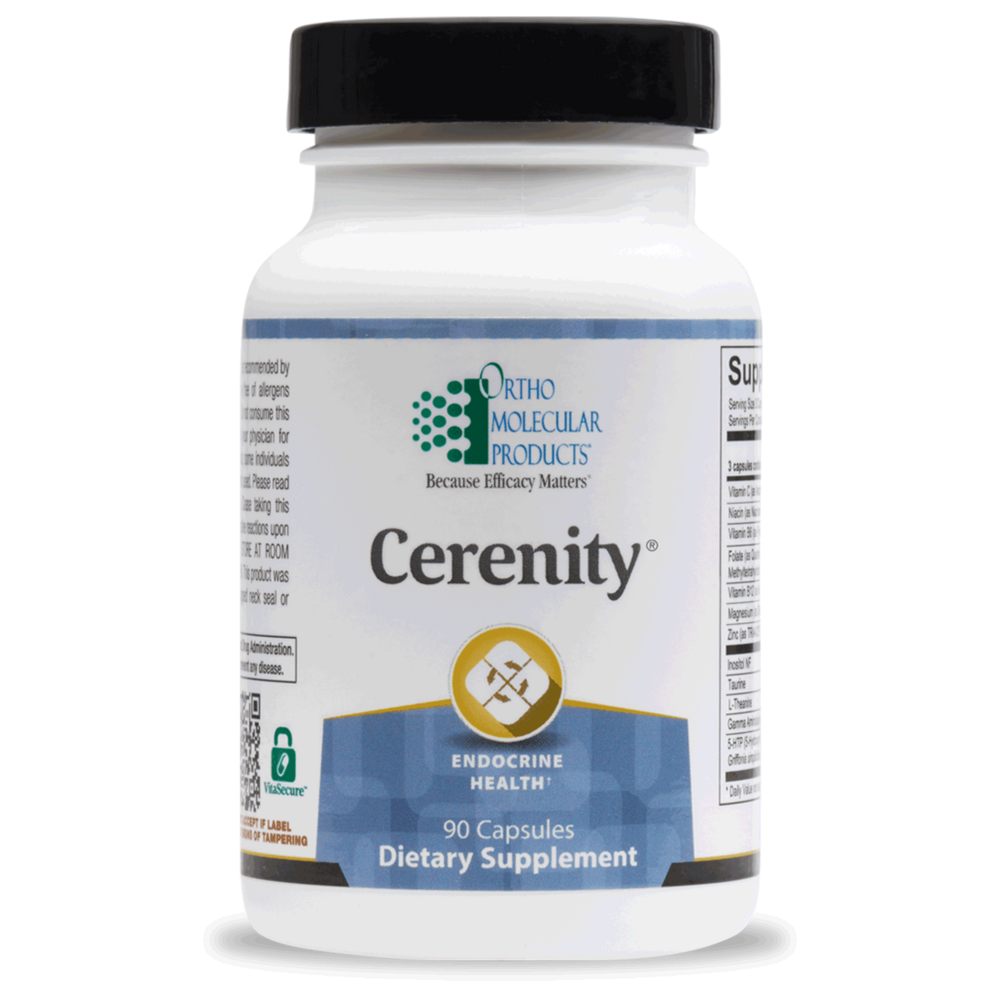 SKU: OHM-831090
Supports a State of Calmness and Relaxation
Increases Serotonin and GABA production in the Brain
Addresses Neurotransmitter Signaling Systems
Supports Occasional Sleeplessness
Neurotransmitters are the chemical messengers that regulate mood, memory, sleep cycle and daily stress. Adequate neurotransmitter production depends on an adequate supply of amino acids, vitamins and minerals in the diet.
Cerenity is a comprehensive formula designed to address daily stress by increasing the production of the calming neurotransmitters serotonin and gamma-amino butyric acid (GABA). Cerenity also includes key ingredients that quickly increase the production of alpha brain waves resulting in a relaxed and effortless state of alertness.
Take 3 capsules taken 1-3 times per day or as recommended by your health care professional.
Serving Size:
3 Capsules
Amount Per ServingVitamin C
... 50mg
(as Ascorbic Acid USP)
Niacin
... 10mg
(as Niacinamide USP)
Vitamin B6
... 10mg
(as Pyridoxal 5'-Phosphate)
Folate
... 680mcg DFE
(from 400 mcg as Quatrefolic® (6S)-5-Methyltetrahydrofolic acid glucosamine salt)
Vitamin B12
... 200mcg
(as Methylcobalamin)
Magnesium
... 75mg
(as DiMagnesium Malate)
Zinc
... 5mg
(as TRAACS® Zinc Bisglycinate Chelate)
Inositol NF
... 1g
Taurine
... 300mg
L-Theanine
... 100mg
Gamma Aminobutyric Acid
... 100mg
(PharmaGABA™)
5-HTP
... 75mg
(5-Hydroxytryptophan)(from Griffonia simplicifolia (Seed))
Other Ingredients:
Natural Vegetable Capsules, Magnesium Stearate, Silicon Dioxide.
Does not contain
wheat, gluten, soy, animal or dairy products, fish, shellfish, peanuts, tree nuts, egg, artificial colors, artificial sweeteners or preservatives.
Caution:
If you are pregnant, nursing or taking any medications for depression or anxiety, consult your health care provider before taking this product.