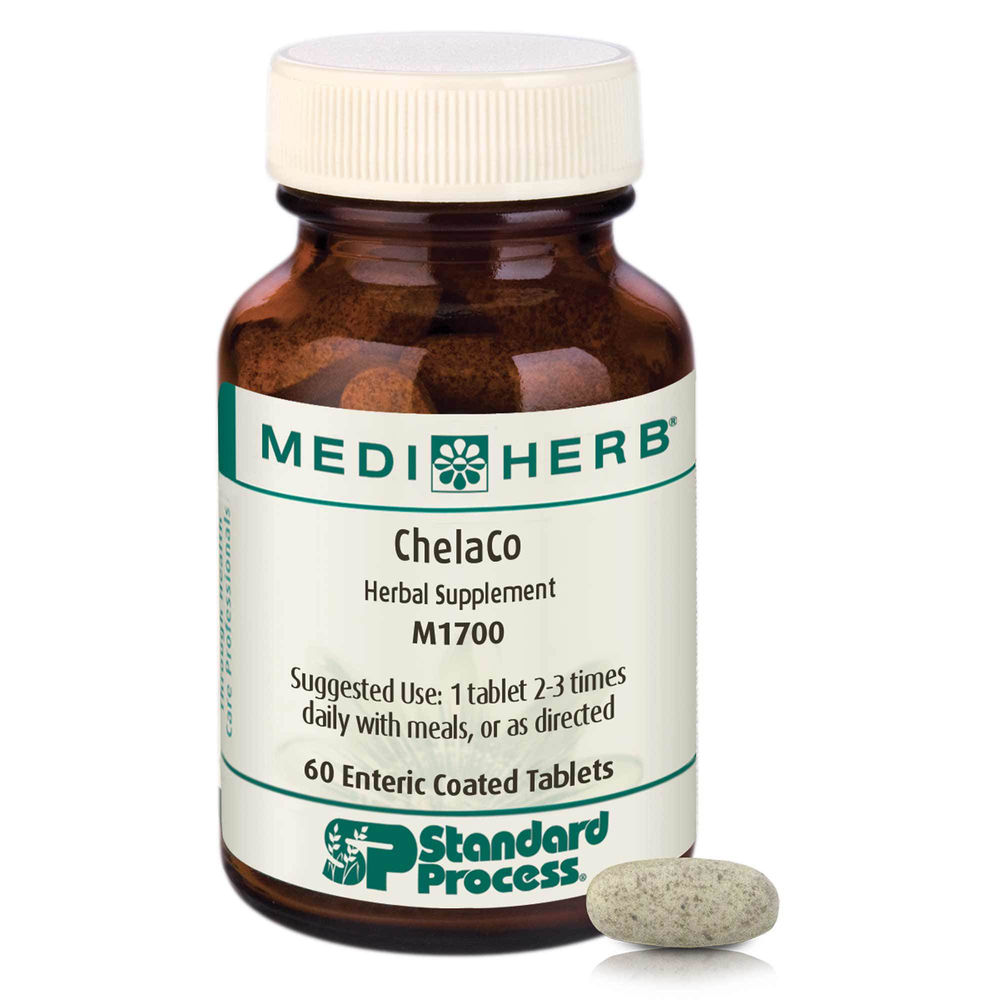 SKU: MDH-M1700
ChelaCo contains Hawthorn, Milk Thistle seed and Garlic to provide general detoxification support. These herbs have been traditionally used in herbal preparations to:
Support the liver as a liver tonic
Support healthy detoxification function
Support a healthy circulatory system
Help support healthy cell functioning*
Take 1 tablet 2 - 3 times daily with meals, or as directed. Enteric coated tablets. Do not break or crush.
Serving Size:
1 Tablet
Amount Per ServingCalcium
... 68mg
Hawthorn leaf & flower 4.8:1 extract
... 67mg
from Crataegus monogyna leaf & flower 318mgContaining vitexin-2-rhamnoside 2.0mg
Milk Thistle seed 70:1 extract
... 114.3mg
from Silybum marianum seed 8.0gContaining flavonolignans calc. as silybin 80mg
Fresh Garlic bulb 12:1 extract
... 50mg
from Allium sativum fresh bulb 600mg
Garlic bulb powder
... 7.5mg
(Allium sativum)
Other Ingredients:
Microcrystalline cellulose, dibasic calcium phosphate dihydrate, hypromellose, maltodextrin, sodium starch glycolate, ethyl cellulose, ammonium hydroxide, fatty acids, oleic acid, sodium carboxymethylcellulose, talc (magnesium silicate), polydextrose, magnesium stearate, silicon dioxide and dl-alpha-tocopherol
Cautions:
Contraindicated in known allergy to Garlic. Contraindicated in lactation. Not to be used during pregnancy unless otherwise directed by a qualified health care professional. In anemia and cases where iron supplementation is required, do not take simultaneously with meals or iron supplements. For other contraindications and cautions consult your health care professional. This product is packaged in a facility that manufactures other products containing soy, milk, egg, wheat, peanut, tree nuts, fish and shellfish. Do not break or crush tablets. Keep out of reach of children, Store in a cool, dry place out of direct sunlight.