Chewable Probiotic-4
Protocol for Life Balance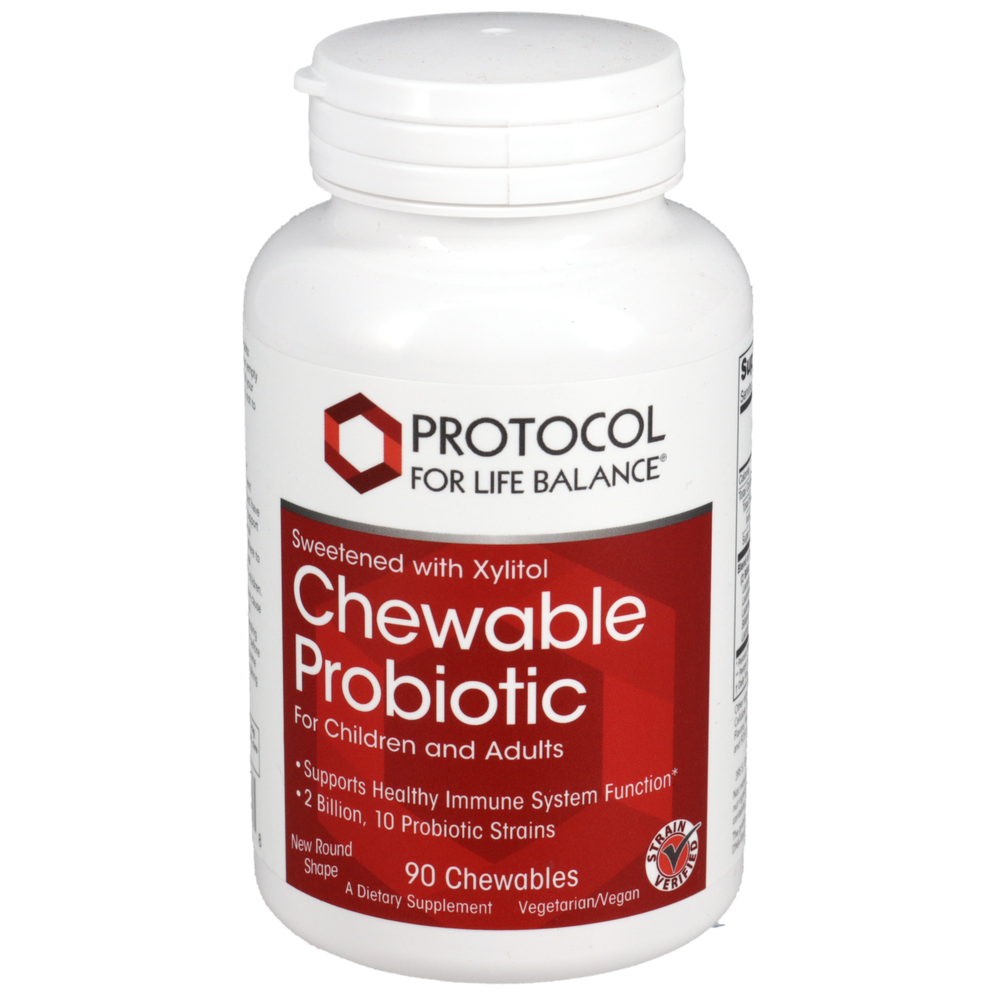 SKU: PROT-P2936
Supports Healthy Immune System Function*
2 Billion, 10 Probiotic Strains
Protocol For Life Balance® Chewable Probiotic is a great-tasting, chewable probiotic supplement sweetened with xylitol. The bacterial strains in this product have been scientifically tested and chosen for their ability to support healthy immune system and GI functions.* These bacterial strains are particularly hardy and have been shown to adhere to the intestinal lining, thereby helping to maintain intestinal integrity.* This product can be used by both adults and children.
For children (age 2 & up) and adults: Chew 1 tablet 1 to 3 times daily between meals or on an empty stomach. For children under 2, use only on the advice of your healthcare practitioner.
Serving Size: One Chewable Tablet
Amount Per Serving
Calories ... 5
Total Carbohydrate ... 1g
Total Sugars ... 0g
Added Sugars ... 0g
Sugar Alcohols ... 1g
(Xylitol & Sorbitol)
Blend of 10 Strains ... 2 Billion CFU
Lactobacillus acidophilus (La-14), Bifidobacterium lactis (Bl-04), Lactobacillus plantarum (Lp-115), Bifidobacterium longum (Bl-05), Lactobacillus rhamnosus (Lr-32), Streptococcus thermophilus (St-21), Lactobacillus paracasei (Lpc-37), Bifidobacterium breve (Bb-03), Lactobacillus salivarius (Ls-33), Lactobacillus casei (Lc-11)
Other Ingredients: Xylitol, Sorbitol, Cellulose, Stearic Acid (vegetable source), Silica, Malic Acid, Natural Berry Flavors, Beet Powder and FOS (Fructooligosaccharides).
This product does not contain
wheat
gluten
soy
milk
egg
fish
shellfish
tree nuts
Produced in a GMP facility that processes other ingredients containing these allergens.
Caution
Probiotic supplements may cause mild, but transient GI discomfort. Individuals with severe immune system deficit and those taking immune-suppressing medications should consult their healthcare practitioner before taking this product. Because antibiotics may inactivate some probiotic bacteria, take at least 2 hours before or after taking antibiotic medications. Contains Xylitol, do not feed to pets.
Do not eat freshness packet. Keep in bottle. Natural color variation may occur in this product. Keep lid tightly sealed. Keep refrigerated to maintain potency.