Childrens Multi-Vitamin/Mineral - Hypoallergenic
Kirkman Professional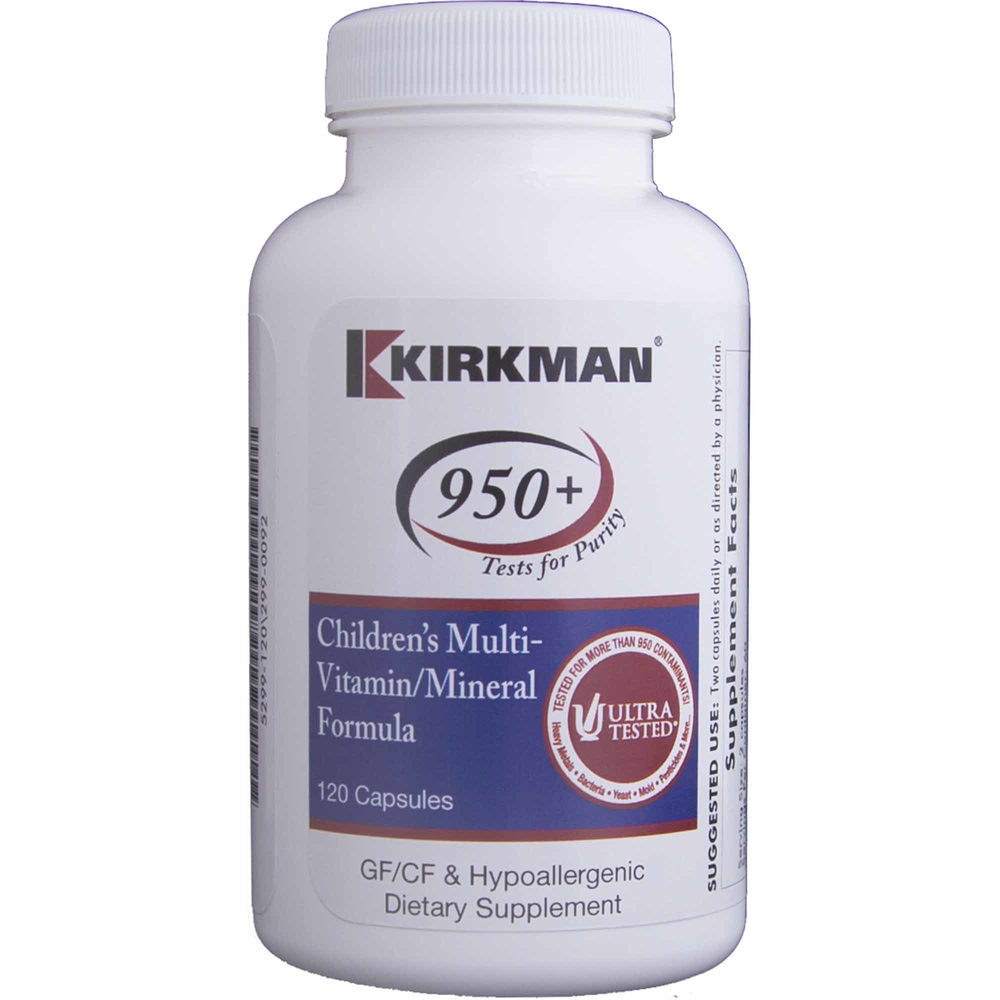 SKU: KRK-5299120
Kirkman's hypoallergenic Children's Multi-Vitamin/Mineral Capsules provide a high-potency, all-purpose, vitamin/mineral supplement specially designed for children to support their good nutritional health. This product is the hypoallergenic alternative to our Childrens Multi-Vitamin/Mineral Wafers. It is specially formulated for the sensitive child without additives known to cause allergic reactions.

This product contains higher potencies than many commercially sold multivitamins and offers trace minerals and coenzyme Q10, as well. Most importantly, it offers a better choice for a general multivitamin product, because it contains no colorings, casein, gluten, soy, colors or flavors. Sensitive children often react to the artificial coal tar colorings and artificial flavoring chemicals present in most commercially sold "kids vitamins."
Take 2 capsules daily or as directed by a physician.
Serving Size: 2 Capsules

Amount Per Serving
Vitamin A … 2500IU
(20% As Beta Carotene)
Vitamin C … 120mg
(Ascorbic acid)
Vitamin D … 200IU
Vitamin E … 60IU
(dl-Alpha Tocopheryl Acetate)
Vitamin B-1 … 3mg
(Thiamine Hydrochloride)
Vitamin B-2 … 3.4mg
Niacinamide … 20mg
Vitamin B-6 … 4mg
(Pyridoxine Hydrochloride)
Folic Acid … 400mcg
Vitamin B-12 … 12mcg
Biotin … 60mcg
Pantothenic Acid … 10mg
(d-Calcium Pantothenate)
Calcium … 100mg
(Carbonate/Citrate)
Iodine .. 150mcg
(Potassium Iodide)
Magnesium … 40mg
(Oxide/Glycinate)
Zinc … 15mg
(Citrate)
Selenium … 25mcg
(Amino Acid Chelate)
Manganese … 2mg
(Citrate)
Chromium … 25mcg
(Chelate)
Molybdenum … 25mcg
(Amino Acid Chelate)
Coenzyme Q10 … 10mg
Ingredients: Calcium Carbonate, Ascorbic Acid, Vitamin E, Acetate (dl), Magnesium Oxide) Zinc Citrate, Plant Cellulose, Magnesium Glycinate(R), Calcium Citrate, Niacinamide, d-Calcium Pantothenate, Manganese Citrate, CoQ10, Silicon Dioxide, Magnesium Stearate (vegetable), Biotin, Vitamin A Acetate, Pyridoxine Hydrochloride, Riboflavin, Thiamine Mononitrate, Vitamin D-3, Selenium Chelate, Di-Calcium Phosphate, Beta Carotene, Fish Gelatin, Cyanocobalamin, Chromium Chelate, Molybdenum Chelate, Folic Acid, Potassium Iodide, Plant Cellulose Capsules.
Contains Fish.
Free Of
Casein, gluten, soy, wheat, milk, egg, artificial colorings, artificial flavorings, yeast, peanuts or tree nuts.
Warnings:
STORE IN A COOL DRY PLACE AND TIGHTLY CAPPED.
KEEP OUT OF THE REACH OF CHILDREN.
These statements have not been evaluated by the Food & Drug Administration. This product is not intended to diagnose, treat, cure or prevent any disease.
It looks like there are no similar
products available