Childrens Chewable Multi-Vitamins (Grape Flavor)
Rx Vitamins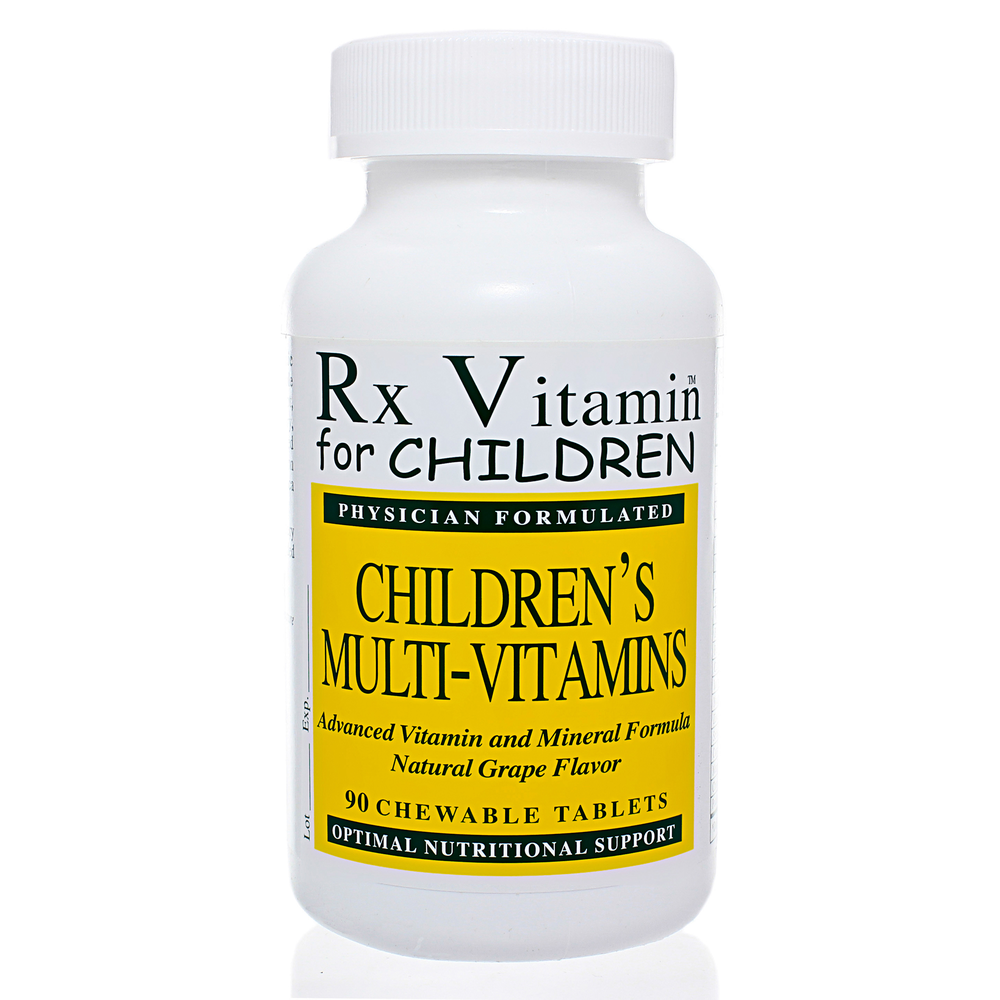 SKU: RXV-2200
Rx Vitamins' Children's Multi-Vitamins provides a bounty of essential vitamins and minerals to meet the specific nutritional needs of children. Each delicious natural grape flavored chewable tablet supplies 12 vitamins and 9 minerals along with extracts of nature's most healthful whole foods including spirulina, carrot, pineapple, garlic and broccoli. This vegetarian and hypo- allergenic formula is the perfect choice for parents who want superior nutrition for their children.
As a dietary supplement, two tablets daily or as recommended by a physician or health care practitioner. Recommended for children 4 years and over.
* Natural and Delicious Grape Chewable
Serving Size: Two Chewable Tablets
Servings Per Container: 90
Amount Per Serving
Vitamin A ... 2500IU
(as beta carotene)
Vitamin D ... 200IU
(as ergocalciferol)
Vitamin E ... 30IU
(d-alpha tocopheryl succinate)
Vitamin C ... 60mg
(as ascorbic acid)
Vitamin B1 ... 1.5mg
(as mononitrate)
Vitamin B2 ... 1.7mg
(as riboflavin)
Niacinamide ... 20mg
Vitamin B6 ... 2mg
(pyridoxine hydrochloride)
Folic acid ... 10mcg
Vitamin B12 ... 6mcg
Biotin ... 10mcg
Pantothenic acid ... 10mg
Potassium ... 1mg
(amino acid complex)
Calcium ... 50mg
(amino acid chelate, citrate)
Magnesium ... 25mg
(amino acid chelate, citrate)
Copper ... 1mcg
(amino acid chelate)
Zinc ... 5mg
(picolinate, gluconate)
Iodine ... 75mcg
(potassium iodide)
Manganese ... 25mcg
(amino acid chelate)
Chromium ... 50mcg
(chromium polynicotinate)
Selenium ... 1mcg
Other ingredients: maple crystals, organic wildflower honey molasses, fruit sugar, whole food concentrates including apple, apricot, banana, black currant, camu-carnu, cranberry, orange, papaya, peach, pineapple, red raspberry, red grape, strawberry, broccoli, garlic clove, onion bulb, parsley leaf, spirulina; stearic acid, silica and natural flavors.
* This statement has not been evaluated by the Food and Drug Administration. This product is not intended to diagnose, treat, cure or prevent any disease.