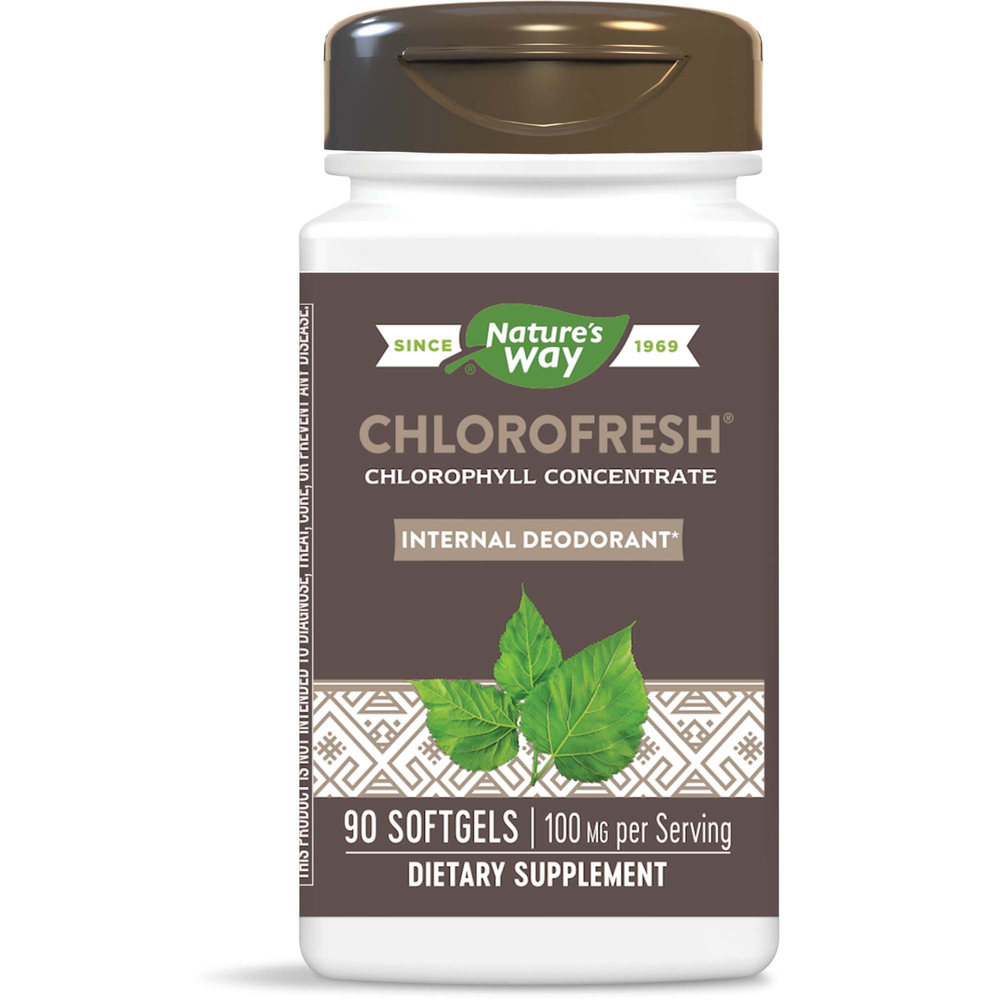 SKU: NW-3550
Feel fresh with a little help from Chlorofresh, a liquid chlorophyllin complex extracted from premium botanicals for use as an internal deodorant.* Chlorophyll, as you may know, is the pigment that gives plants and algae their green color. The chlorophyllin used in Nature's Way Chlorofresh is derived from white mulberry leaves. Chlorofresh is also available in both unflavored and mint liquid varieties, so you can enjoy its fresh benefits any way you prefer.
Suggested Use:
Adults: Take 2 softgels 1-2 times daily. Do not exceed recommended dosage.
Children under age 18: Consult a healthcare professional before use.
Serving Size: 2 Softgels
Amount Per Serving
Calories … 10
Total Fat … <1 g†
Copper … 4.5mg
(from Chlorophyllin copper complex)
Sodium …. 10mg
Chlorophyllin … 100mg**
(from Chlorophyllin copper complex from White Mulberry leaf)
Other Ingredients: Soybean oil, gelatin, glycerin, yellow beeswax, purified water, soy lecithin.
Chlorofresh® Chlorophyll Concentrate Does Not Contain:
Yeast
Wheat
Gluten
Corn
Dairy Products
Artificial Colors
Artificial Flavors
Preservatives
Other Details
Quality Global Sourcing
Warnings:
Reduce the dosage if cramps or diarrhea occur. If symptoms persist, stop use and consult a healthcare professional. If pregnant, nursing, or taking any medications, consult a healthcare professional before use. Keep out of reach of children.