Cinnamon Bark
Gaia Herbs/Professional Solutions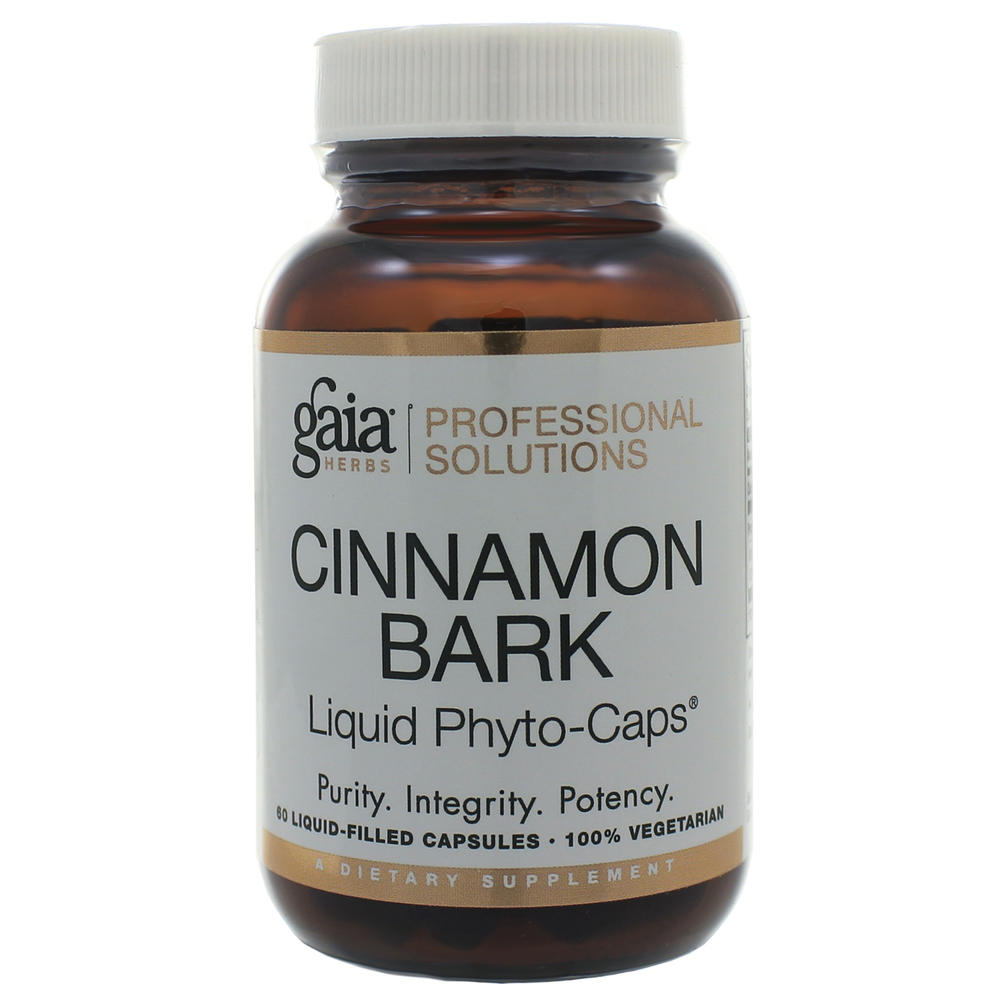 SKU: GAI-90A60060
Cinnamon Bark (liquid phyto-cap) 60 lvcaps
Dietary Supplement
• Liquid Phyto-Caps
• Purity. Integrity. Potency
• 100% Vegetarian
Supplement Facts
Serving Size: 2 Capsules
Servings per Container: 30
Amount per Serving
Calories 20
TOTAL ALCOHOL FREE EXTRACTS: 250 mg
Cinnamon bark, Supercritical CO2
Extract (Cinnamomum spp.) 50 mg
Cinnamon bark, Hydro-ethanolic
Extract (Cinnamomum spp.) 200 mg
VALIDATED FULL SPECTRUM PROFILE
Total Cinnamaldehydes 33 mg
Total Phenols 45 mg
Other Ingredients: Vegetable glycerin, soy lecithin, vegetable cellulose (capsule)
Each 2 capsules contain 2,500 dry herb equivalent
RECOMMENDATIONS: Take 1 capsule 2 times daily after meals or as directed by your health care provider. Not recommended during pregnancy or nursing without consulting your health care provider prior to use. Keep away from children. Safety sealed for your protection. Keep bottle capped at all times and store in a cool dry place. Natural separation may occur. This does not affect product quality.
• Contains no animal by-products and no gelatin
• Tested FREE of Heavy Metal Toxicity
LIQUID PHYTO-CAPS™ deliver a concentrated liquid herbal extract in a 100% vegetarian capsule. Manufactured exclusively by Gaia Herbs, Inc.
*These statements have not been evaluated by the Food and Drug Administration.This product is not intended to diagnose, treat, cure or prevent any disease.
Meet Your Herbs is an industry-first traceability program developed by Gaia Herbs, allowing you to view the full history of the herbs in their products. Click below on "Meet Your Herbs" to see where the herbs were grown, how they were harvested and extracted, and results of analytical tests performed.
Meet Your Herbs
It looks like there are no similar
products available