Clear Change® Daily Essentials
Metagenics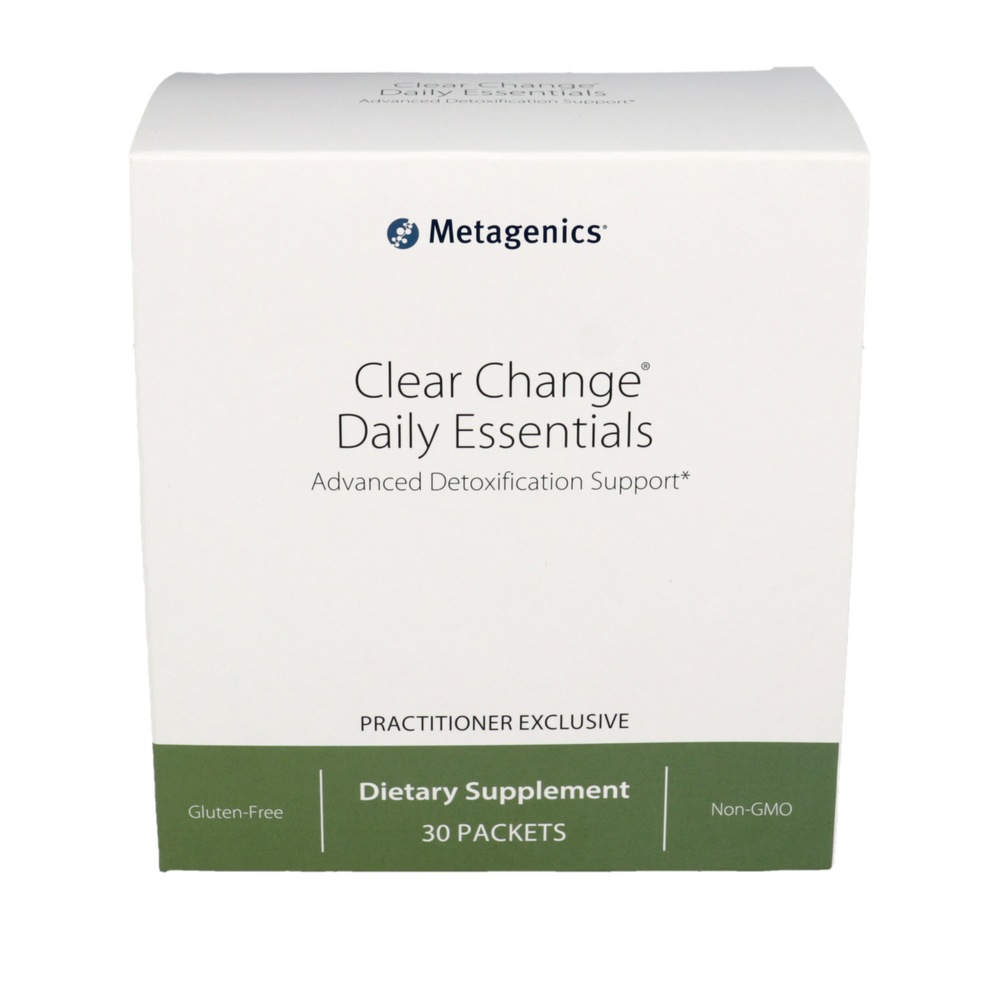 SKU: MET-CLEARDE
Clear Change® Daily Essentials is a premium packet containing 3 nutritional supplements designed to complement your daily foundation nutrition program and support daily detoxification following the Clear Change Metabolic Detoxification Program. This 1-month program features AdvaClear®, GlutaClear®, and Renagen™ DTX for targeted, daily support.*
Each once-daily packet provides:
Bifunctional detoxification support: AdvaClear® promotes vitality and health by supporting balanced activity of the Phase 1 and Phase 2 detoxification pathways. This formula provides methylated vitamin B12 and folic acid along with nutrients designed to enhance the activities of several liver detoxification enzymes.*
Antioxidant protection & detoxification support: GlutaClear® features a blend of key ingredients, including antioxidant vitamins, designed to help boost the body's production of glutathione. Glutathione plays an important role in protecting the body against oxidative stress and protecting cellular health.*
Kidney health: Renagen™ DTX is a specific blend of nutrients and traditional herbs designed to support healthy kidney function.*
The Metagenics Difference
Metagenics is one of the few professional nutraceutical companies that formulates and evaluates nutritional products in clinical practice. Each Clear Change Daily Essentials formula is science based and delivers optimized, targeted health support.*
Each packet contains: 2 AdvaClear capsules (light brown), 1 GlutaClear tablet (white), and 1 Renagen DTX capsule (green)
Serving Size: 1 Packet
Amount Per Serving / Daily Values
Total Carbohydrate ... <1 g <1%*
 Dietary Fiber ... <1 g 3%*
Vitamin A ... 750 mcg 83%
(from mixed carotenoids† and retinyl palmitate)
Vitamin C ... 383 mg 426%
(as ascorbic acid)
Vitamin D ... 0.8 mcg (33 IU) 4%
(as cholecalciferol)
Vitamin E ... 44.8 mg 299%
(as d-alpha tocopheryl succinate)
Thiamin ... 10 mg 833%
(as thiamin mononitrate)
Riboflavin ... 5 mg 385%
Niacin ... 398 mg 2,488%
(as niacinamide and niacin)
Vitamin B6 ... 27 mg 1,588%
(as pyridoxine HCl)
Folate ... 1,135 mcg DFE 284%
(as calcium L-5-methyltetrahydrofolate††)
Vitamin B12 ... 158 mcg 6,583%
(as methylcobalamin)
Biotin ... 66 mcg 220%
Pantothenic Acid ... 33 mg 660%
(as d-calcium pantothenate)
Zinc ... 6.5 mg 59%
(as zinc citrate)
Selenium ... 87 mg 158%
(as selenomethionine)
Copper ... 0.65 mg 72%
(as copper citrate)
Manganese ... 1.65 mg 72%
(as manganese citrate)
Molybdenum ... 66 mcg 147%
(as molybdenum aspartate)
N-Acetyl-L-Cysteine ... 642 mg**
Chinese Salvia Root ... 200 mg**
(Salvia miltiorrhiza)
Cordyceps Mycelium Extract ... 200 mg**
(Paecilomyces hepiali Chen) [standardized to 4% (8 mg) cordycepic acid and 0.25% (0.5 mg) adenosine]
Artichoke .... 167 mg**
(Cynara scolymus) Leaf Extract (containing cynarin and chlorogenic acid)
Watercress ... 133 mg**
(Nasturtium officinale) Aerial Parts 4:1 Extract
Taurine ... 117 mg**
Sodium Sulfate ... 100 mg**
Pomegranate ... 87.5 mg**
(Punica granatum L.) Whole Fruit Extract [standardized to 45.8 mg gallic acid equivalent (GAE)]
Decaffeinated††† Green Tea ... 56 mg**
(Camellia sinensis) Leaf Extract [standardized to 60% (33.6 mg) catechins and 40% (22.4 mg) epigallocatechin gallate (EGCG)]
Silymarin ... 50 mg**
(from milk thistle seed extract, Silybum marianum)
Broccoli ... 19.25 mg**
(Brassica oleracea L. var. italica) Seed Extract (providing 2.5 mg glucoraphanin)
AdvaClear:
Other Ingredients: Capsule‡ (hydroxypropylmethylcellulose), microcrystalline cellulose, magnesium stearate (vegetable), and silica.
GlutaClear:
Other Ingredients: Microcrystalline cellulose, cellulose, stearic acid (vegetable), silica, and coating (hypromellose, medium-chain triglycerides, and hydroxypropylcellulose).
Renagen DTX:
Other Ingredients: Capsule‡ [hydroxypropylmethylcellulose, sodium copper chlorophyllin (color), and gellan gum], microcrystalline cellulose, and magnesium stearate (vegetable).
Directions: Take one packet daily for one to two months or as directed by your healthcare practitioner.
Products included are non-GMO and gluten-free.
*Percent Daily Values are based on a 2,000 calorie diet.
**Daily Value not established.
† As Betatene® mixed carotenoids.
†† As Metafolin®. Metafolin® is a registered trademark of Merck KGaA, Darmstadt Germany. U.S. Patent Nos. 5,997,915; 6,254,904.
††† Contains no more than 4% caffeine.
‡ Vegetarian capsule.
Warning: Do not use if taking blood thinning medications, antihypertensive medications, hypoglycemic medications and insulin, digoxin or nitroglycerin, or before surgery.
Caution: If pregnant or nursing, or if taking other nutritional supplements or medications, consult your healthcare practitioner before use.
Tamper Evident: Do not use if package is torn or open.
Storage: Keep in a cool, dry place.