Clear Channels
Kan Herb Company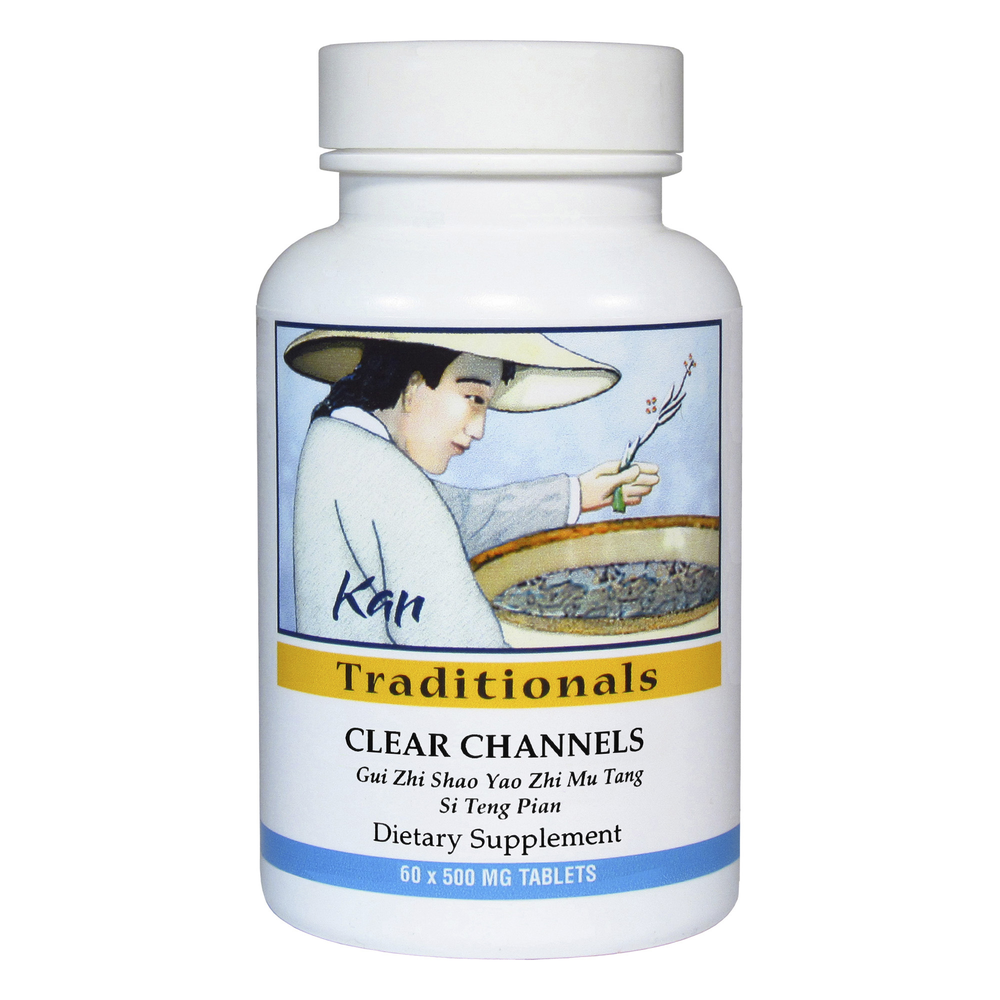 SKU: KA3T-CC60
Pattern Identification:
Wind-Cold-Damp impediment transforming to Heat in the interior

Chinese Action:
Dispels Wind and Dampness, eliminates Heat, and relieves pain

Pulse:
Slippery, wiry, and rapid

Tongue:
Tongue body reddish/variable, white or yellow greasy coat

Indications (Symptoms):
-Eases occasional hot, swollen, painful joints that are warm to the touch and worse at night
-Helps relieve occasional reduced range of motion in affected joints
-Aids in reducing occasional headache, dizziness, chills, absence of sweating
-Promotes healthy body weight
-Helps relieve sensitivity to cold weather
Take 1-2 tablets, 2-3 times daily
Pinyin Name
-Common Name

Mu gua
-Chinese quince
Bai shao
-White peony root
Ji xue teng
-Millettia root and vine
Sang ji sheng
-Loranthus twig
Zhi mu
-Anemarrhena rhizome
Chi shao
-Chinese red peony root
Gui zhi
-Chinese cinnamon twig
Hai feng teng
-Kadsura pepper vine
Kuan jin teng
-Chinese tinospora stem
Luo shi teng
-Star jasmine stem
Sang zhi
-White mulberry twig
Ren dong teng
-Lonicera stem
Ye jiao teng
-Polygonum multiflorum stem
Gan cao
-Chinese licorice root

50mg excipients and binders: silicon dioxide
(glidant/dehydrant), stearic acid
(lubricant/binder), microcellulose (coating).
Use only under the direct supercision of a qualified health care practitioner, seek their advice if pregnant or nursing. Keep out of reach of children. Keep tightly capped and out of direct sunlight. Store at room temperature.
It looks like there are no similar
products available