Clinical Nutrients 45+ Women
Integrative Therapeutics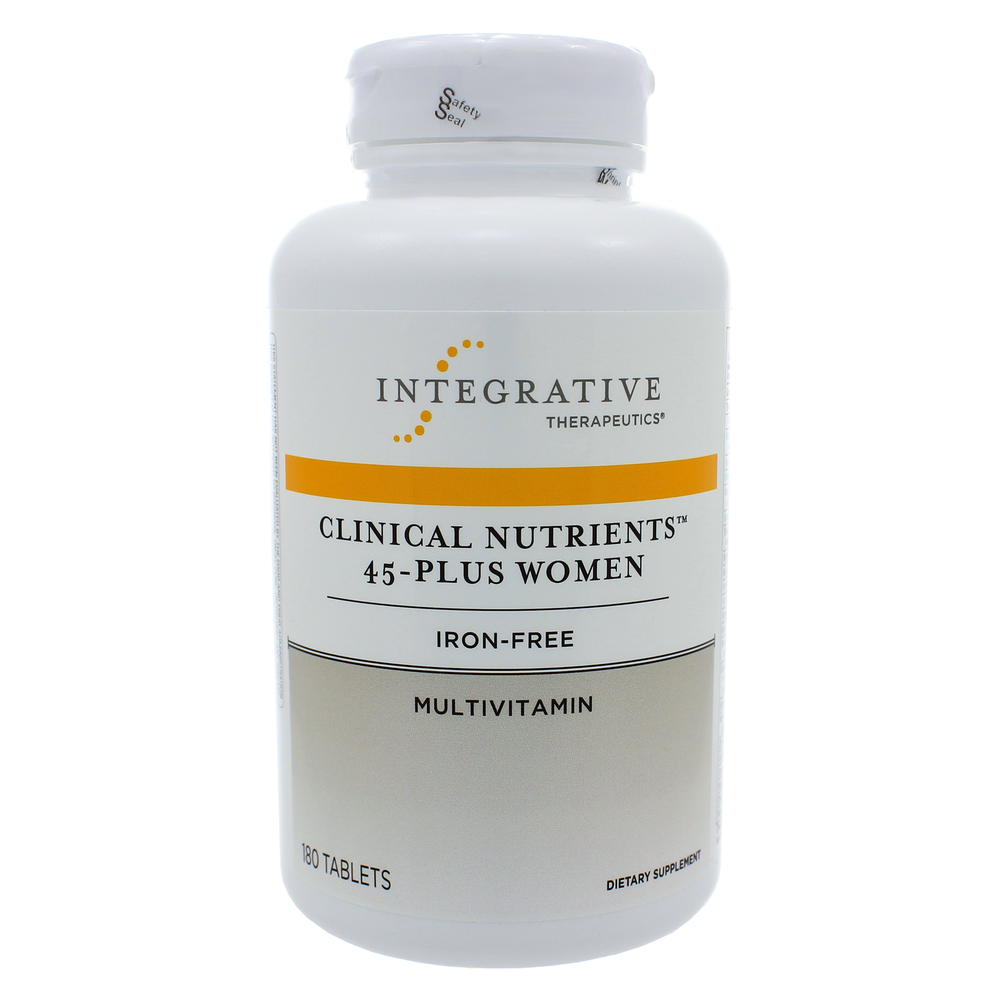 SKU: ITI-70080
Comprehensive multivitamin providing nutritional support for menopausal and post-menopausal women.*
Clinical Nutrients™ 45-Plus Women multivitamin provides nutritional support for the mid-life changes female patients face.* The comprehensive formula includes a wide array of vitamins, minerals, herbs, and fruit and vegetable powders to help support healthy aging, digestion, blood sugar metabolism, immunity, bones, and energy levels.*
50 powerful nutrients to support a woman's changing needs
Gluten- and dairy-free
Easy-to-swallow tablets
Take 6 tablets daily with water to activate easy-to-swallow tablet coating, or as recommended by your healthcare professional. May take 3 tablets twice daily. Best if taken with food.
Serving Size: Six Tablets
Amount Per Serving
Calories ... 10
Total Carbohydrate ... 2g
Dietary Fiber ... 2g
Vitamin A ... 5, 000IU
(75% as beta carotene and as retinyl acetate)
Vitamin C ... 300mg
(as potassium ascorbate)
Vitamin D ... 800IU
(as cholecalciferol)
Vitamin E ... 60IU
(as d-alpha tocopheryl acetate and mixed tocopherols)
Vitamin K ... 120mcg
(as phytonadione)
Thiamin ... 60mg
(vitamin B1)
Riboflavin ... 60mg
(vitamin B2)
Niacin ... 90mg
(as niacinamide and niacin)
Vitamin B6 ... 25mg
(as pyridoxine HCl)
Folic Acid ... 800mcg
Vitamin B12 ... 800mcg
(as cyanocobalamin)
Biotin ... 600mcg
Pantothenic Acid ... 50mg
(as calcium d-pantothenate)
Calcium ... 800mg
(as calcium carbonate, tricalcium phosphate, and calcium citrate)
Iodine ... 450mcg
(as potassium iodide)
Magnesium ... 300mg
(as magnesium aspartate and magnesium oxide)
Zinc ... 15mg
(as zinc gluconate)
Selenium ... 200mcg
(as L-selenomethionine)
Copper ... 2mg
(as copper gluconate)
Manganese ... 2mg
(as manganese citrate)
Molybdenum ... 75mcg
(as sodium molybdate)
Sodium ... 5mg
Potassium ... 100mg
(as potassium aspartate)
Cinnamon Bark Extract ... 300mg
(Cinnamomum aromaticum)
Choline Bitartrate ... 215mg
Proprietary Blend ... 118mg
sweet cherry fruit, green tea leaf extract, grape seed extract, pomegranate fruit extract, and giant knotweed root and rhizome extract containing 50% resveratrol
Digestive Blend ... 102mg
ginger rhizome extract and radish root
Vegetable Blend ... 50mg
broccoli flower, cabbage leaf, carrot root, collard greens, radish sprouts, tomato fruit, mustard greens, kale leaf, spinach leaf
Inositol ... 30mg
Betaine HCl ... 25mg
Cranberry Fruit ... 25mg
(Vaccinium macrocarpon)
standardized to contain 30% organic acids (quinic, malic, and citric acid)
Bilberry Fruit Extract ... 10mg
(Vaccinium myrtillus)
Boron ... 3mg
(as sodium borate)
Lutein ... 1.5mg
Silicon ... 1mg
(as magnesium trisilicate)
Vanadium ... 100mcg
(as vanadyl sulfate)
Zeaxanthin ... 75mcg
Other Ingredients: cellulose, hydroxypropyl methylcellulose, sodium carboxymethyl cellulose, magnesium stearate, glycerin, stearic acid, silicon dioxide, acacia gum, organic maltodextrin
This product does not contain
artificial coloring
artificial flavoring
dairy products
gluten
preservatives
soy
sugar
wheat

Caution: If pregnant, nursing, have a blood clotting disorder or are taking prescription drugs, consult your healthcare professional prior to use.