Cod Liver Oil DHA/EPA Forte
Seroyal/Genestra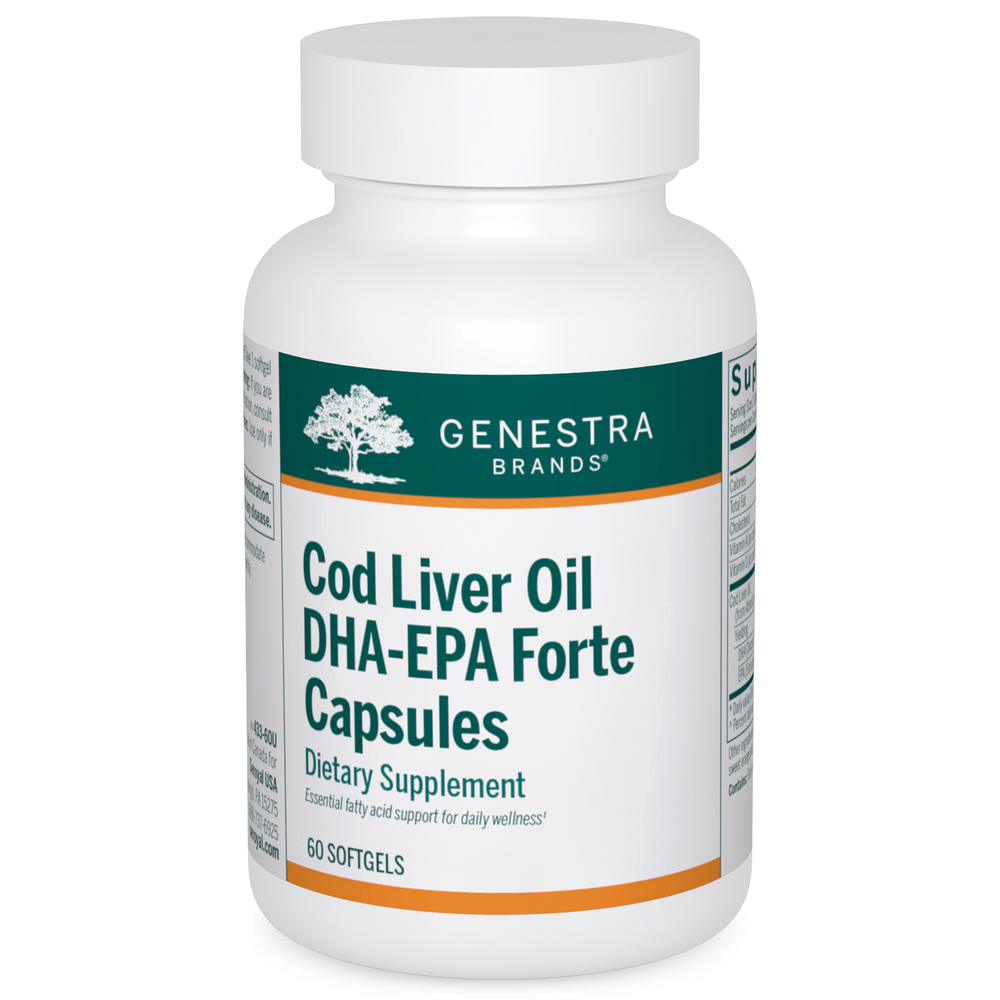 SKU: GN-10433
Cod liver oil formula with vitamins A and D
Provides 126 mg of DHA and 102 mg of EPA per daily dose
Includes 720 IU of vitamin A and 500 IU of vitamin D per daily dose
Helps support cognitive health and brain function*
Helps to maintain eyesight and night vision*
Promotes skin health and immune function*
Aids in the maintenance of healthy bones and teeth*
Cod Liver Oil DHA/EPA Forte Capsules contain an effective blend of DHA, EPA, and vitamins A and D that promotes optimal health. Vitamin A promotes good vision and immune system function, and helps to maintain the integrity of the intestinal epithelial barrier. Vitamin D helps the body to absorb and utilize calcium and phosphorus, which are required for normal bone mineralization. DHA and EPA support cognitive health and brain function, and have been associated with neuron activity in the hippocampus, a region of the brain associated with memory.*
Adults and Adolescents (12 years and older): Take one capsule daily with a meal or as recommended by your healthcare practitioner.
Serving Size: 1 Capsule
Amount Per Serving
Calories ... 15
Calories from Fat ... 10
Total Fat ... 1g
Monounsaturated Fat ... 0.5g
Cholesterol ... <5mg
Vitamin A ... 720IU
(vitamin A palmitate/cod liver oil)
Vitamin D ... 500IU
(cholecalciferol/cod liver oil)
Cod Liver Oil ... 1200mg
(Atlantic cod, Gadus morhua and other species of Gadidae)
Yielding
DHA (Docosahexaenoic Acid) 126mg
EPA (Eicosapentaenoic Acid) 102mg
Total Omega-3 Fatty Acids 300mg
Other Ingredients: Natural lemon and sweet orange oils, natural mixed tocopherols, fish gelatin, glycerin, purified water
Guaranteed to contain no added wheat, starch, yeast, gluten, corn, sodium, sugar, artificial coloring or flavoring, antimicrobial preservatives or dairy products.
Quality Assurance: Safety-sealed for your protection and for product freshness. Do not use if outer seal is missing or broken. Store in a cool, dry place. Keep out of reach of children.