Coenzyme Q10 60mg
Vital Nutrients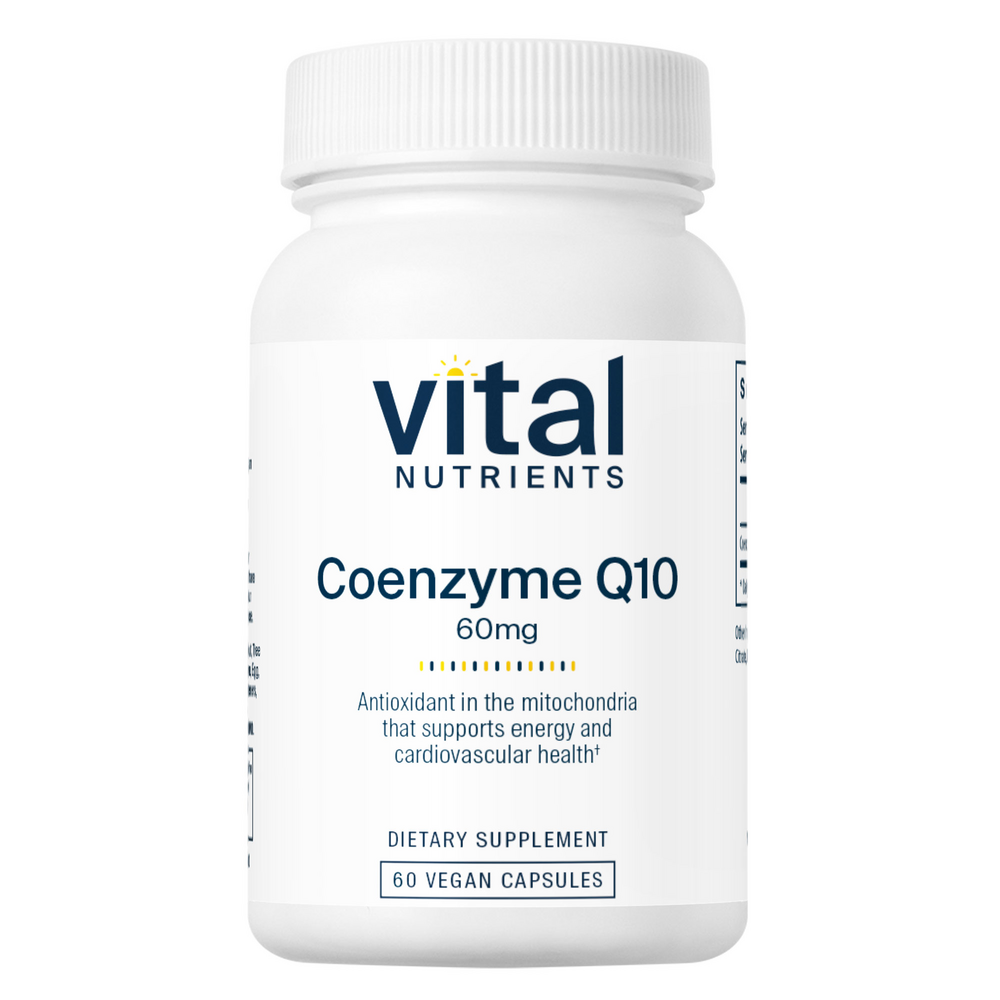 SKU: VN-CQ60
CoEnzyme Q10 is an antioxidant and free radical scavenger found in the mitochondria of every cell of the body.* CoQ10 increases energy at cellular levels, and the cells and tissues with the greatest energy requirements have the highest concentrations of CoQ10. Levels of CoQ10 levels may decline with age, or be depleted by certain medications.* Supplemental CoQ10 is a fat-soluble, vitamin-like compound which nutritionally supports the cardiovascular health in several ways.* It acts as an antioxidant against peroxidation of lipids such as LDL cholesterol, helps maintain and support healthy functioning of the heart muscle and arteries, and promotes additional tolerance for exercise.* CoQ10 helps maintain blood sugar levels that are already within the normal range, promotes gingival (gum) health and normal sperm motility, and may help support healthy aging.*
Benefits:
antioxidant protection against damage from free radicals*
supports a healthy cardiovascular system*
maintains healthy blood sugar levels*
Suggested Use:
Take 1-2 capsules, 1-2 times daily with food, or as directed by a healthcare practitioner.
Serving Size: 2 Vegetarian Capsules
Amount Per Serving
CoEnzyme Q10 … 120mg*
(ubiquinone)
Other Ingredients: Rice Powder, Vegetable Cellulose Capsule, Magnesium Citrate, Leucine, and Silica.
This product excludes: Coatings, binders, gluten (wheat, rye, barley), milk/dairy (casein, whey), soy protein†, egg protein†, sugar.
†Verified by Independent Testing
Warning: If pregnant, consult your physician before taking.
Keep out of reach of children.
Use only if safety seal in intact.