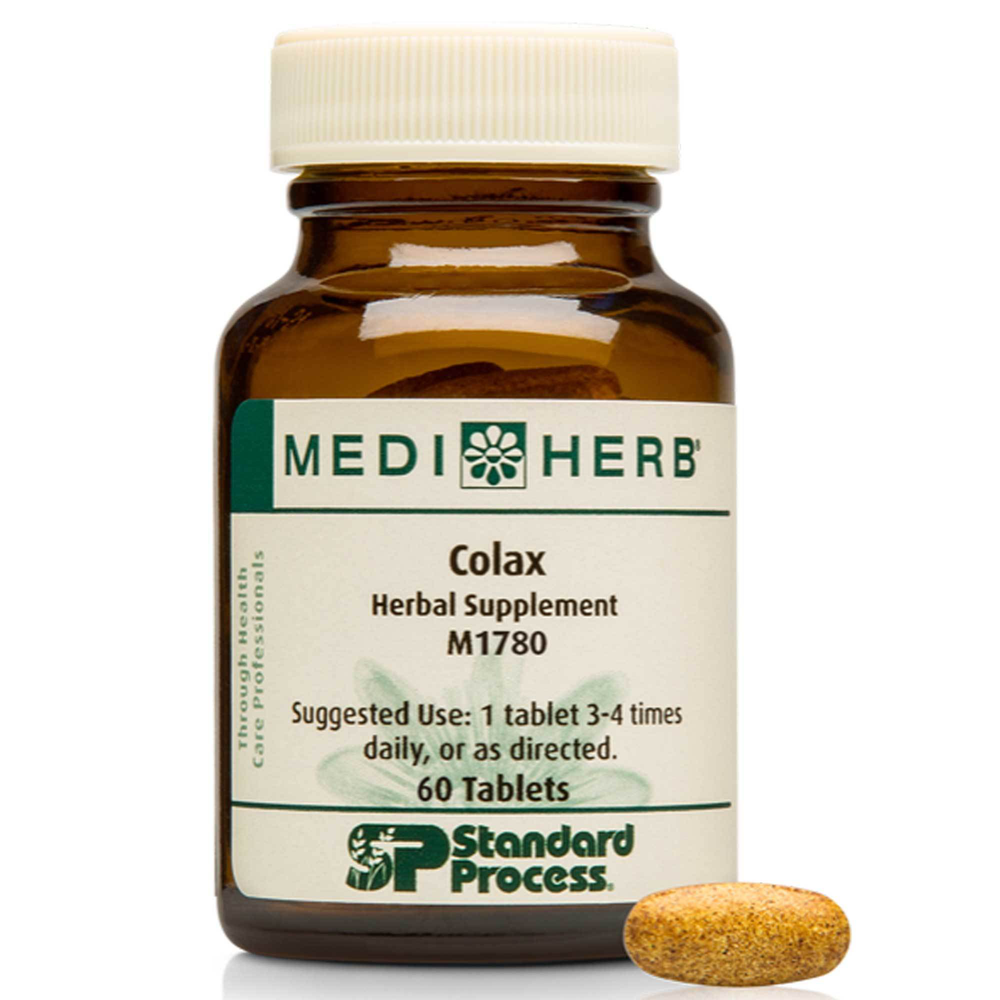 SKU: MDH-M1201
Colax is a gentle bowel cleansing formula containing Cascara, Dandelion, Yellow Dock, Dill seed and Chamomile to help maintain healthy intestinal function. These herbs have been traditionally used in herbal preparations to:
Support healthy bowel function
Assist in stimulating the bowel in order to support healthy elimination
Cleanse the lower digestive tract
Help relieve occasional gas, and associated temporary mild digestive discomfort*
Take 1 tablet 3 - 4 times daily, or as directed.
Serving Size:
1 Tablet
Amount Per ServingCascara stem bark 12:1 extract
... 93.33mg
from Frangula purshiana stem bark 1.12 g
Dandelion root 4:1 extract
... 93.75mg
from Taraxacum officinale root 375 mg
Yellow Dock root 4:1 extract
... 93.75mg
from Rumex crispus root 375 mg
Dill seed essential oil
... 15mg
(Anethum graveolens)
Chamomile flower essential oil
... 2mg
(Matricaria recutita)
Other Ingredients:
Microcrystalline cellulose, maltodextrin, sodium starch glycolate, silicon dioxide, hypromellose, magnesium stearate and dibasic calcium phosphate dihydrate.
Caution:
Contraindicated in blockage of the gallbladder and in known allergy to plants of the daisy family. Use only with professional supervision in the presence of gallstones. This product contains Frangula purshiana (Cascara). Read and follow directions carefully. Do not use if you have or develop diarrhea, loose stools, or abdominal pain because Cascara may worsen these conditions and be harmful to your health. Consult your health care professional if you have frequent diarrhea or if you are pregnant, nursing, taking medication or have a medical condition.