Collagen Creamer Coconut
Vital Proteins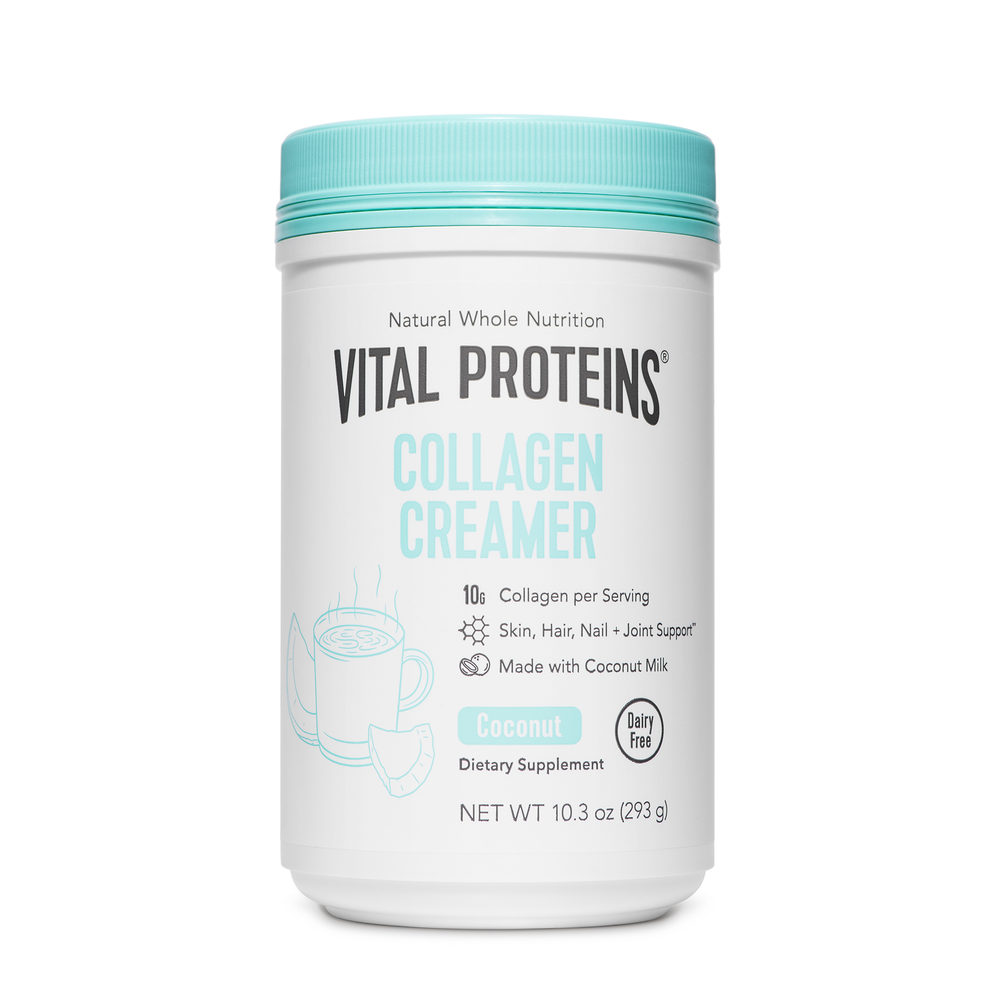 SKU: VIT360-CCC10U
Vital Proteins' Collagen Creamers add a nutrient dense & flavorful touch to your favorite brew, without any dairy, artificial flavors, or added sugar. This good-for-you powdered creamer combines coconut milk and collagen peptides for an added boost of 10g of protein per serving. It's great for healthy hair, skin & nails, bone & joint health.* Simply scoop, stir, & sip for the ultimate way to jump start your day.
Combine 1-2 scoops with 8 fl oz of coffee or liquid, mix thoroughly.



Serving Size: 2 Scoops (24g)

Amount Per Serving
Calories ... 140
Calories from Fat ... 80
Total Fat ... 9g
Saturated Fat ... 9g
Total Carbohydrate ... 4g
Total Sugars ... 1g
Protein ... 10g
Sodium ... 55mg
Collagen peptides ... 10g
(from bovine hide)

Other Ingredients: Organic coconut milk powder, organic bamboo shoot extract, organic acacia fiber.

Contains: Coconut (tree nuts).

This product is manufactured in a facility that processes milk, fish, and tree nuts.

Typical Amino Acid Profile
Alanine ... 731mg
Arginine ... 759mg
Aspartic Acid ... 596mg
Glutamic Acid ... 1,120mg
Glycine ... 1,860mg
Histidine ... 72mg
Hydroxylysine ... 109mg
Hydroxyproline ... 1,029mg
Isoleucine ... 136mg
Leucine ... 262mg
Lysine ... 307mg
Methionine ... 54mg
Phenylalanine ... 190mg
Proline ... 1,038mg
Serine ... 307mg
Threonine ... 172mg
Tyrosine ... 45mg
Valine ... 217mg
If you are pregnant, nursing or have a medical condition, consult your physician before use.

Storage Information: Store in a cool, dry place.

Do not use if safety seal is broken or missing.