Collagen Factors
Ortho Molecular Products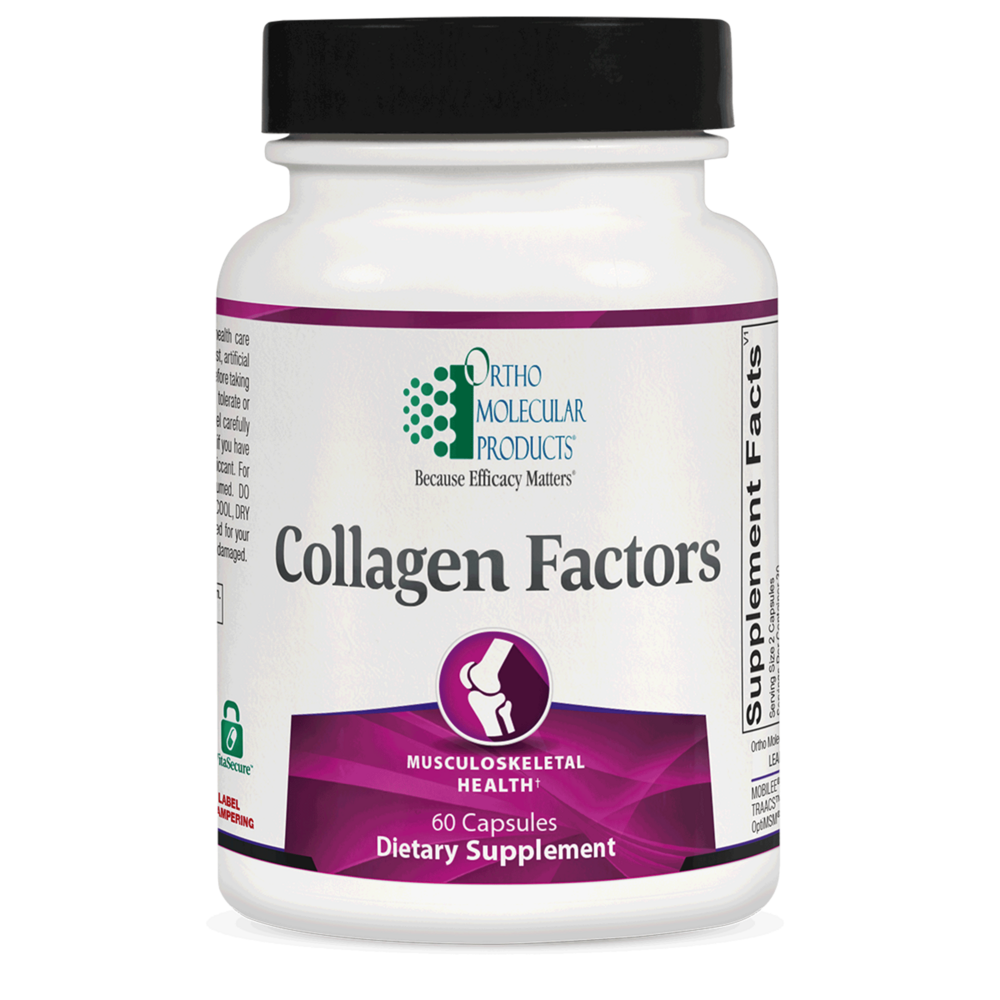 SKU: OHM-332060
Maintains Healthy Joint Function for Normal Mobility and Lubrication
Provides Precursors for Generation of Cartilage, Tendons, Ligaments, Fascia and Skin
Promotes a Healthy Joint Environment by Supporting Normal Activity of Cytokines and Catabolic Enzymes
Collagen Factors provides targeted precursors and cofactors known to be involved in the biochemical processes that support healthy connective tissue in the skin, tendons, ligaments, cartilage, joints and bone extracellular matrix. This formulation contains patented hyaluronic acid, MSM, free-form amino acids, key minerals and vitamin C.
Take 2 capsules per day or as recommended by your health care professional.
Serving Size:
2 Capsules
Amount Per ServingVitamin C
... 100mg
(as Ascorbic Acid USP)
Zinc
... 15mg
(as TRAACS® Zinc Bisglycinate Chelate)
Manganese
... 10mg
(as TRAACS® Manganese Bisglycinate Chelate)
Methylsulfonylmethane
... 500mg
(MSM)
L-Lysine Hydrochloride USP
... 200mg
L-Proline USP
... 200mg
Mobilee®
... 80mg
(Standardized to contain 40mg Hyaluronic Acid)
Other Ingredients:
Natural Vegetable Capsules, Microcrystalline Cellulose, Stearic Acid, Magnesium Stearate, and Silicon Dioxide.
Does not contain
gluten, yeast, artificial colors and flavors.
Caution:
If you are pregnant or nursing, consult your physician before taking this product.