Collagen Peptides Unflavored
Vital Proteins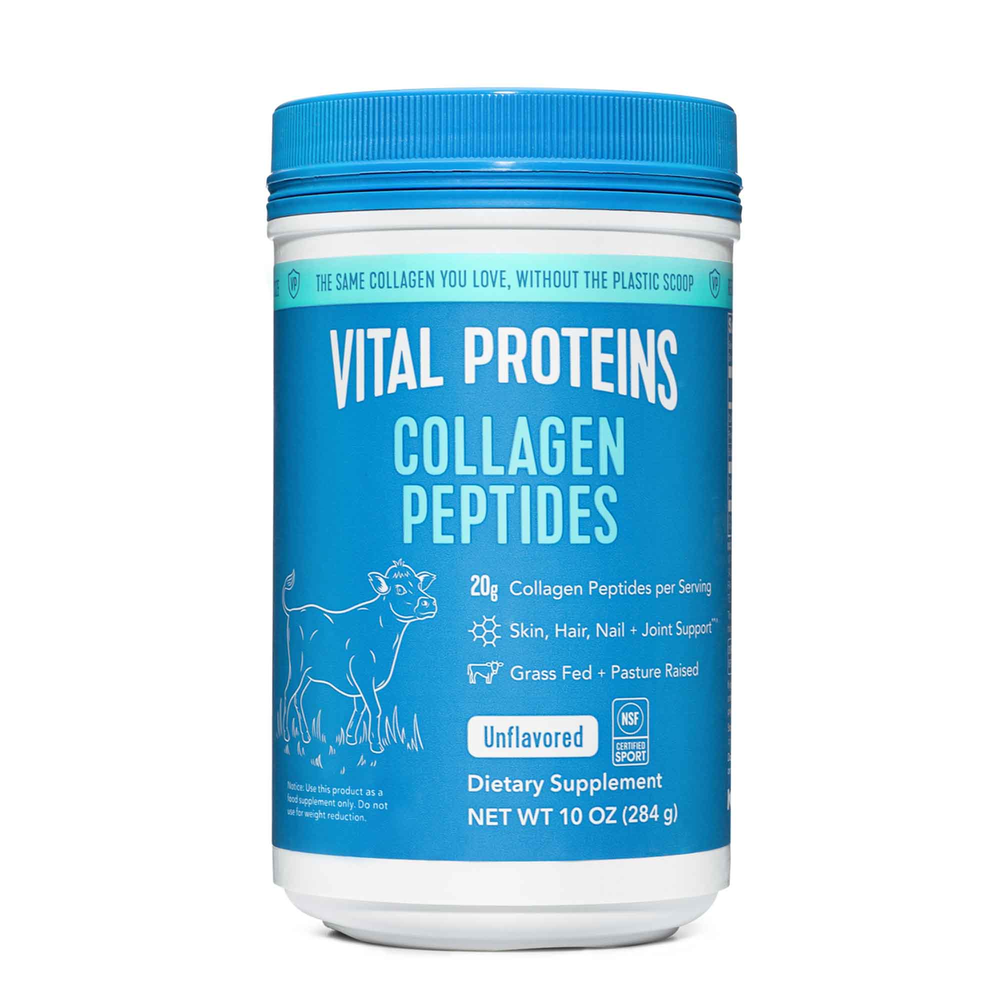 SKU: VIT360-CP10W
Looking to boost your scoop? Reach for this
thrice-
as-nice formula. In addition to collagen, which supports healthy hair, nails, skin, bones and joints,** our Original Collagen Peptides powder boasts hyaluronic acid and vitamin C, powerhouse ingredients that provide glowing wellness benefits.
Load up on the ingredients you love — all in one tub. Experience our Collagen Peptides powder, now packed with vitamin C and hyaluronic acid.
20g Collagen: Helps support healthy hair, skin, nails, bones and joints**
100% Daily Value Vitamin C: An antioxidant vitamin that can help promote collagen production and a youthful appearance**
80mg Hyaluronic Acid: Helps support skin hydration and elasticity**
Easy To Use: Dissolves in hot or cold liquids, including coffee and smoothies



Suggested Use:
Collagen supplement is easily digested and soluble in hot or cold liquids, and 1-2 scoops a day is all you need!
Adding a scoop of Collagen Peptides to different foods (like
desserts
or
dressings
) or beverages (like
smoothies
or water) gives you the boost you need to support healthy hair, skin, nails and joints.
Serving Size:
2 Scoops (20g)
Amount Per ServingCalories
... 70
Protein
... 18g
Sodium
... 110mg
Collagen
Peptides
... 20g
(from bovine)
Typical Amino Acid Profile
Alanine ... 1,462mg
Arginine ... 1,517mg
Aspartic Acid ... 1,192mg
Glutamic Acid ... 2,239mg
Glycine ... 3,719mg
Histidine ... 144mg
Hydroxylysine ... 217mg
Hydroxyproline ... 2,058mg
Isoleucine ... 271mg
Leucine ... 524mg
Lysine ... 614mg
Methionine ... 108mg
Phenylalanine ... 379mg
Proline ... 2,076mg
Serine ... 614mg
Threonine ... 343mg
Tyrosine ... 90mg
Valine ... 433mg
This product is manufactured in a facility that processes milk, fish, and tree nuts.
If you are pregnant, nursing or have a medical condition, consult your physician before use.
Storage Information:
Store in a cool, dry place.