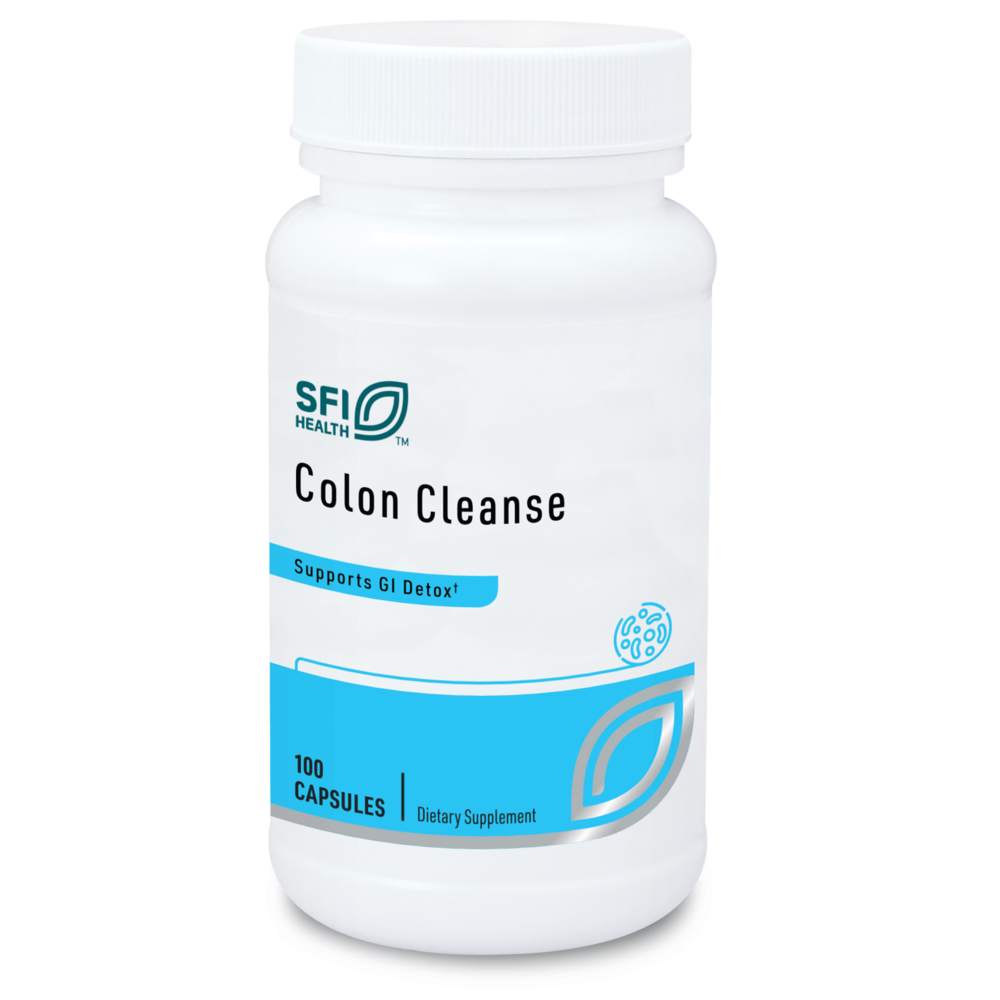 SKU: COM-CP6221
Colon Cleanse provides a synergistic combination of botanicals, which gently detoxify the colon. The ingredients in Colon Cleanse have been shown to promote colon health. This formula can help support individuals with occasional constipation, bloated stomachs, and other unpleasant gastrointestinal issues. Colon Cleanse promotes regularity of the digestive system, helping to maximize overall colon health.*

Suggested Use:
Take 1 to 2 capsules both in the morning and again at bedtime along with a large glass of water. Start with 1 capsule at each time of day and increase to 2, if comfortable.
Serving Size: 2 Capsules
Amount Per Serving
Proprietary Blend ... 878mg
Butternut (Juglans cinera)(bark), ginger root, senna extract (Cassia angustifolia)(leaf), black walnut (Juglans nigra)(hull), cascara sagrada (Rhamnus purshiana)(bark), citrus (grapefruit) pectin (Citrus paradisi)(fruit), grapefruit extract (Citrus paradisi) (seed), microbial-based digestive enzyme blend (proteases, amylase, lipase, lactase, and cellulase), fructooligosaccharides (FOS), acacia (Acacia seyal) (bark exudate gum), cayenne pepper (Capsicum annum)(fruit), milk thistle (Silybum marianum)(seed), rhubarb (Rheum palmatum)(root), fennel (Foeniculum vulgare)(seed), Bacillus coagulans, buckthorn (Rhamnus frangula)(bark), psyllium (Plantago ovata) (seed husk), cranberry (Vaccinium macrocarpon)(fruit), and licorice (Glycyrrhiza glabra)(root).
Other Ingredients: Vegetarian capsule (hydroxypropyl methylcellulose, water) and dicalcium phosphate).


Free of the following common allergens: milk/casein, eggs, fish, shellfish, tree nuts, peanuts, wheat, and soybeans. Contains no artificial colors, flavors, or preservatives.



Caution: This product contains senna, cascara, rhubarb root , buckthorn bark, and psyllium husk. Read and follow directions carefully. This product should be taken with at least a full glass of liquid. Taking without enough liquid may cause choking. Do not take if you have difficulty swallowing. Do not use if you have or develop diarrhea, loose stools, nausea, vomiting or abdominal pain because senna, cascara, rhubarb root, and buckthorn bark may worsen these conditions and be harmful to your health. Consult your physician if you notice a sudden change in bowel habits that persists over 2 weeks, if you have frequent diarrhea or if you are pregnant, nursing, taking medication, or have a medical condition. KEEP OUT OF REACH OF CHILDREN.