Complete Liver Cleanse
Nature's Way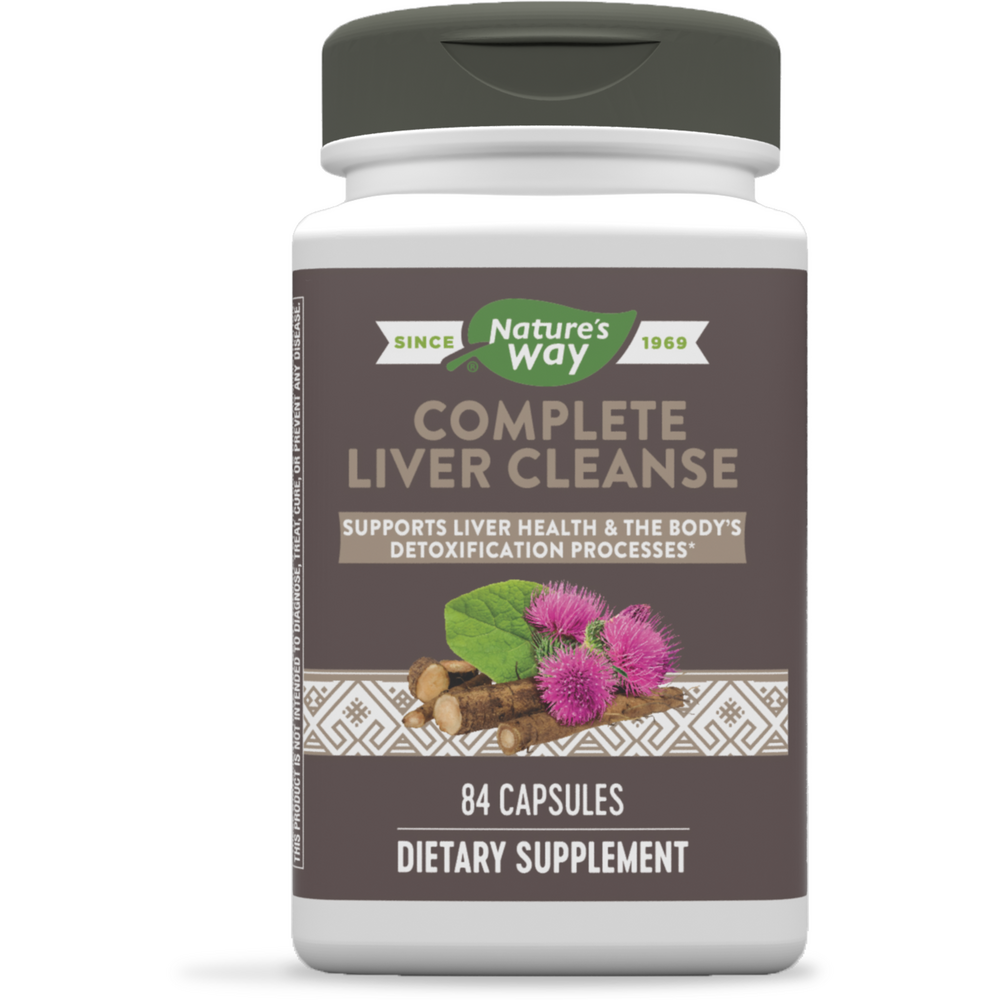 SKU: EN2-01315
Complete Liver Cleanse 84c is available by Enzymatic Therapy.
WITH FIBER!
Remove Toxins
Rejuvenate Your Liver
2-week program
CLEANSE
VEGETARIAN
Dietary Supplement
LABORATORY TESTED
Purity, Safety & Performance
This product contains natural ingredients; color variations are normal.
Why Cleanse The Liver?
-Everything we breathe, eat, drink and absorb through our skin is purified and detoxified in the liver.
-Enivornmental toxins and the effects of improper eating and lifestyle habits can build up in he liver.
It makes sense; toxins have to go!
How Does It Work?
-A unique combination of ingredients stimulate bile flow, which help rid the liver of toxins.
-Once toxins are on the move, you dont want them reabsorbed.
-Complete Liver Cleanse is the answer. It has a specially-designed fiber which binds with toxins so they leave the body.
The result is superior support for liver function and health!
Three (3) UltraCaps in the morning and three (3) UltraCaps at bedtime for 14 days.
Serving Size: 3 UltraCaps
Calories ...5
Total Carbohydrate ...1g
Vitamin C ...50mg
(ascorbic acid)
Sodium ...20mg
Proprietary Fiber Blend ...1g
Oat -Glucan Concentrate, phytosterols (beta sitosterol, campesterol, stigmasterol, brassicasterol, and other plant sterols), and glucomannan Milk Thistle ...220mg
(Silybum marianum) Fruit Phytosome
One part Milk Thistle Extract, standardized to contain 80% silymarin, bound to two parts phosphatidylcholine (soy) using a proprietary process for improved absorption
Burdock ...100mg
(Arctium lappa) Root Extract 4:1
Calcium D-Glucarate ...100mg
Boldo ...75mg (Peumus boldus) Leaf Extract 2:1
Dandelion ...50mg
(Taraxacum officinale) Root Extract 4:1
Turmeric ...50mg
(Curcuma longa) Rhizome Extract
standardized to contain 90% curcuminoids
Artichoke ...30mg
(Cynara scolymus) Leaf Extract
standardized to contain 13-18% caffeylquinic acids calculated as chlorogenic acid
Contains:
Vegetable Capsule (modified cellulose), Cellulose, Sodium Bicarbonate, Magnesium Stearate
Does Not Contain:
Sugar, Salt, Yeast, Wheat, Gluten, Corn, Soy, Dairy Products, Artificial Coloring, Artificial Flavoring, Preservatives, Ingredients of Animal origin.
Keep out of reach of children.
Do not use if you know or suspect you have an obstructed bile duct or problematic gallstones. If pregnant, nursing or taking prescription drugs, consult your healthcare practitioner prior to use.
It looks like there are no similar
products available