Composure Mini Bite-Sized Chews
Vetri-Science Laboratories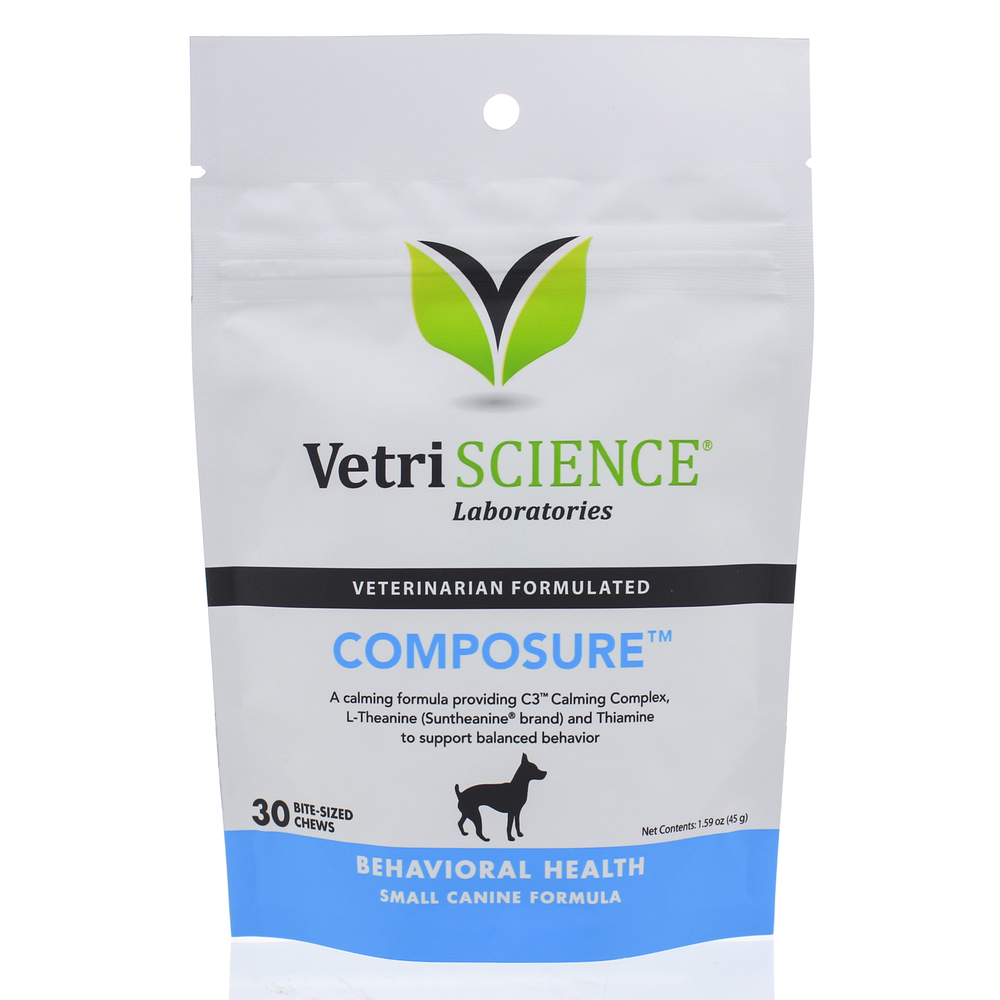 SKU: VET-0900781030
A calming support formula recommended for pets exposed to increased environmental stressors.
When pets can't adapt to stress it can lead to anxiety, nervousness, hyperactivity, frayed nerves, abnormal urine marking, excessive scratching, trembling or shivering and destructive or aggressive behavior.
Recommended for:
- Changes to environment
- Boarding or kenneling
- Veterinary or grooming visits
- Holidays and parties
- Boredom or separation anxiety
- Moving or traveling
- Fireworks and thunderstorms
ComposureTM helps alleviate stress-related behavior problems without affecting your animal's personality or energy level. It can be used daily or when extra help to relax is needed.
It contains a combination of factors not found in other calming formulas such as a calming complex from colostrum, L-theanine and thiamine (vitamin B1), all of which address stress and calming.
This product can be used either as needed for immediate support or on a
daily basis for on-going support.
Up to 25 lbs: 1 chew daily
Active Ingredients Per Approximately 1 Chew:
Thiamine ... 67mg
(Vitamin B1)
C3 TM ... 11mg
(Colostrum Calming Complex)
L-Theanine ... 10.5mg
Inactive Ingredients: brewers yeast, canola oil, chicken liver flavor, citric acid, glycerin, mixed tocopherols, propionic acid, proprietary blend (maltodextrin, sodium alginate and calcium sulfate), rosemary extract, silicon dioxide, soy lecithin, vegetable oil.
Does not contain any herbal ingredients (Kava Kava, valerian, St. John's Wort, etc.) or L-tryptophan. Its ingredients do not cause addiction, drowsiness or impaired motor skills.