Congaplex® Chewable Tablets
Standard Process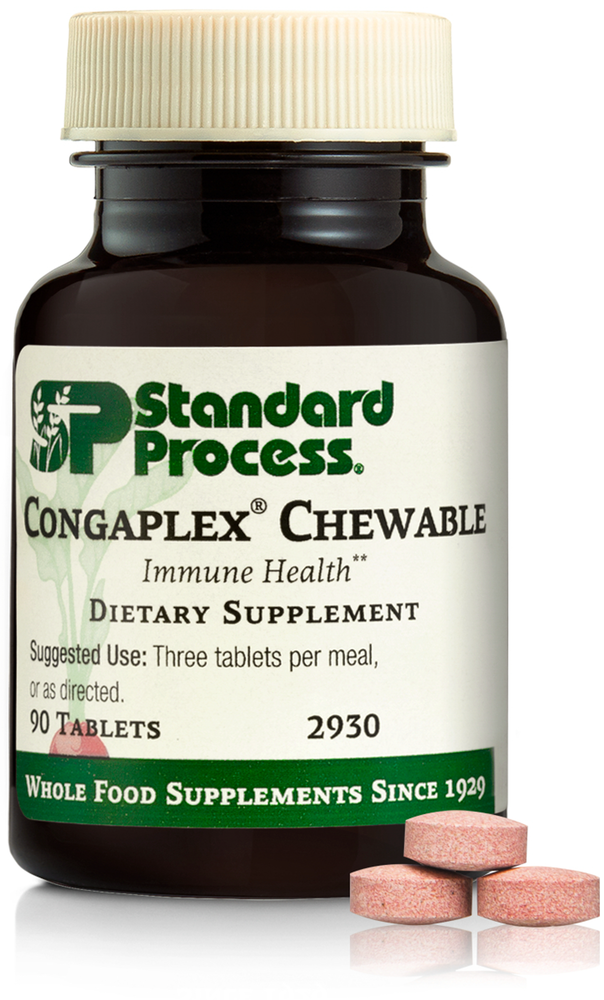 SKU: STP-2930
Congaplex Chewable is used for short-term support of the immune system.*
Supports healthy immune system response function
Supports the thymus gland
Contains ribonucleic acid, which the body uses to build new cells
Contains a combination of key ingredients from Cataplex A-C, Thymex, Calcium Lactate, and Ribonucleic Acid (RNA)
Great-tasting chewable tablet with natural raspberry fruit powder
Good source of vitamin A*
Take three tablets per meal, or as directed.
Serving Size:
3 tablets
Amount Per ServingCalories
... 5
Cholesterol
... 5mg
Total Carbohydrate
... 1g
Vitamin A
... 140mcg RAE
Vitamin C
... 3mg
Proprietary Blend
... 155mg
Bovine thymus Cytosol™ extract, ribonucleic acid, bovine bone, organic carrot, defatted wheat germ, bovine adrenal, organic sweet potato, veal bone, organic alfalfa (aerial parts) juice powder, nutritional yeast, oat flour, organic alfalfa (aerial parts), bovine kidney, veal bone PMG™ extract, organic buckwheat flour, organic buckwheat (aerial parts) juice powder, organic shiitake mushroom powder, organic reishi mushroom powder, rice bran, sunflower lecithin powder, d-alpha tocopherol (vitamin E sunflower), and carrot oil.
Other ingredients:
Organic dehydrated sugar cane juice (sugar), cellulose, raspberry powder, maltodextrin, calcium lactate, magnesium citrate, natural flavor, calcium stearate, ascorbic acid, starch, and vitamin A palmitate.
Caution:
This product is processed in a facility that manufactures other products containing soy, milk, egg, wheat, peanut, tree nuts, fish, and shellfish.