BHI Constipation
BHI Homeopathics/Medinatura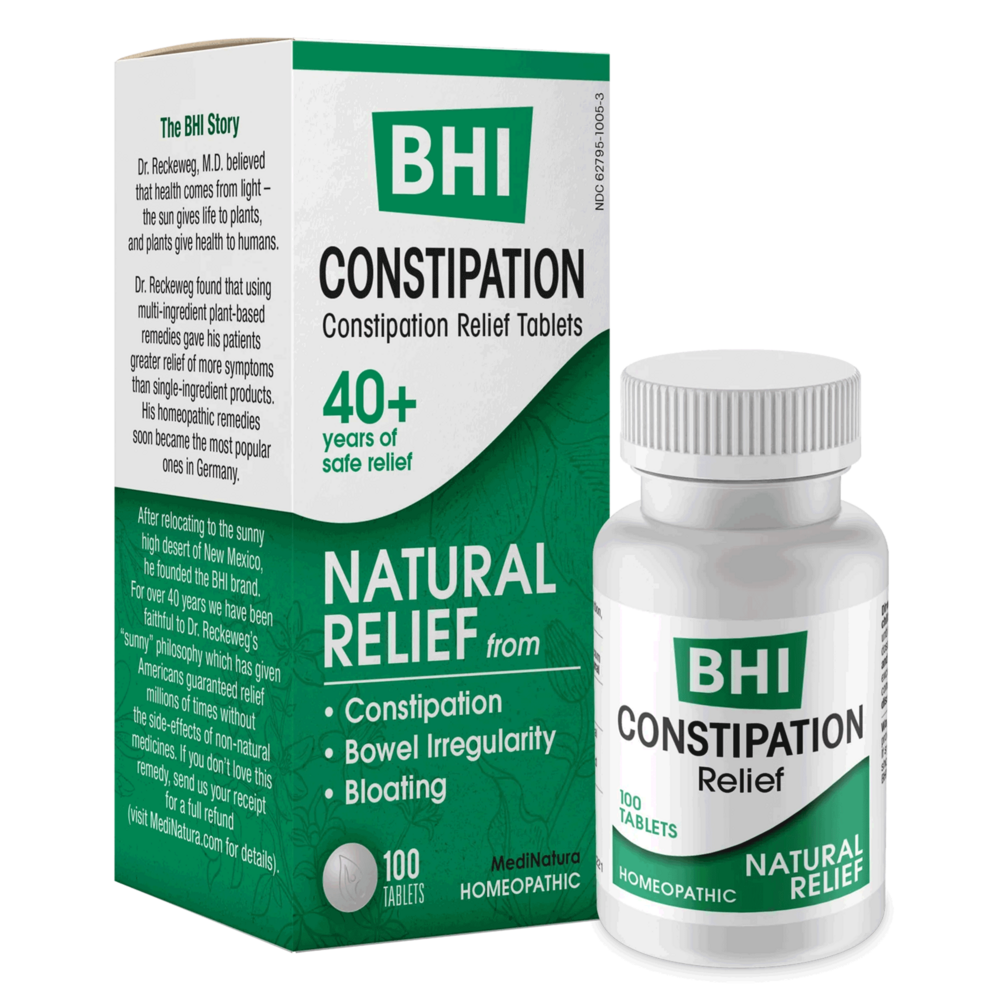 SKU: BHI-1001161
Homeopathic. Gentle relief from constipation BHI Constipation tablets relieve constipation, bowel irregularity and bloating. Take as needed for relief BHI Constipation uses 3 homeopathic remedies in safe concentrations that can be taken as often as every 30 minutes until symptoms improve. Homeopathic approach Homeopathy treats symptoms with a micro-dose of an active ingredient to stimulate the bodys own defenses. MediNatura's approach combines multiple potent actives, in multiple concentrations for greater relief of more symptoms. Safe, effective relief All BHI tablets have no known interactions with other medicines or supplements and are non-addictive. Quick dissolve tablets Easy to use, dissolvable tablets for fast, convenient relief whenever symptoms start. This safe formula can be taken daily, or as needed during symptom flare ups.
Directions: At first sign of symptoms: Adults and children 4 years and older: 1 tablet every 1/2 to 1 hour until symptoms lessen, then continue with standard dosage. Do not exceed 12 tablets in 24 hours. Standard dosage: Adults and children 4 years and older: 3 tablets per day, taking 1 tablet every 4 to 6 hours. For children under 4, consult your health professional. Allow tablets to dissolve completely in the mouth, do not swallow. Active Ingredients: Each tablet contains: *Chamomilla 2X, *Coffea cruda 10X, *Humulus lupulus 2X, *Ignatia amara 8X, *Moschus 10X, *Nux vomica 30X, *Passiflora incarnata 2X, *Sulphur 12X, *Valeriana officinalis 2X, *Veratrum album 4X 30 mg each. Inactive Ingredients: Lactose, Magnesium stearate *Natural Ingredients
Warnings: If pregnant or breast-feeding, ask a health professional before use. Keep out of reach of children. If symptoms persist or worsen, a health professional should be consulted. Do not use if known sensitivity to Constipation or any of its ingredients exists. Tamper Evident: Use this product only if imprinted shrink seal around neck and cap is intact. Store tightly closed at room temperature. Protect from light and moisture.