CoQ-Gamma E w/Tocotrienols and Carotenoids
Allergy Research Group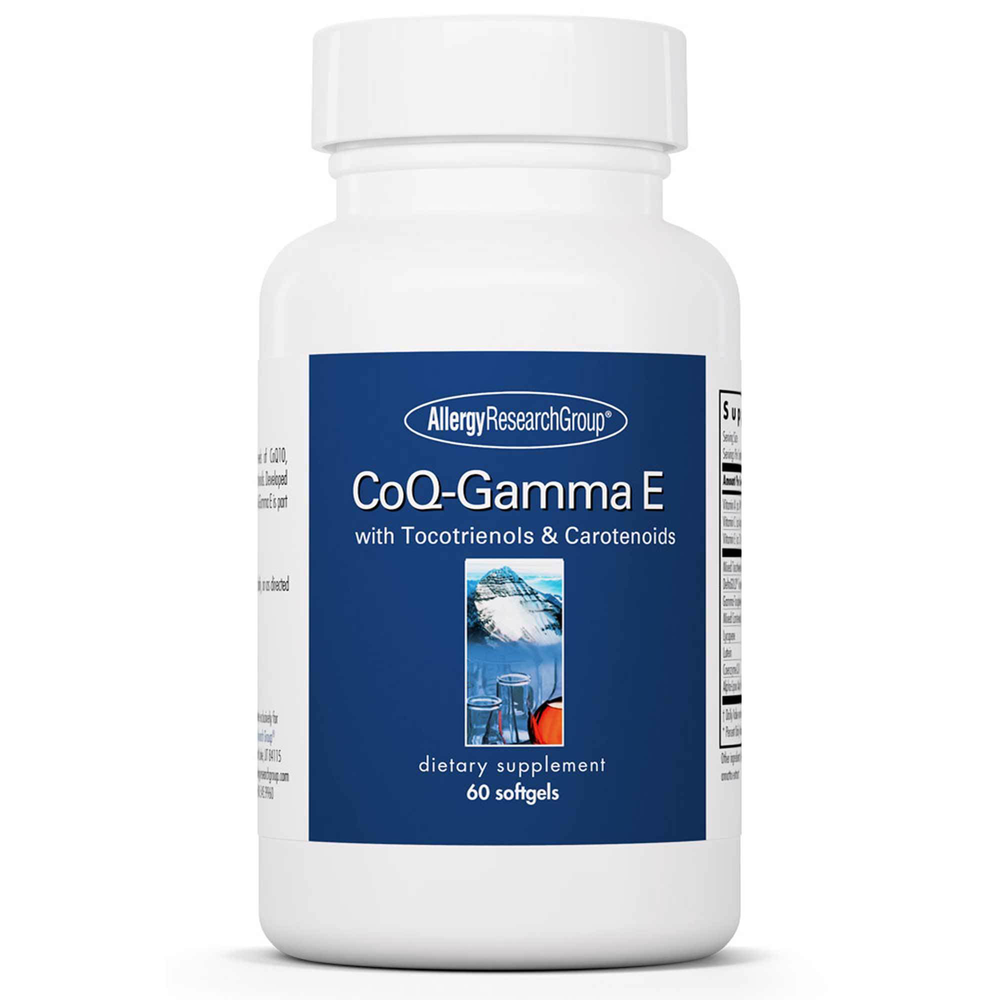 SKU: ARG-75930
A unique combination of high levels of carotenoids, gamma-tocopherol, DeltaGold® tocotrienols, and CoQ10 blended into rice bran oil. Developed by Martin Pall, PhD. and Allergy Research Group®.
Involved with the production of cellular energy (ATP)*
Protects the mitochondrial membrane against lipid peroxidation*
Supports the function of the cardiovascular and immune systems*
CoQ10 and tocotrienols work synergistically*
Tocotrienols are shown to support enhanced coenzyme Q10 levels in the blood*
As a dietary supplement, 1 softgel one or two times daily, or as directed by a healthcare practitioner.
Serving Size: 1 Softgel
Amount Per Serving:
Vitamin A ... 3490IU
(as Beta-Carotene)
Vitamin C ... 17mg
(as Ascorbyl Palmitate)
Vitamin E ... 23IU
(as D-alpha-Tocopherol)
Mixed Tocotrienols and Tocopherols ... 10mg
DeltaGOLD Tocotrienols ... 40mg
(90% Delta-Tocotrienols and 10% Gamma-Tocotrienols)
Gamma-Tocopherol ... 100mg
Mixed Carotenoids ... 3mg
Lycopene ... 3mg
Lutein ... 3mg
Coenzyme Q10 ... 75mg
Alpha-Lipoic Acid ... 9mg
(R-Form)
Other ingredients: Rice bran oil, gelatin, glycerin, water, yellow beeswax, soy lecithin, annatto extract.
These statements have not been evaluated by the Food and Drug Administration. These products are not intended to diagnose, treat, cure, or prevent any disease