CoQ10 100mg
Patient One MediNutritionals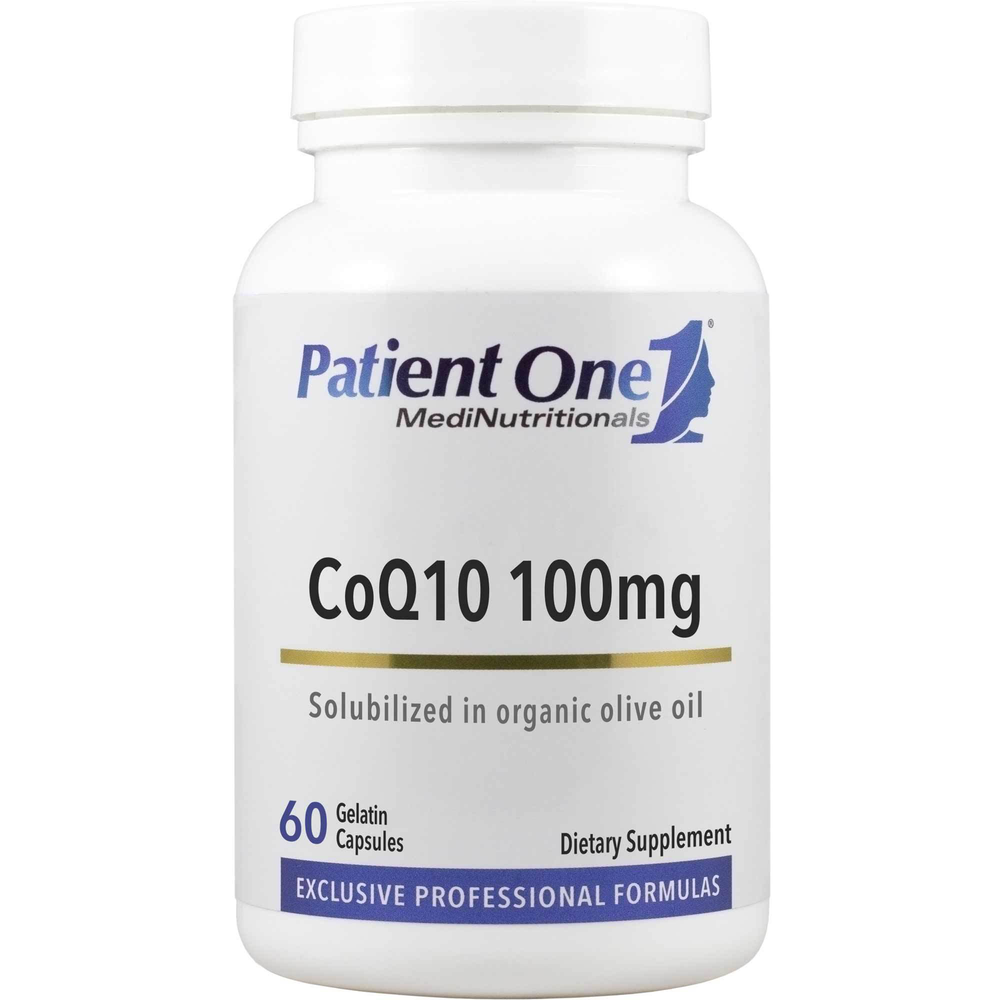 SKU: ONE631-P110360
Powerful antioxidant that supports cardiac, cognitive and immune health
Supports a healthy cardiovascular system
Promotes blood vessel and circulatory health
Provides antioxidant protection against free radical damage
Promotes cognitive and nerve health
Solubilized in organic olive oil for enhanced absorbability
Unique Properties
Patient One Coenzyme Q10 supplies 100 mg of the fat-soluble antioxidant Coenzyme Q10, in a base of organic extra virgin olive oil. Research indicates that oil-based CoQ10 has greater absorption and utilization than the powdered form. CoQ10 is necessary for the production of cellular energy and supports cardiovascular, neurological, and immune system health.
Coenzyme Q10
Coenzyme Q10 is present in almost all cells where it is necessary for mitochondrial energy production. As a potent antioxidant, CoQ10 provides protection against free radicals and is also capable of recycling and regenerating other antioxidants. While the body produces CoQ10, levels decrease with advancing age and with lifestyle choices that compromise nutrition status. Research has shown that supplementation improves levels of CoQ10 in the body, and levels decline when supplementation ceases.
CoQ10 provides support to all cells throughout the body and is particularly supportive of tissues that require a lot of energy, such as the heart muscle. Coenzyme Q10 is often suppressed in those with cardiovascular conditions, and CoQ10 depletion is often associated with cholesterol-lowering statin drugs. As such, co-administration with statins is recommended.
Antioxidant supplementation can be beneficial for healthy cardiovascular function by decreasing the oxidation of LDL cholesterol. CoQ10 supports cardiac tissues by improving endothelial function and by having a direct anti-atherogenic effect, leading to lower blood pressure and improved myocardial contractility.
Research
Over 1, 100 patients with heart concerns were given 50-150 mg of CoQ10 daily for three months. At study's end, cardiologists reported that 80% of the patients enjoyed positive results by taking CoQ10 as a complementary therapy. Overall, 54% of subjects enjoyed improvement in three or more heart symptoms, which researchers interpreted as an enhancement in quality of life.
A review was conducted to examine plasma CoQ10 response to orally ingested CoQ10 formulations as an indicator of CoQ10 bioavailability in these products. It was concluded that solubilized formulations of CoQ10 (both ubiquinone and ubiquinol) have superior bioavailability as evidenced by their enhanced plasma CoQ10 responses.
References
Langsjoen, P. The clinical use of HMG CoA-reductase inhibitors (statins) and the associated depletion of the essential co-factor coenzyme Q10; a review of pertinent human and animal data.
Vercelli L, Mongini T, Olivero N, et al. Chinese red rice depletes muscle coenzyme Q10 and maintains muscle damage after discontinuation of statin treatment. J Am Geriatr Soc. 2006 Apr;54(4):718-20. [PMID: 16686894]
Littarru GP, Tiano L. Mol Biotechnol. Bioenergetic and antioxidant properties of coenzyme q10: recent developments. 2007 Sep ;37 (1):31-7 17914161 (P, S, G, E, B)
Baggio E, Gandini R, Plancher AC, Passeri M, Carmosino G. Italian multi center study on the safety and efficacy of coenzyme Q10 as adjunctive therapy in heart failure (interim analysis).
Alehagen U, Aaseth J, Johansson P (2015). Reduced Cardiovascular Mortality 10 Years after Supplementation with Selenium and Coenzyme Q10 for Four Years: Follow-Up Results of a Prospective Randomized Double-Blind Placebo-Controlled Trial in Elderly Citizens. PLoS ONE 10(12): e0141641. dos:10.1371/journal.pone.0141


Take 1 capsule up to 3 times daily, preferably with a meal, or as directed by a qualified healthcare practitioner.




Serving Size: 1 Capsule

Amount Per Serving
Coenzyme Q10 ... 100mg
(ubiquinone)

Other Ingredients: organic extra virgin olive oil, gelatin (capsules), silicon dioxide and d-alpha tocopheryl acetate

This product is free of milk, egg, fish, peanuts, crustacean shellfish (lobster, crab or shrimp), soybeans, tree nuts, wheat, yeast, gluten, corn, sugar, and artificial sweeteners, flavors, colors and preservatives.

This product is free of ingredients derived from genetically modified organisms (GMOs).




Warnings
If pregnant, nursing, or taking medications, consult your doctor before use. Discontinue use and consult doctor if any adverse reactions occur.