Cor Defense
Seroyal/Genestra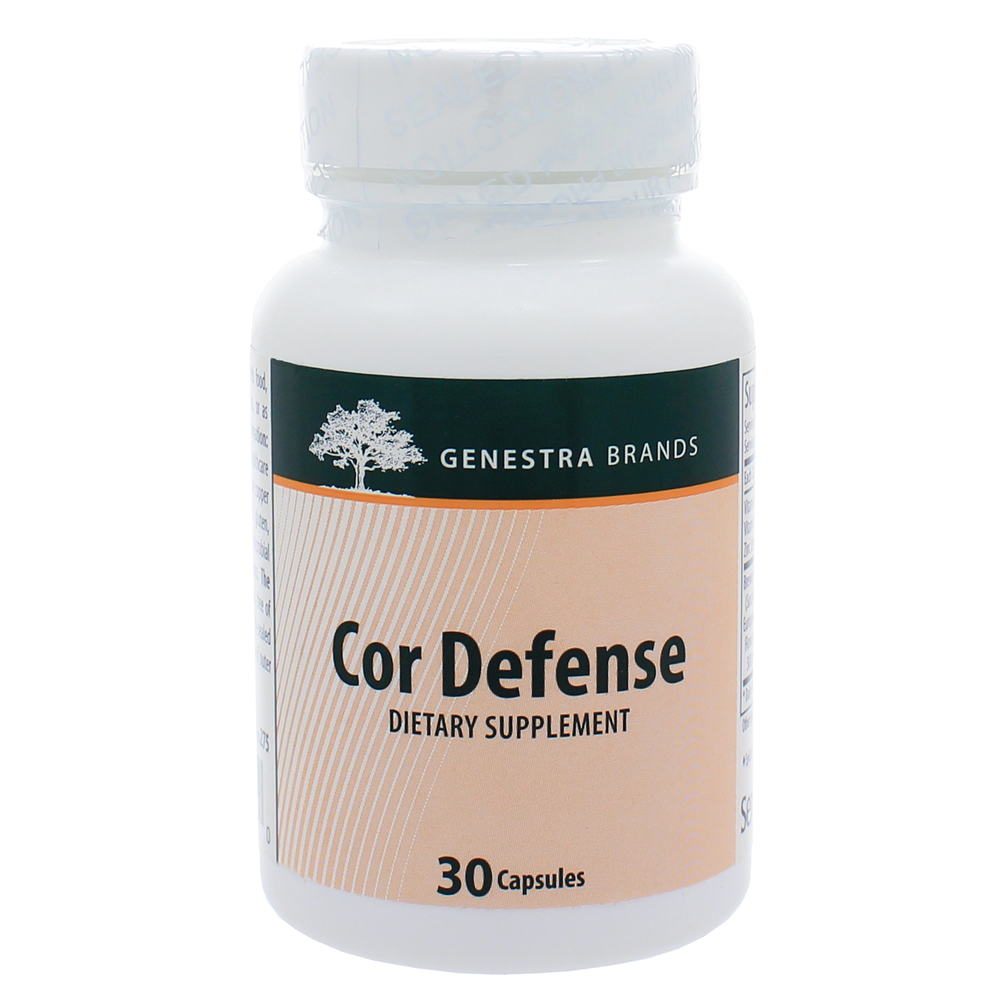 SKU: GN-04275
Synergistic formula comprised of:
• Epicor, dried yeast fermente of Saccharomyces cerevisiae
• European elderberry flower extract
• Vitamin C & D
• Zinc
Boosts antioxidant and immune function
• An antioxidant for the maintenance of good health(1)
• Helps to maintain healthy skin and immune function(1)
Convenient capsule format
• Increases patient compliance
Cor Defense combines a dried yeast fermentate of Saccharomyces cerevisiae, along with European elderberry flower extract, Vitamin C, Zinc, and Vitamin D in a convenient once daily capsule format. Zinc helps in connective tissue formation, helps to maintain healthy skin and immune function, and helps the body to metabolize carbohydrates, fats and proteins.
Adults: Take one capsule daily with food, a few hours before or after taking other medications, or as recommended by your healthcare practitioner.
Serving Size: 1 Capsule
Amount Per Serving
Vitamin C ... 25mg
(ascorbic acid)
Vitamin D ... 50IU
(cholecalciferol)
Zinc ... 1mg
(zinc monomethionine)
Brewers Yeast ... 500mg
(Saccharomyces cerevisiae) (EpiCor®†)
European Elderberry Flower Extract ... 75mg
(Sambucus nigra)(4:1) 300 mg Dried Equivalent
Other Ingredients: Hypromellose, cellulose, magnesium stearate, silica
Guaranteed to contain no added wheat, gluten, soy, sodium, sugar, artificial coloring or flavoring, antimicrobial preservatives or dairy products. Ideal for vegetarians. The capsules are made from 100% pure vegetable sources, free of preservatives and additives.
If you are pregnant or breastfeeding, consult your healthcare practitioner prior to use. Zinc supplementation can cause copper deficiency.
Safety-sealed for your protection and for product freshness. Do not use if outer seal is missing or broken. Store in a cool, dry place.