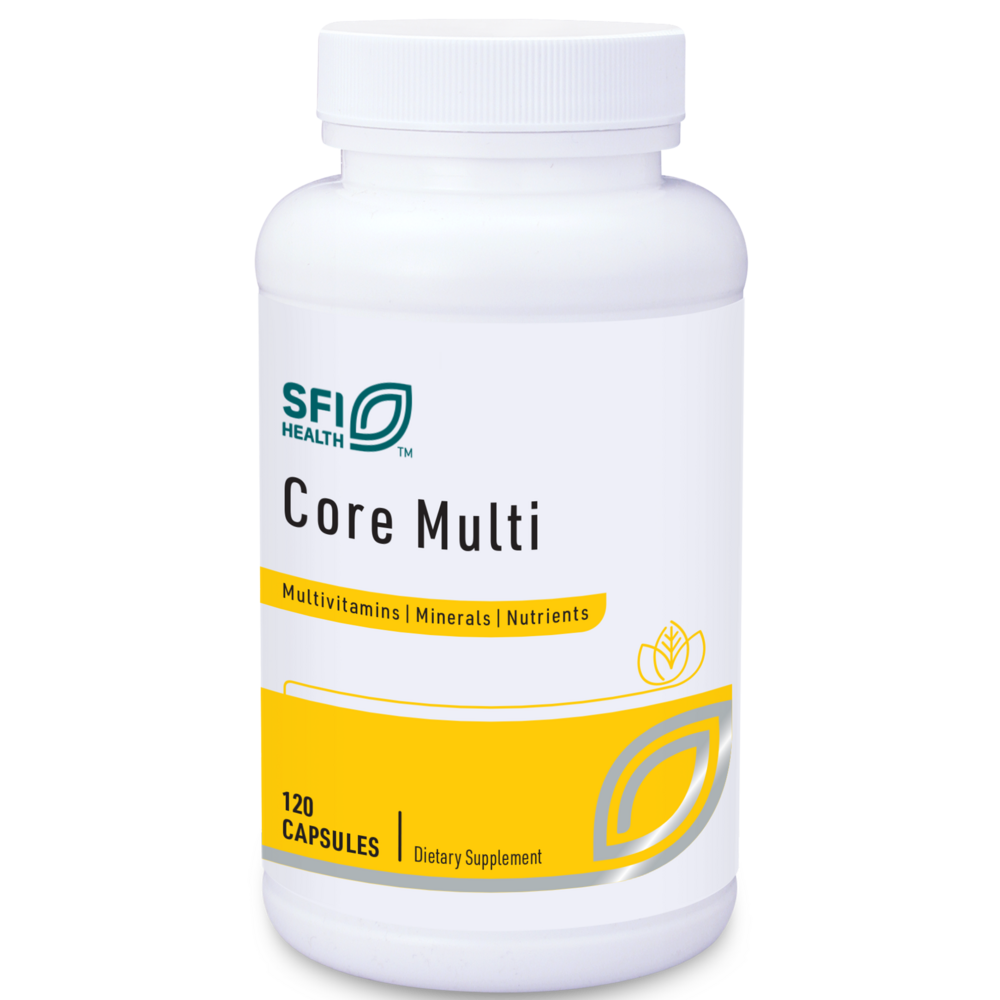 SKU: COM-CP3203
Essential vitamins and minerals plus antioxidants to fill nutrient gaps in your diet and promote wellness and quality of life.†
Core Multi contains a comprehensive spectrum of essential vitamins and minerals, as well as other important nutrients. This product not only helps compensate for inadequate nutrient intake from the American diet but may also help to promote wellness and quality of life.† Four capsules a day provides a solid foundation for basic nutrient needs. The formula also contains meaningful amounts of beta-carotene, vitamins C and E, and other antioxidants to provide support against free radical damage.† Core Multi is a good choice to support a generally healthy diet.


Suggested Use:
Adults: 2 capsules 2 times daily with meals or as directed by a healthcare professional.


Serving Size: 2 Capsules

Amount Per Serving
Vitamin A ... 1,200 mcg RAE
(50% (600mcg RAE) as natural carotenes (beta-carotene, alpha-carotene and beta-cryptoxanthin) from D.salina and 50% (600 mcg RAE) as vitamin A palmitate)
Vitamin C ... 200mg
(95% as L-ascorbic acid, 5% as ascorbyl palmitate)
Vitamin D ... 12.5mcg
(as cholecalciferol)
Vitamin E ... 65mg
(69% as RRR-alpha-tocopheryl acid succinate, 31% as RRR-alpha-tocopherol)
Vitamin K ... 75mcg
(99% as vitamin K1 (phytonadione), 1% as vitamin K2 (menatetranone, MK-4))
Thiamin ... 7.5mg
(as thiamine HCI)
Riboflavin ... 7.5mg
Niacin ... 62.5mg NE
(from inositol hexanicotinate)
Vitamin B6 ... 11.5mg
(87% as pyridoxine HCl, 13% as pyridoxal-5-phosphate)
Folic Acid ... 340 mcg DFE (200mcg folic acid)
(as folic acid)
Vitamin B12 ... 75mcg
(as methylcobalamin)
Biotin ... 300mcg
(D-Biotin)
Pantothenic Acid ... 45mg
(as calcium D-pantothenate)
Choline ... 52mg
(as choline bitartrate)
Calcium ... 75mg
(47% as calcium citrate, 47% as calcium malate, 6% as calcium D-pantothenate)
Iodine ... 75mcg
(as potassium iodide)
Magnesium ... 75mg
(50% as magnesium citrate, 50% as magnesium aspartate complex)
Zinc ... 7.5mg
(as TRAACS® zinc bisglycinate chelate)
Selenium ... 35mcg
(as methylselenocysteine)
Copper ... 0.5mg
(as TRAACS® copper bisglycinate chelate)
Manganese ... 1.25mg
(as TRAACS® manganese bisglycinate chelate)
Chromium ... 60mcg
(as chromium picolinate)
Molybdenum ... 50mcg
(as complex of sodium molybdate, L-aspartic acid and rice)
N-Acetyl Cysteine (NAC) ... 50mg
Inositol ... 55mg
(as inositol, inositol hexanicotinate)
Boron ... 1.5mg
(as boron citrate complex)
Enzyme Blend ... 30mg
(microbial-based): Protease, amylase, lipase, lactase, and cellulose)
Green Tea Extract ... 25mg
(Camellia sinensis) (leaf) (50% EGCG)
Rutin ... 15mg
(Sophora japonica) (Japanese pagoda tree bud extract)
Silica ... 15mg
(Bambusa vulgaris) (bamboo leaf/steam extract)
Gamma Oryzanol ... 5mg
Lutein ... 1.5mg
(Tagetes erecta) (marigold flower extract)
Lycopene ... 0.5mg
(tomato extract) (fruit)
Vanadium ... 60mcg
(as vanadyl sulfate)
Natural Mixed Tocopherols ... 5mg
(RRR-beta, RRR-delta, RRR-gamma)
Natural Mixed Carotenoids ... 10mcg
(lutein and zeaxanthin from D.salina)

Other Ingredients: Vegetarian capsule (Hydroxypropyl methylcellulose, water).

Free of the following common allergens: milk/casein, eggs, fish, shellfish, tree nuts, peanuts, and wheat. Contains no artificial colors, flavors, or preservatives.

‡Albion® and TRAACS® are registered trademarks of Albion® Laboratories, Inc.


Caution: Do not exceed the recommended amount. Not for use by persons under 18 years of age. Take with food. If you are pregnant, nursing, have a medical condition, or taking prescription drugs, consult your physician before using this product. Do not take this product if you have liver disease or elevated liver enzymes. If you experience nausea, vomiting, abdominal pain, yellowing of the skin/eyes, dark urine, sweating, unusual tiredness and/or loss of appetite, stop using this product and contact your physician. Each serving of 2 capsules contains less than 1 mg caffeine. KEEP OUT OF REACH OF CHILDREN.