Cortisol Manager® Allergen Free
Integrative Therapeutics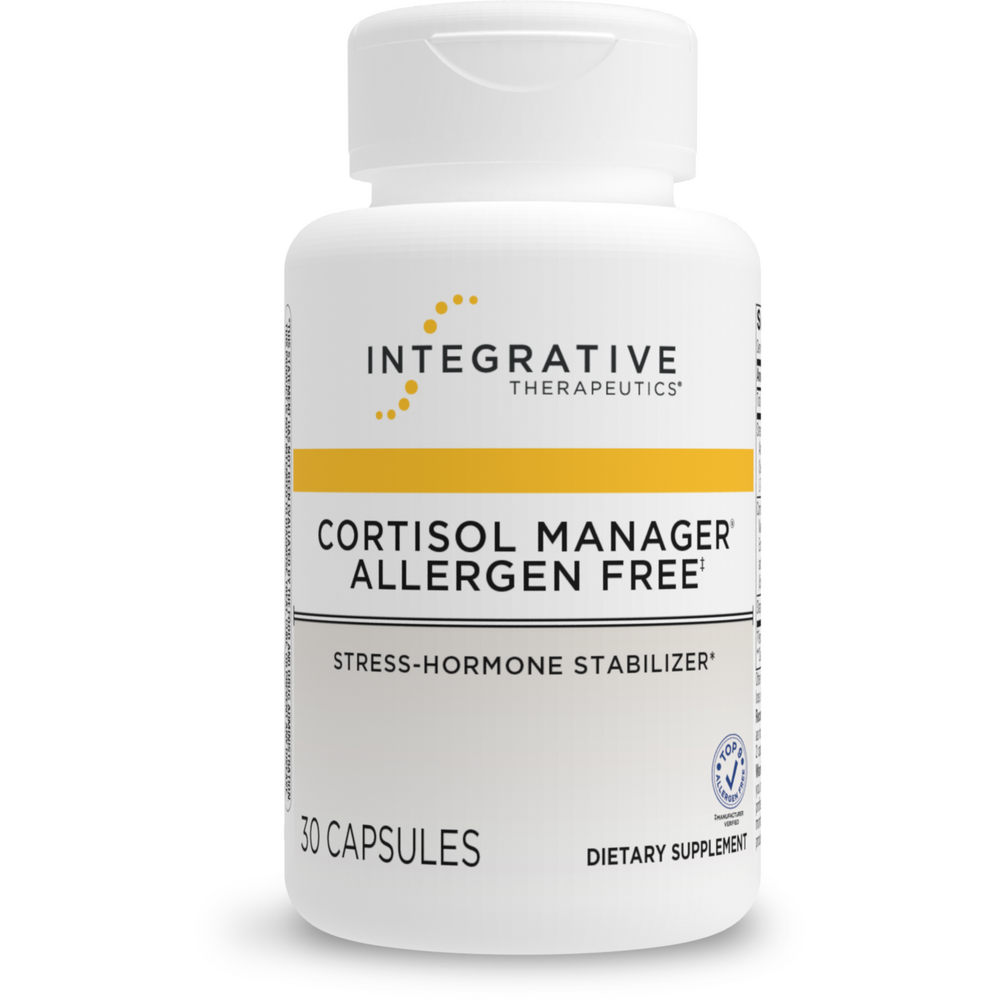 SKU: ITI-12938
The ingredients in Cortisol Manager® Allergen Free support healthy cortisol levels.* Cortisol is one of the most important hormones involved in the adaptation process. By supporting balanced cortisol and a healthy stress response, Cortisol Manager Allergen Free also promotes relaxation to support restful sleep.*
Cortisol Manager Allergen Free does not contain any of the top 8 most common food allergens and is ideal for patients with food sensitivities or food allergies.
THE ROLE OF CORTISOL IN TIMES OF STRESS
Cortisol is a hormone produced in the adrenal cortex that is released during times of stress. Variations in cortisol secretion can indicate how well the body is coping with stress. Cortisol homeostasis is typically characterized by peak secretion during the early morning hours with a gradual decline throughout the day. Because of its central role as a key stress hormone, cortisol is often thought of as a bridge between stress and its health impact.
WITH HERBAL INGREDIENTS
The ingredients in Cortisol Manager Allergen Free help support a balanced, adaptive cortisol response to stress.* Cortisol Manager contains a stress-reducing proprietary blend of Sensoril® brand ashwagandha (Withania somnifera) and Suntheanine™ brand L-theanine.*





Suggested Use:
For adults, take 1 capsule before bedtime, or as recommended by your healthcare professional. Increase to 2 capsules during times of high stress. For every night use.

Serving Size: 2 Capsules
Amount Per Serving
Total Carbohydrate … <1 g†
Stress-Reducing Proprietary Blend … 500 mg**
Ashwagandha (Withania somnifera) (Sensoril® brand) root and leaf extract, L-theanine (Suntheanine®)
Cortisol-Reducing Proprietary Blend … … 450 mg**
Magnolia (Magnolia officinalis) bark extract standardized to contain 2% honokiol and 1% magnolol, epimedium (Epimedium spp.) aerial parts extract
SharpPS® Green Soy Free phosphatidylserine … 100 mg**
** Daily Value (DV) not established
†Percent daily value is based on a 2000 calorie diet
Other Ingredients: Hydroxypropyl methylcellulose (vegetable capsule), cellulose, silicon dioxide

Cortisol Manager® Allergen Free Does Not Contain
Salt
Gluten
Soy
Dairy Products
Artificial Flavors
Wheat
Preservatives
Eggs
Peanuts
Nuts
Shellfish Free
Sensoril® is a registered trademark of Natreon, Inc. and is protected under U.S. Patent No. 7,318,938.

Suntheanine®, a patented form of L-Theanine, is a registered trademark of Taiyo International, Inc.

Sharp•PS® is a registered trademark of Frutarom.





Warning
Do not use if you are pregnant. If you are nursing, diabetic, or taking prescription drugs, consult a healthcare professional before use.

Keep out of reach of children.

Safety sealed with inner seal. Do not use if seal is broken or missing. Keep tightly closed. Store at room temperature. Avoid excessive heat and direct sunlight.