Cran-Max (500mg)
Douglas Labs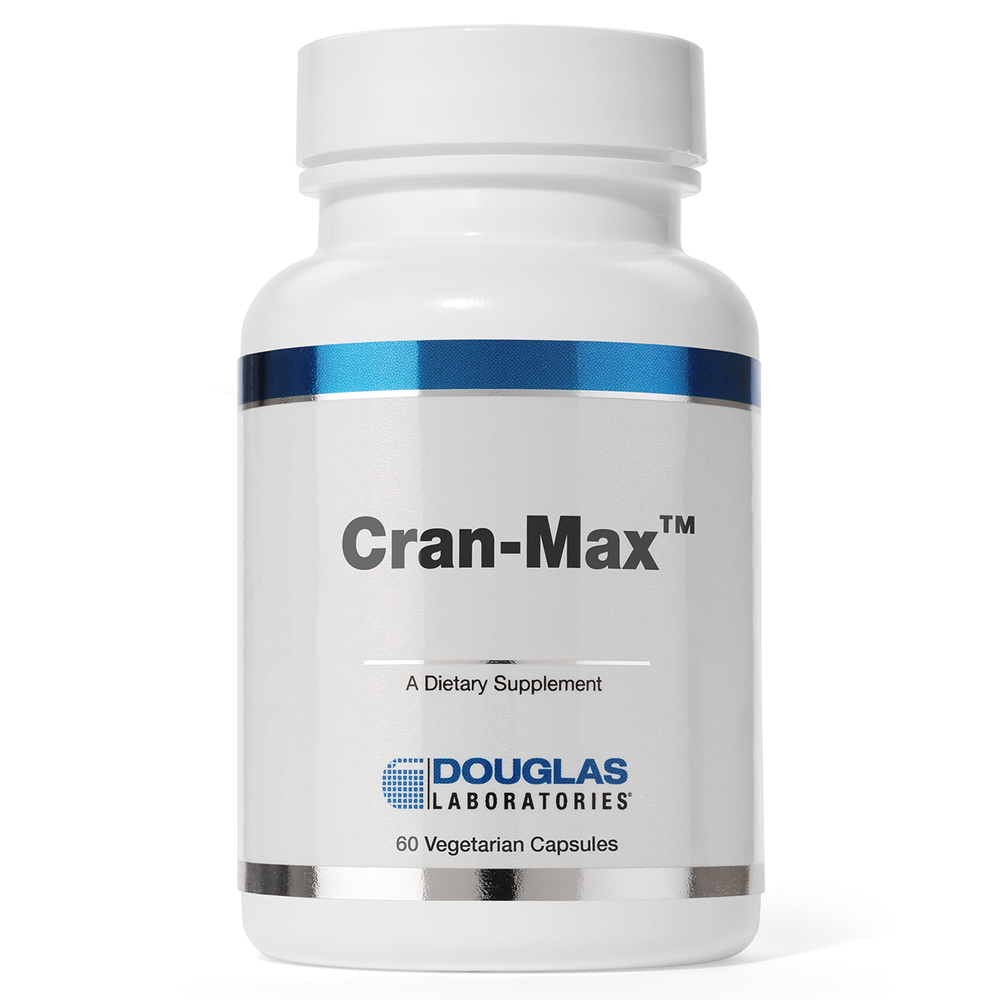 SKU: DL-CRA
Cran-Max capsules, provided by Douglas Laboratories, contain 500 mg of 100% whole cranberry fruit concentrated extract. This all-natural, 100% pure cranberry powder dietary supplement is free of added sugars, artificial sweeteners, and other ingredients. Cran-Max is derived using a unique extraction process which allows for a higher concentration of all of the active nutrients in cranberries compared to other cranberry supplements. Juice from whole, organic cranberries is extracted from the fruit, concentrated, and infused back into the pure cranberry fiber of the original berry. This unique process provides an exceptionally nutrient-dense cranberry concentrate which contains all of the bioactive ingredients of the whole fruit. As scientists have not yet identified all of the active constituents of cranberry, it is essential that the whole fruit, with its entire complement of bioactive components, be used for optimal health benefit. Cran-Max is distinguished from other cranberry powder supplements by its higher concentration of juice and dietary fiber. Typically, the nutrients contained in 2 capsules of many cranberry supplements have the equivalent activity of 1 ounce of cranberry juice cocktail. However, the potent concentrate in a single Cran-Max capsule provides the equivalent activity of 8 ounces of cranberry juice cocktail. As a result, fewer Cran-Max capsules provide superior nutrient concentration than other extracts or fruit juice cocktail. Consequently, Cran-Max is an effective and convenient means of supporting urinary tract health.
FUNCTIONS Cranberry juice has long been recognized for its role in supporting urinary tract health. Its beneficial properties were originally attributed to its ability to acidify urine. However, recent research indicates that the active components of cranberry prevent deleterious bacteria (such as Escherichia coli) from adhering to the epithelial lining of the urinary tract where they could otherwise congregate, multiply, and induce infection. The identity of the active ingredients of cranberry has not yet been completely described. It appears that two components of cranberry inhibit bacterial adhesion: fructose, a sugar typically found in fruit, and a yet to be identified polymeric compound. Whole cranberries also contain proanthocyanins and anthocyanins, two bioflavonoids known for their antioxidant activity. Other health benefits have been ascribed to the presence of several organic acids including hippuric, ellagic, shikimic, quinic, malic, benzoic, and citric acids. Cran-Max is the only cranberry dietary supplement shown to contain ellagic acid which is reported to be the principle organic acid in natural cranberry fruit.
INDICATIONS Cran-Max capsules, which provide a convenient, high potency source of whole cranberry fruit extract, may be a beneficial nutritional supplement for individuals who wish to enhance urinary tract health through the natural benefits of this fruit concentrate.
As a dietary supplement, adults take 1 to 2 capsules daily or as directed by your healthcare professional.
Serving Size: 1 Capsule
Amount Per Serving
Cran-Max Whole Cranberry Fruit, ...500mg*
dried concentrate
Other ingredients: Cellulose, cranberry fiber, cranberry seed oil, guar gum, sunflower lecithin.
Tamper resistant package, do not use if outer seal is broken or missing.
Keep out of reach of children.
Store in a cool, dry place.
*This statement has not been evaluated by the Food and Drug Administration. This product is not intended to diagnose, treat, cure or prevent any disease.