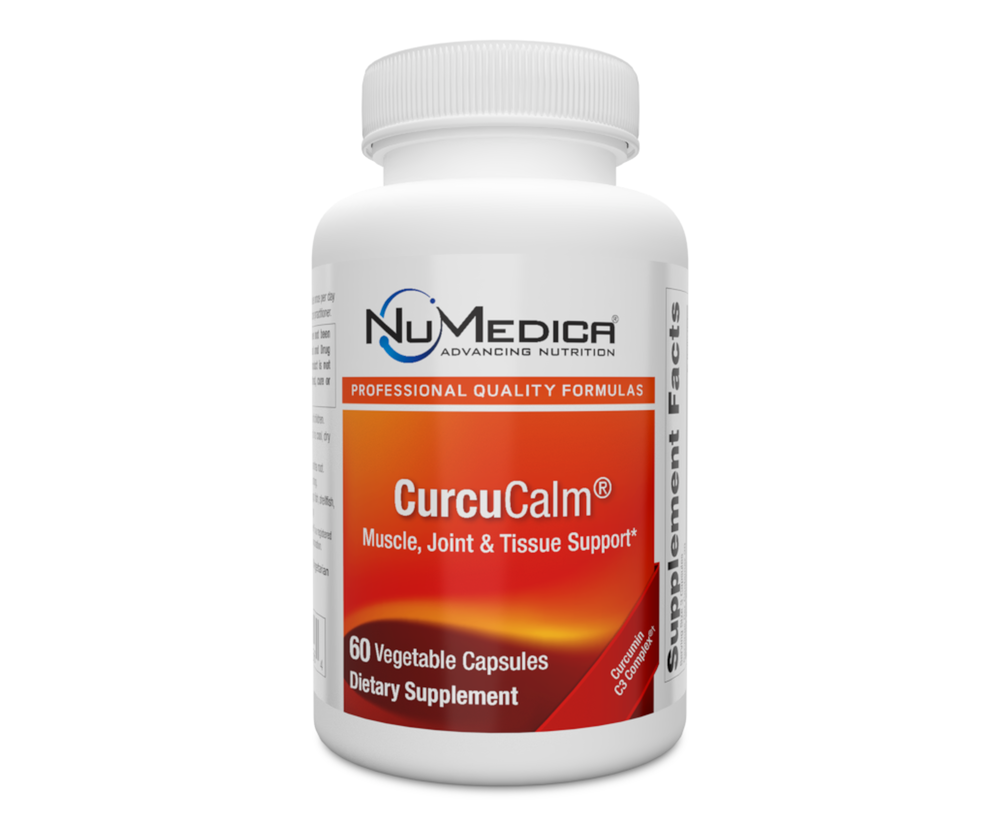 SKU: NMA-NM156
CurcuCalm®
CurcuCalm® works by inhibiting the synthesis of prostaglandins, thromboxanes and leukotrienes that adversely affect muscle, joint and connective tissue.*
Supplement Facts
Serving Size: 3 Capsules
Amount Per Serving
| | |
| --- | --- |
| Vitamin C (esterified-acid free) | 45 mg |
| Curcumin (C3 Complex®†, 95% pure curcuminoids) | 375 mg |
| Boswellia Extract | 300 mg |
| (Boswellia serrata; standardized to 65% boswellic acid) | |
| L-Lysine (as L-lysine hydrochloride) | 300 mg |
| L-Glutamine | 185 mg |
| L-Threonine | 120 mg |
| Bromelain (2,400 GDU/g) | 95 mg |
| Bilberry Extract | 75 mg |
| (Vaccinium myrtillus; standardized to 25% anthocyanosides) | |
| Ashwagandha (Root Extract) (Withania somnifera) | 65 mg |
| Rosemary Leaf Extract (Rosmarinus officinalis) (4:1) | 60 mg |
| Hesperidin | 50 mg |
| Quercetin | 50 mg |
| Rutin | 50 mg |
| Ginger (extract) (4:1; Zingiber officinale; root) | 25 mg |
| L-Citrulline | 25 mg |
| N-Acetyl L-Cysteine (NAC) | 25 mg |
Other Ingredients
Hydroxypropyl methylcellulose (vegetable capsule), magnesium stearate.

Does Not Contain:
Milk, eggs, fish, shellfish, tree nuts, peanuts, wheat, soy.
Suggested Use
Take three capsules per day or as directed by your healthcare practitioner.
†Curcumin C3 Complex
® is a registered trademark of Sabinsa Corp.
Cautions and Warnings
Contains Ashwagandha Root Extract. Do not use if pregnant or nursing.
*These statements have not been evaluated by the Food & Drug Administration. These products are not intended to diagnose, treat, cure or prevent any disease.