D-flame
Protocol for Life Balance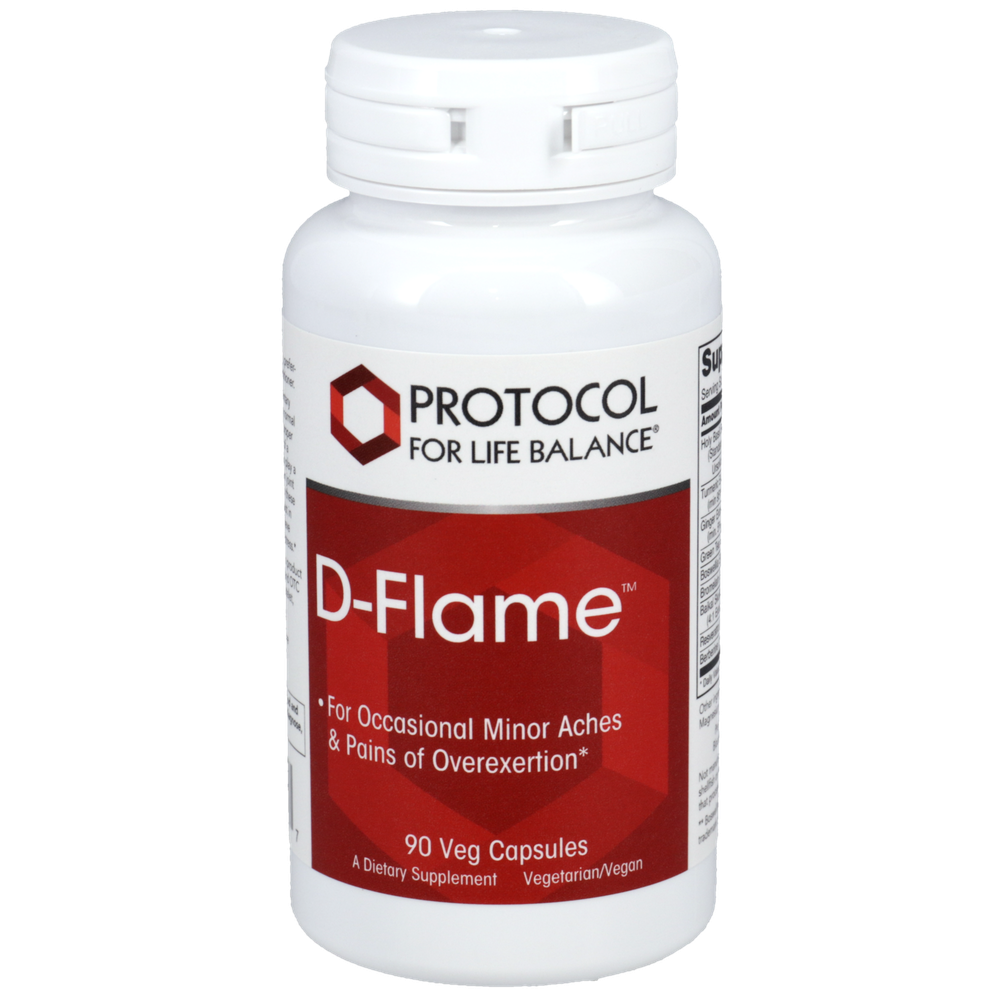 SKU: PROT-P3121
For Occasional Minor Aches & Pains of Overexertion*
D-Flame™ is a blend of complementary herbs that may help to support a healthy response to normal physiological stress through its ability to support the proper activity of cellular signaling molecules.* Maintenance of a normal balance of these mediators has been shown to play a key role in healthy cardiovascular function, as well as in joint health.* By helping to support a balanced response to these signals, the herbal components of D-Flame™ may assist in the maintenance of healthy joints and may help to relieve occasional minor pain resulting from over-exertion or stress.*
Take 1-2 capsules 3 times daily, preferably with food, or as directed by your healthcare practitioner.
Serving Size: Two Veg Capsules
Amount Per Serving
Holy Basil Extract ... 250mg*
(Ocimum sanctum)(Leaf)
(Standardized to min. 2% Ursolic Acid)
Ursolic Acid ... 5mg*
(from Holy Basil Extract)
Turmeric Extract ... 100mg*
(Curcuma longa)(Rhizome)
(min. 95% Total Curcuminoids)
Ginger Extract ... 100mg*
(Zingiber officinale)(Rhizome)
(min. 5% Gingerols)
Green Tea Extract ... 100mg*
(Camellia sinensis)(Leaf)
Boswellin® ... 100mg*
(Gum Resin Extract from Boswellia serrata)
Bromelain ... 100mg*
(2, 400 GDU/g)
Baikal Skullcap ... 50mg*
(Scutellaria baicalensis)(Root)
(4:1 Concentrate)
Resveratrol ... 10mg*
(from Polygonum cuspidatum Root Extract)
Berberine ... 5mg*
(from Berberis aristata Root Extract)
Other Ingredients: Cellulose (capsule), Cellulose Powder and Magnesium Stearate (vegetable source).
This product does not contain
wheat
gluten
soy
milk
egg
fish
shellfish
tree nuts
Produced in a GMP facility that processes other ingredients containing these allergens.
Boswellin® is a registered trademark of Sabinsa Corp.
Caution
Some ingredients in this product may interact with a number of common prescription and OTC medications, including NSAIDs, anticoagulant/anti-platelet, and blood thinning medications. Consult physician if pregnant/nursing, taking medication, have a medical condition, or if planning any surgical procedures before using this product.
Natural color variation may occur in this product. This bottle contains an AGELESS® Oxygen Absorber to ensure freshness. Do not eat packet.
Boswellin® is a registered trademark of Sabinsa Corp.