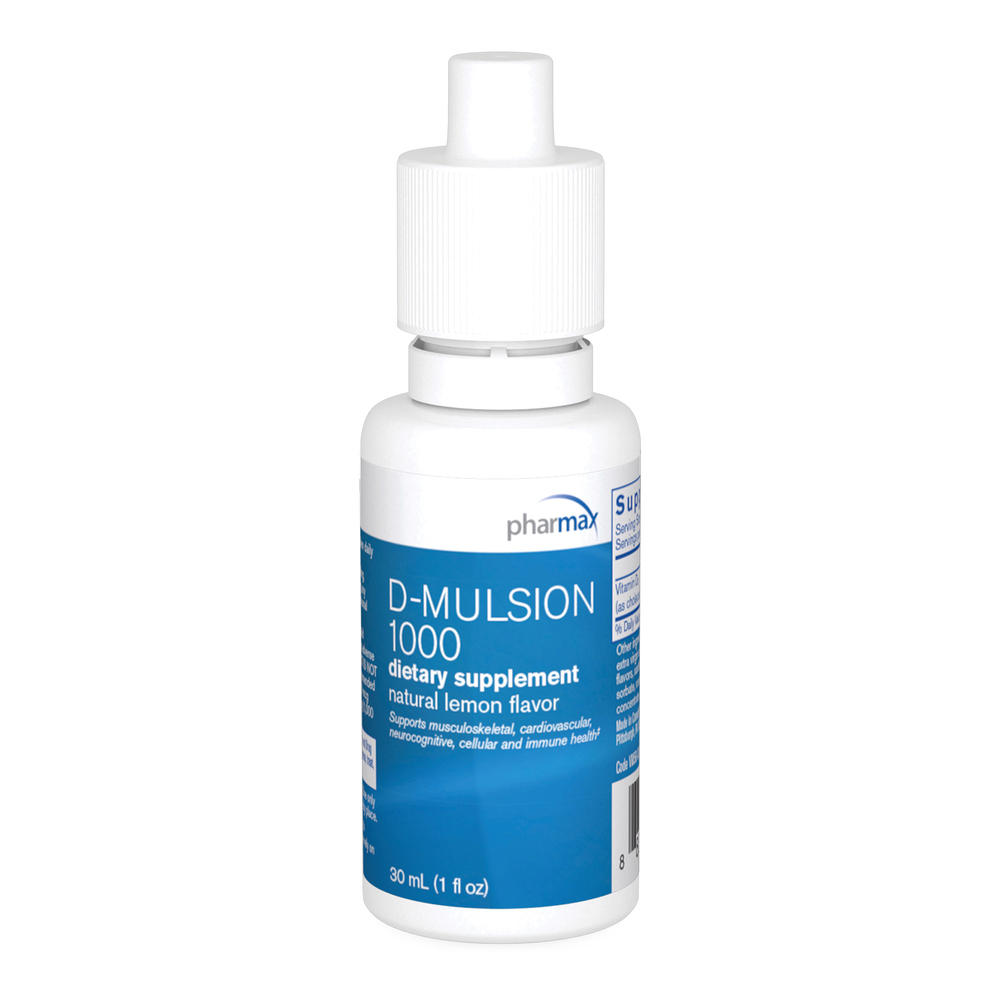 SKU: PX-VM5030
Emulsified vitamin D supplement, natural lemon flavor
Helps in the development and maintenance of bones and teeth*
Helps in the absorption and use of calcium and phosphorus*
Great-tasting citrus flavor
D-Mulsion is prepared using the proprietary WisdOM-3™ emulsification process for enhanced bioavailability and improved palatability. Each serving provides 1000 IU of vitamin D3, emulsified in a base of extra virgin olive oil. In a clinical study conducted on 55 participants with low vitamin D status, emulsified vitamin D3 had significantly greater bioavailability compared to a capsule-based supplement.
Suggested Use:
Take one drop daily or as professionally directed.


Serving Size: 1 Drop (0.027 ml)
Amount Per Serving
Vitamin D ... 1000IU
(cholecalciferol)

Other Ingredients: Purified water, acacia gum, extra virgin olive oil, glycerin, natural flavors, organic lemon oil, xanthan gum, citric acid, potassium sorbate, rosemary leaf extract, mixed tocopherols concentrate, organic stevia leaf extract.
Warning: If you are pregnant or lactating, have any health condition or are taking any medication, consult your health professional before use.

CAUTION: Accidental overdose of liquid vitamin D products can lead to serious adverse side effects in infants. THIS PRODUCT IS NOT INTENDED FOR INFANTS. The recommended daily dose of Vitamin D for infants is 10mcg (400IU). This product delivers 25mcg (1,000IU) of Vitamin D per dose.

Keep out of reach of children.

Use only if safety seal is intact. Store in a cool, dry place.