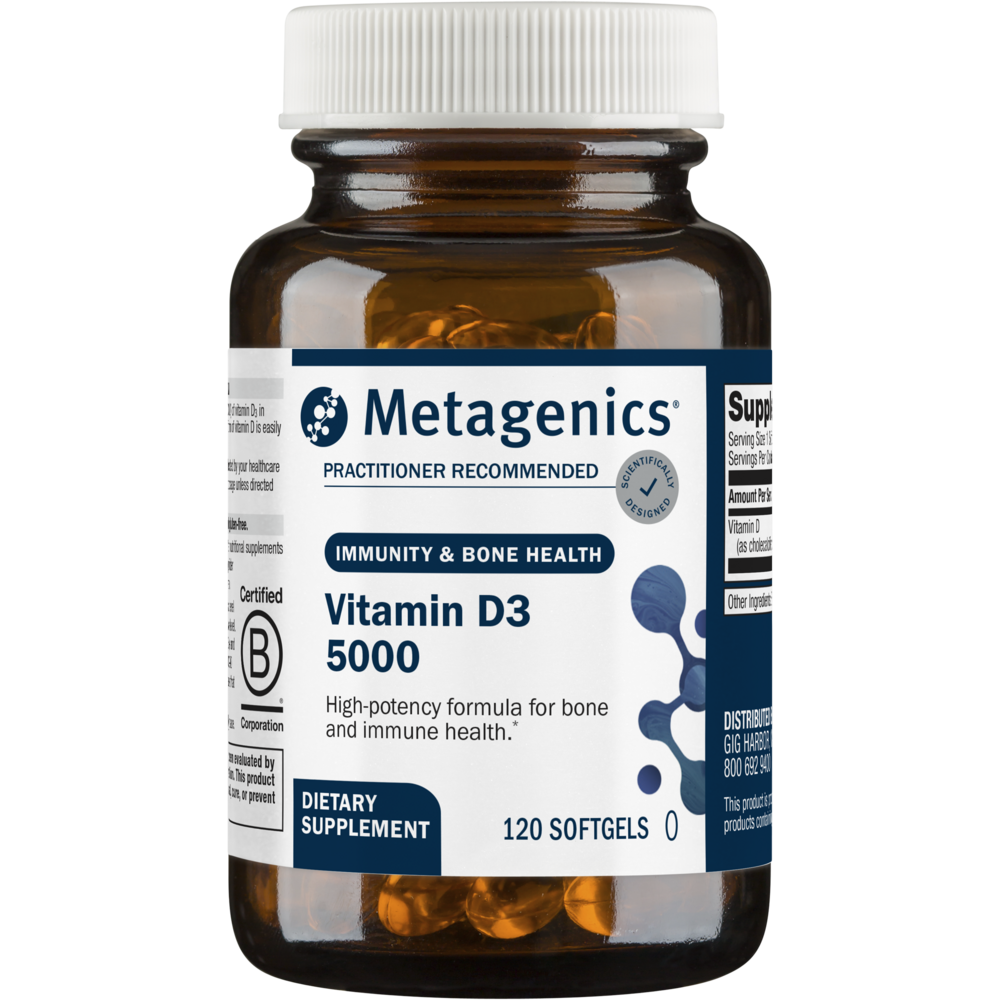 SKU: MET-D5000
D3
5000™ features 5,000 IU of vitamin D3 in easy-to-swallow softgels. This bioavailable form of vitamin D is solubilized in oil to support absorption in the intestinal tract.
The ingredients utilized within the aroma cans for sensory enhancement are generally recognized as safe (GRAS) and/or are approved for use in a regulation of the United States Food and Drug Administration (USFDA). The aroma cans are utilized to mask the smell of some supplements where known customer sensitivities exist. The aroma canisters serve no purpose related to product efficacy or stability and can be removed from the bottle once opened without any negative impact on the product.
Suggested Use:
Take one softgel daily or as directed by your healthcare practitioner. Do not exceed recommended dosage unless directed by your healthcare practitioner.
Serving Size: 1 Softgel
Amount Per Serving
Vitamin D ... 5,000 IU 625%
(as cholecalciferol)
Other Ingredients: Safflower oil, gelatin, glycerin, and water.
This product is non-GMO and gluten-free.
Caution: If pregnant or nursing, taking other nutritional supplements or medications, consult your healthcare provider before use. Keep out of the reach of children.
Notice: This product contains vitamin D at a level that exceeds the adult tolerable upper intake level. It is highly recommended that serum 25(OH)- and 1,25(OH)2-vitamin D be monitored every 60-90 days while consuming this product to ensure that levels remain in an acceptable range.
Storage: Keep tightly closed in a cool, dry place.

*Level established by the Institute of Medicine of the U.S. National Academy of Sciences.

DISTRIBUTED BY: METAGENICS GIG
This product is produced in a facility that produces products containing soy, fish, and crustacean shellfish.