D3 K2 mulsion
Seroyal/Genestra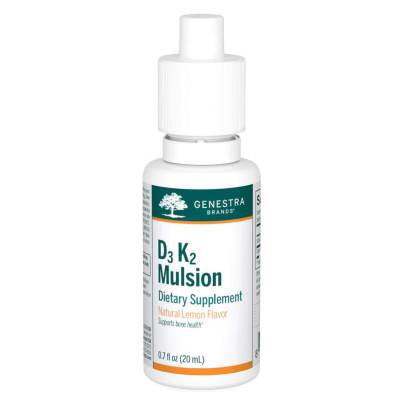 SKU: GN-01170
Vitamin D and K2 combination
Helps in the development and maintenance of bones and teeth*
Helps in the absorption and use of calcium and phosphorus*
Easy-to-use
Can be dropped directly in the mouth or mixed in drinks
Citrus flavor
Great taste increases patient compliance
Suggested Use:
Adult Dose: Take five drops daily or as recommended by your healthcare practitioner.

Serving Size: 5 Drops (0.14 ml)
Amount Per Serving
Vitamin D ... 1000IU
(cholecalciferol)
Vitamin K2 ... 90mcg
(menaquinone-7)
Stevia Leaf Std. Extract ... 0.1mg
(Stevia rebaudiana) (95% glucosylsteviosides)
Other Ingredients: Purified water, glycerin, cellulose, organic lemon oil, xanthan gum, olive oil, citric acid, potassium sorbate.


Guaranteed to contain no added wheat, yeast, gluten, sodium, sugar, artificial coloring or flavoring or dairy products. Ideal for vegetarians.
Quality Assurance: Safety sealed for your protection and for product freshness. Do not use if outer seal is missing or broken. Store in a cool, dry place. Keep out of reach of children.